California stands at the forefront of sustainable gastronomy in America. Beyond boasting some of the world's most fertile growing regions, California has a long history of combining eco-consciousness with cuisine— it's where the American organic food movement as we know it was pioneered. It's also where the MICHELIN Green Stars were first awarded. Green Stars go to restaurants that are highly sustainable; they work with local farmers, growers, and fishers, utilize seasonal ingredients, avoid waste, reduce or remove entirely single-use plastics, and generally working to have a lower environmental impact.
Two more restaurants are joining the 9 MICHELIN Green Stars in California: One MICHELIN Star Caruso's in Montecito, and One MICHELIN Star The Restaurant at Justin in Paso Robles. Producing honey from an in-house apiary, using only California olive oil, and irrigating with recycled water are just a few of the restaurants' sustainability initiatives. Here's how they keep it green. Presented in partnership with Rémy Martin.
Beekeeping at Caruso's © Rosewood Miramar Beach
Caruso's (One MICHELIN Star)
A comprehensive program of local sourcing and zero miles to reduce our carbon footprint and support local farmers, fishers, and ranchers.
We have a consolidator that picks up produce at the Santa Monica and the Santa Barbara farmers' markets, and we visit the Saturday farmers' market ourselves.
We have a partnership with California Wheat Commission to use only California Desert Durum for our pasta and red fife/Sonora mix for our bread. We mill the wheat in the morning and make pasta in the afternoon. The Durum is sourced from Ruby Seeds and the Red Five/Sonora mix from Tehachapi Heritage Grain Project.
We have a glass reduction program in place using stainless steel tanks to distribute the oil. Il Fustino [bottling in Santa Barbara] is our partner, and we only use California olive oil.
Our garde manger program is supported by our vegetable garden; our honey is produced in house from our bees.
Our commitment to seafood sustainability brought us to FishChoice and the Monterey Bay Aquarium sustainable seafood challenge. In one year, we brought our local, sustainably sourced seafood up to 90% for the entire resort property. Our partners are Kanaloa Seafood and Santa Barbara Fish Market. Caruso's is now recognized as partner by Ocean Wise, consolidating our journey of supporting ocean health and sustainability.
We partner with Stephanie Mutz (Sea Stephanie Fish in Santa Barbara), who dives for urchins and spot prawns; Morro Bay Abalone for farmed abalone, and Hope Ranch Mussels in Santa Barbara.
We have a compostable program in partnership with the City of Montecito in order to help neighboring farmers' soil regeneration.
We have an enzyme-eater grease program to eliminate oil impact and faucet water control in every outlet. The disposed grease gets picked up and recycled for agricultural grease production.

Caruso's table showcasing the local produce © Hannah Rock/Caruso's
---
Find the best restaurants and hotels around the globe with the MICHELIN Guide app. Sign up, make a list of your favorites, and make a reservation with our booking partners Resy, OpenTable, and SevenRooms.
---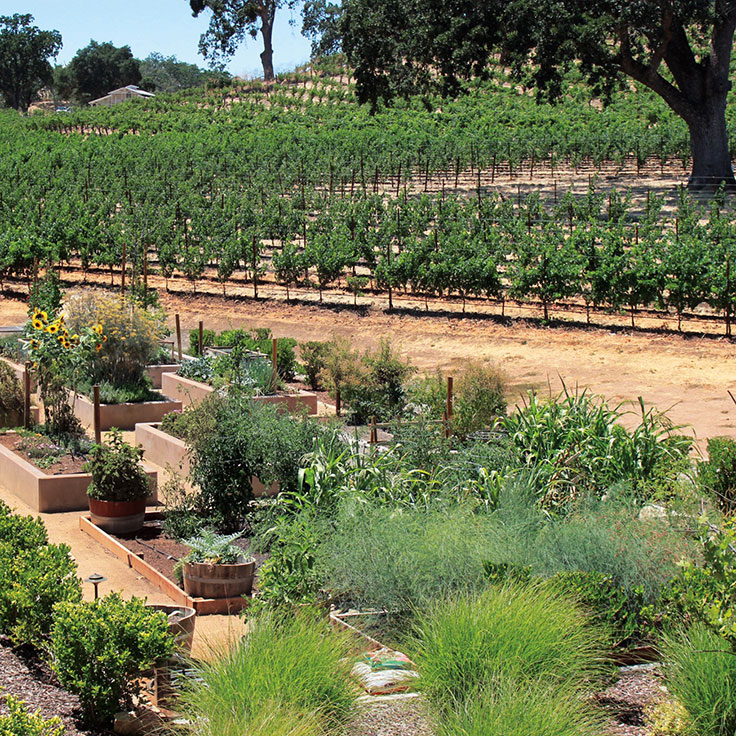 The Restaurant at Justin's vineyard garden © JUSTIN Vineyards and Winery/The Restaurant at Justin
Utilize local and seasonal ingredients to help reduce our carbon footprint.
Executive chef Rachel Haggstrom and her team have expanded The Restaurant at Justin's garden (The Farmstead) to 26-acres—a 150-tree orchard, edible flower fields, and exotic fruits, vegetables, herbs, and an apiary. These supply ingredients for the menus at the restaurant.
Currently, 95% of ingredients are sourced locally, from our garden or the incredible community of Central Coast purveyors.
Chef Rachel and team purchase the "less than perfect" produce from local markets and purveyors, rescuing these items from becoming food waste, supporting our local supply chain, and showcasing these items in beautifully plated dishes.
The restaurant is one of the largest purchasers at the local famers' market.
With water stewardship in mind, our garden is irrigated with recycled water from our local wine bottling facility.
We've installed four EV chargers at the restaurant for our guests to use.
The restaurant incorporates unwanted trim that would usually be thrown away into stocks and for compost that is then reincorporated into our garden.
When our garden yields an overabundance of produce, we donate this to local non-profits, including the San Luis Obispo Food Bank.
We use excess wine from our tasting room in vinegars and other recipes.
The restaurant works closely with the vineyard team to repurpose usable cover crop (such as chamomile, herbs, and radishes) and incorporate them into menu items, garnishes, or house-made herbal teas, which are used as takeaways at the restaurant.
We breathe new life into past vintages by upcycling used wine bottles from our estate into merchandise like candles made from local artisans.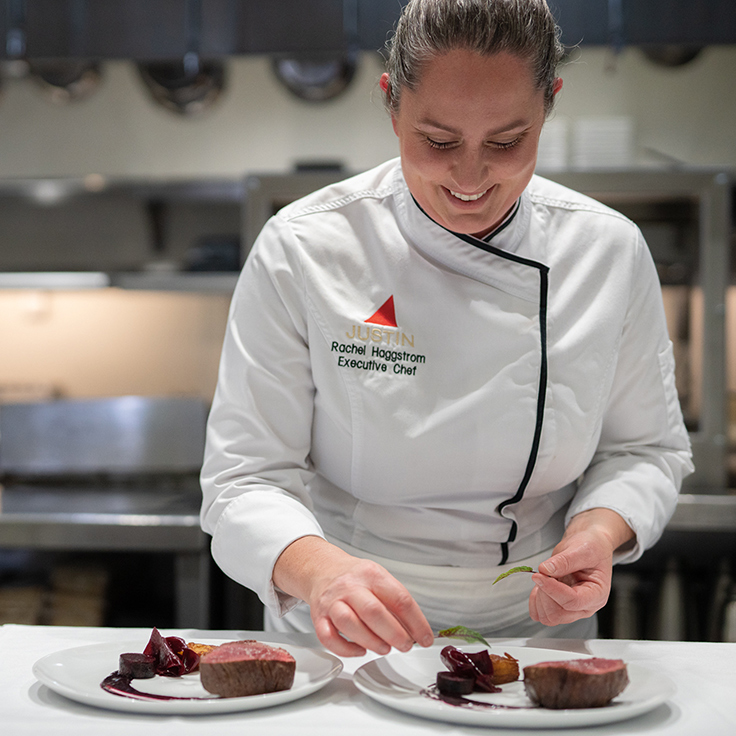 The Restaurant at Justin executive chef Rachel Haggstrom © JUSTIN Vineyards and Winery/The Restaurant at Justin
---
---
Presented in partnership with Rémy Martin



Hero image: Caruso's chef Massimo Falsini harvesting peppers in their vegetable garden
© Rosewood Miramar Beach