This year, Mother's Day is bound to be a bit different. Brunch reservations, spa appointments, and family get togethers are likely to be postponed as we continue to socially distance. But that doesn't mean you can't still send the mothers in your life a thoughtful gift. In fact, moms around the country probably need a little something extra this year. Our guide also supports many independently-owned restaurants and small businesses, making your gift doubly valuable. If you can't give mom a physical hug this year — send a virtual one — and remember, the traditions we forgo today will be even more meaningful when we get them back.

Pâte de Fruits from Recchiuti
If a nice dinner is usually your gift to mom this time of year, save that thought. For now, help her recreate an excellent mignardises plate with a selection of pâte de fruits from the San Francisco-based confection shop Recchiuti. Flavors include morello cherry, passion fruit, blueberry, and pear-lime. $24

Culinary Legends Deck of Cards
Mom might have some extra time on her hands these days, so why not send her some inspiring entertainment? This deck of cards, created by design agency Polonsky and Friends and illustrated by Claire Dufournier, turns a game of solitaire into a gathering of amazing women in food. And if mom is WFH, at least it will keep the kids busy. $27
(Photo courtesy of Polonsky & Friends)

Mi Tocaya T-Shirt
These colorful, locally designed t-shirts come from Chicago Bib Gourmand restaurant Mi Tocaya where chef Diana Davila cooks the Mexican food of her childhood. The agave print's cheery pink hue is enough to brighten mom's day. $29.95
The Four Horsemen Wine Tote
When it opened, The Four Horsemen in Williamsburg was known as the restaurant from LCD Soundsystem front-man James Murphy. Today, the One-MICHELIN-Starred restaurant is known and loved for its impressively well-curated natural wine list. It only makes sense that the restaurant sells a branded wine tote, which holds up to four wine bottles. Buy this for mom and she'll be the coolest lady in the wine store. $30

Elske Tote Bag
In some circles, tote bags are the new "it" bag. This denim blue-dyed canvas tote bag from One-MICHELIN-Starred restaurant Elske in Chicago is not only adorable but extremely versatile. Buy this for mom and it'll show that she's got great taste—literally. $30
(Photo courtesy of Elske Restaurant)
Frankie's 457 Spuntino Olive Oil
Frankie's 457 Spuntino in Brooklyn is a Bib Gourmand restaurant that has been pressing and selling olive oil for more than five years. The DOP-certified Nocellara del Belice extra virgin oil is made from first cold-pressed Sicilian olives. It's a versatile, everyday olive oil perfectly suited for cooking, baking, or drizzling. $33.49
(Photo courtesy of Frankies Spuntino)
Kreuther Handcrafted Chocolate
Gabriel Kreuther's chocolate shop (next to his eponymous Two-MICHELIN-Starred restaurant in New York's Bryant Park) may have closed last year, but a handful of items are still available for purchase online. The range of chocolates, truffles, and macarons are not only beautiful but come in delectable flavors like salted butter caramel, coconut roasted pineapple, and key lime. From $40
(Photo © Todd Coleman Photography/Kreuther Chocolate)
Burlap & Barrel Spices
Loved by chefs and home-cooks alike, Burlap & Barrel sources some of the best sustainably produced, single-origin spices money can buy. The Fundamentals Collection 6 bottle set is a popular favorite and comes with silk chili, wild mountain cumin, smoked paprika, flowering hyssop thyme, royal cinnamon, and the award-winning Zanzibar black peppercorns. $47.99
(Photo courtesy of Burlap & Barrel)
Marcella Kriebel Art Print
José Andrés, the inspiring humanitarian and chef/owner of Two-MICHELIN-Starred restaurants somni and minibar, is a fan of this DC-based artist's watercolor prints, which feature whimsical ingredient collages. Her herb print is a fitting addition to any mom's kitchen, whether she uses it or not. $48 (framed)

Good Old Flowers
Flowers are always a good idea for Mother's Day. Your local flower shop may be closed, but online retailers are still in business. Some local CSAs have an add-on option for flowers, or go with a national retailer like Farm Girl Flowers, which sources its flowers from responsibly-run farms across the country. From $50
Sqirl Jam
Goddess of the West Coast breakfast, Jessica Koslow, knows how to make jam. At her Bib Gourmand restaurant Sqirl, thick slices of brioche slathered with ricotta cheese and seasonal jams are legendary. You can send mom a monthly membership of Koslow's best jams, the sweetest kind of gift that keeps on giving. Flavors vary by season. $60 (for four months)
Vintage French Jug at Food52
This limited-edition, vintage stoneware collection was recently stocked at Food52, an excellent online shop for serious home cooks. Poterie Renault is a fifth-generation pottery in France, dating back to 1847, but the business is shutting down this year, making this one of its last collections. We love the Berry Jug as a charming addition to mom's tabletop collection, or as a beautiful vase. $68

Trois Mec Candle
LA-based luxury candlemaker Rukske has teamed up with Chef Ludo Lefebvre to create a signature scent, Trois N° 1, inspired by Lefebvre's One-MICHELIN-Starred restaurant Trois Mec. The candle has notes of sage, sea salt, and santal. $71.18
(Photo courtesy of Trois Mec)
Nancy's Fancy Gelato
Nancy Silverton may be known for her work with dough thanks to the success of her iconic La Brea Bakery and Pizzeria Mozza, but her real masterpiece is Italian ice cream. Ship mom a cooler of Silverton's artisan gelati and sorbetti via GoldBelly, available in flavors like butterscotch budino, coconut stracciatella, and Meyer lemon torrone. $85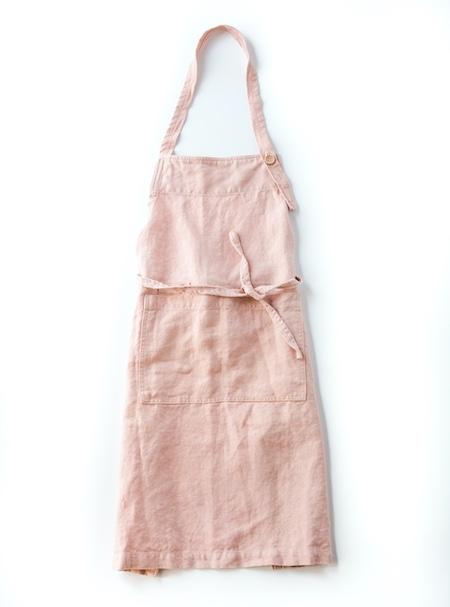 Gjusta Linen Apron
Even though it opened in 2014, Gjusta continues to be all things to all people. The all-day café and bakery (and sister restaurant to MICHELIN Plate restaurant Gjelina) in Los Angeles serves excellent bread and pastries to locals and tourists, famous and not. This adjustable linen apron from their own collection channels the cafe's laid-back, Venice Beach vibe. $95
(Photo © Ashley Randall Photography/Gjusta Goods)
Aesop Handwash + Hand Balm Duet
One of the greatest unspoken joys of a restaurant bathroom is a bottle of Aesop soap by the sink. The brand is a restaurant favorite for luxurious hand soap with incredible aromatics. So if mom is washing her hands all day, it might as well be relaxing. Pair the wash with a hand balm for over-washed, dry skin. The Resurrection formula is a soothing blend of mandarin, rosemary, and cedar. $125

A New York Brunch from Russ & Daughters
If brunch is your annual tradition, send mom this care package along with an IOU for an in-person treat. This set from New York's 100-year-old appetizing shop (and more recent Bib Gourmand cafe) comes complete with bagels, cream cheese, lox, a chocolate babka, coffee beans, and an insulated tumbler. Call the shop directly at 212-475-4880, ext. 1 for pickup, delivery, or shipping. $169
(Photo courtesy of Russ & Daughters)
Gift Card to her favorite restaurant
If sharing a meal at a restaurant is one of your favorite ways to connect with your mom, or any mother in your life, then invest in a gift card at the restaurant of your choice to help it stay open until we emerge from this pandemic. Help Main Street is a no-fee aggregate platform that connects people with restaurants across the country that are accepting gift card purchases.

Hero Image: Water colors by Marcella Kriebel. Photo courtesy of Marcella Kriebel Art + Illustration.