Elske
1350 W. Randolph Ave., Chicago, 60607, United States
75 - 150 USD • Contemporary
Elske
1350 W. Randolph Ave., Chicago, 60607, United States
75 - 150 USD • Contemporary
MICHELIN Guide's Point Of View
A vivid blue neon sign marks the entry to stylish Elske, the hip and sophisticated offering brought to you by husband-and-wife chef duo, David and Anna Posey. He worked at Blackbird; she at The Publican—and what they do together in this restaurant (the name means "love" in Danish) is pure culinary magic. The spacious setting is equal parts minimal-cool and perfectly cozy, with concrete floors, exposed brick walls, and open ductwork. A lovely outdoor area offers an open-air campfire with two long benches and complimentary lap furs, designed for a pre- or post-dinner cocktail or two. Inside, communal tables abound and counter seats line a gleaming open kitchen, where the cooks serve dishes directly to customers. The chefs' deeply creative menu offers seasonal, responsibly sourced dishes rendered with impeccable skill—the flavors carefully woven together to produce irresistible profiles. A night in the talented duo's hands might unveil tender duck liver tart in an ethereally light buckwheat crust or subtle-but-noteworthy poached sturgeon and creamed wax beans in a garlic-walnut sauce. Tender venison crowned with plums and sided by ricotta spätzle is spot-on bite after creamy, buttery bite.
Show More
Show Less
m One MICHELIN Star: High quality cooking, worth a stop!
ó Comfortable restaurant; one of our most delightful places.
Related Reads
MICHELIN brings together culinary, travel and hospitality to create unique and innovative experiences in a series of MICHELIN All-Star™ and MICHELIN on...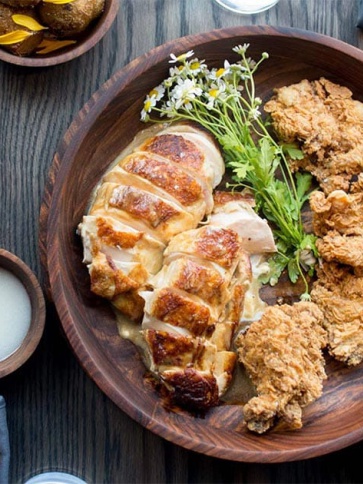 Here's where to go in the booming neighborhood.
Working behind the scenes, kitchen designers set the stage for the great chefs to shine.
Subscribe to our newsletter and be the first to get news and updates about the MICHELIN Guide
Subscribe
Follow the MICHELIN Guide on social media for updates and behind-the-scenes information