Smyth
177 N. Ada St., Chicago, 60607, United States
95 - 225 USD • Contemporary
Smyth
177 N. Ada St., Chicago, 60607, United States
95 - 225 USD • Contemporary
MICHELIN Guide's Point Of View
Housed in what looks like an unremarkable industrial building, find this setting worthy of interior design magazine covers. Once inside, head up the few stairs to arrive at Smyth; then proceed into a space, which feels so comfortable that it's easy to forget you're in a restaurant. The service staff is hospitable, down-to-earth and manages to keep the ambience relaxed despite Chefs John Shields and Karen Urie's intense craftsmanship. Beyond, the open kitchen mixes white tiles and cutting-edge equipment with a roaring hearth fire. There is a "come as you are" feeling among the crowd here, but everyone has dressed up a bit, as if in deference to the superb meal that awaits them. Original, and at times even pleasantly experimental, this kitchen's cooking has a clear vision that is sure to meet every expectation of its versatile diners. Some dishes deliver surprises through strong and gutsy flavor combinations, like a well-aged ribeye rubbed with yeasty Marmite. Other menu items strive for subtlety, such as the dried pear "jerky. " Creativity reaches its height in the "milk chocolate" dessert, which is more of a brilliant umami-bomb than confection, served with huckleberries and shiitakes.
Show More
Show Less
n Two MICHELIN Stars: Excellent cooking, worth a detour!
ô Very comfortable restaurant
Related Reads
One of Chicago's celebrated chef duos visits the foothills of the Great Smoky Mountains for inspiration.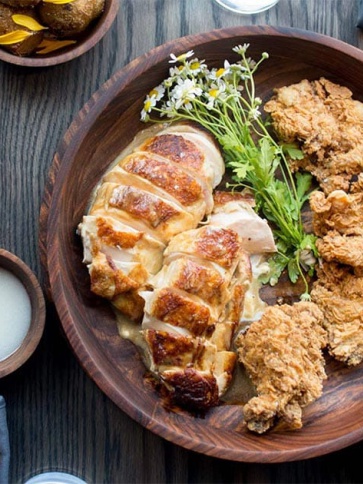 Here's where to go in the booming neighborhood.
The pair behind Smyth and The Loyalist share their story of teamwork in and out of the restaurant business.
Subscribe to our newsletter and be the first to get news and updates about the MICHELIN Guide
Subscribe
Follow the MICHELIN Guide on social media for updates and behind-the-scenes information