Bhumi Citrus, based in a greenhouse in Bordentown, New Jersey, is a love story and a study in perseverance. Vivek and Seema Malik were enjoying successful careers on Wall Street and regulars at Nobu, where their favorite dish incorporated yuzu. Fans of Japanese food, they were struck by the flavor and searched high and low before tracking it down at an Asian grocery store to use in their at-home cooking. Afterwards, they took one look at the seeds and thought, "Why not?," and planted a few in a container at their New Jersey home to see what might grow. A labor of love, the duo nurtured the seeds to no avail for more than a decade. Then on year twelve, the plant blossomed.
Bhumi Growers's Meiwa kumquats © Bhumi Growers
Though both had demanding careers in finance, a seed for a new business took root. "We ate a lot of Hamachi with yuzu that year," laughs the affable couple. They approached restaurants in nearby Princeton to see if they'd be interested in purchasing locally grown specialty citrus. "Years in finance taught me that you don't start a business until you know there's a demand," says Vivek.
There was and Bhumi Citrus was born. Presently, Bhumi Citrus operates out of two greenhouses, one in Bordentown that's part of a cutting-edge facility that utilizes renewable energy, and another in Bedminster. They've expanded from yuzu to growing sudachi (a sour fruit marrying lemon and lime and used for flavoring), Japanese mandarins, calamansi (a hybrid of kumquat and Japanese mandarin), finger limes, makrut limes, and more, including sourcing citrus they can't grow from small California farms, all while learning on the job.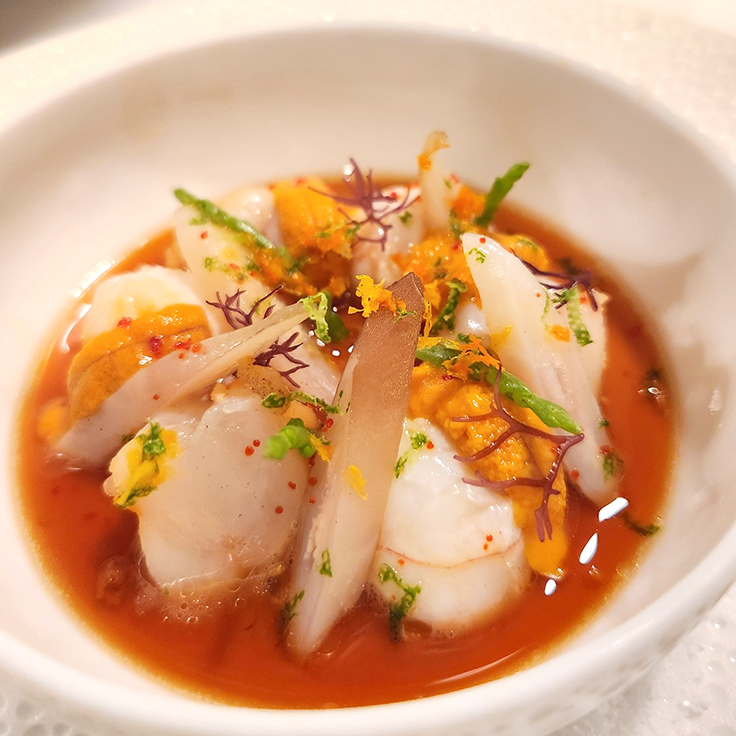 Le Bernardin executive chef Eric Gestel's shellfish medley chawanmushi finished with Bhumi Growers's yuzu zest © Eric Gestel/Le Bernardin
Together, the duo left finance behind and turned their passion into one of the most revered producers supplying citrus to some of the top restaurants across the United States, including Three MICHELIN Star Le Bernardin in New York. Executive Chef Eric Gestel learned about Bhumi from another chef. "I was surprised to learn that they grow in New Jersey--that they're almost local," he says. "We are a fish restaurant and fish needs citrus. We source everything from yuzu and sudashi to finger lime and kumquat from them. It's a beautiful product."

Imperfecto: The Chef's Table's Imperfecto Club cocktail with Bhumi Growers's yuzu zest © Valentina Story/Imperfecto: The Chef's Table
René González, Head Chef at One MICHELIN Star Imperfecto: The Chef's Table, in Washington, D.C., agrees. "We found Bhumi through social media. I find a lot of great producers through Instagram from other cooks tagging them in their posts," he says. It wasn't just the quality that intrigued Chef González; it was Bhumi's New Jersey address. "We were more curious because they're so close to us." Ever since the discovery, Imperfecto has received bi-weekly orders. "We use their finger lime in a vegetable tart on the tasting menu in the dining room; we make a kumquat confit to top our ricotta crème brûlée; our tuna tartare uses bergamot zest; and we use yuzu in our cocktails," he shares.
While Bhumi's citrus is considered the gold standard for many talented chefs, it's more than the fruit of Vivek's and Seema's labor that keeps everyone coming back. "We are in the hospitality industry," says Chef González. "Vivek is super kind, he visits us to talk about the produce and hear how we are enjoying it," he says. "The relationships we have (with our vendors) are important." And now, sweeter than ever.
Bhumi Growers's citrus blossoms
© Bhumi Growers


Hero image: Yuzu growing at Bhumi Growers
© Bhumi Growers