Punjab Grill
23/2-3 Soi Sukhumvit 13, Bangkok, 10110, Thailand
850 - 2,300 THB • Indian
Punjab Grill
23/2-3 Soi Sukhumvit 13, Bangkok, 10110, Thailand
850 - 2,300 THB • Indian
MICHELIN Guide's Point Of View
Enjoy classic Indian food with a modern touch at Punjab Grill's debut in Bangkok. At the kitchen helm is Chef Bharath whose reinterpretations of street chaat come in the forms of chutney-dressed avocado and puffed rice with yoghurt espuma or spinach salad on watermelon carpaccio, along with modern fare like chargrilled lamb chops. It's all served in an elegant dining room where, through the kitchen's glass walls, diners can watch the kitchen crew in action.
Show More
Show Less
‹ The MICHELIN Plate: Good cooking
ó Comfortable restaurant
Related Reads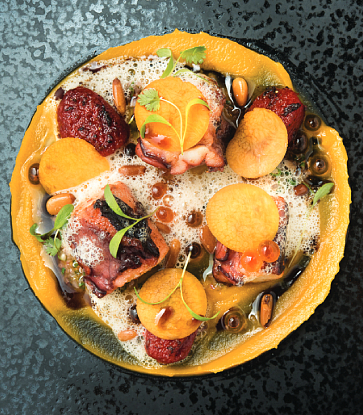 These restaurants offer a globetrotting taste experience without ever having to pack your bags.
Subscribe to our newsletter and be the first to get news and updates about the MICHELIN Guide
Subscribe
Follow the MICHELIN Guide on social media for updates and behind-the-scenes information