MICHELIN Guide Thailand 2020
New York Steakhouse
4 Soi Sukhumvit 2, Bangkok, 10110, Thailand
1,800 - 5,500 THB • Steakhouse
MICHELIN Guide Thailand 2020
New York Steakhouse
4 Soi Sukhumvit 2, Bangkok, 10110, Thailand
1,800 - 5,500 THB • Steakhouse
MICHELIN Guide's Point Of View
Dark wood furniture, oversized leather chairs and monochrome photos of U.S. cities evoke images of a classic Manhattan steakhouse. Start your meal by ordering a martini in your chosen flavour, shaken at your table. Caesar salad is tossed tableside in a dressing made from scratch. The menu includes a decent selection of steaks from the U.S., Australia and Japan. Classic steak combinations such as surf and turf are also available.
Show More
Show Less
‹ The MICHELIN Plate: Good cooking
ô Very comfortable restaurant
Related Reads
Check out this tasty list of restaurants offering online ordering for takeaway or delivery to your door.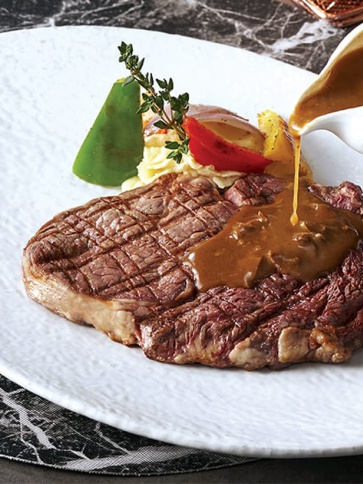 As much as we want to impose a strictly vegetarian diet, it's hard for carnivores to steer clear of the temptation to order a juicy steak from the selection of Bangkok and Phuket's meat and grills eateries. These are our top picks for the best steaks in the city.
Craving something exotic? Here is an East to West world tour of gourmet delights across metropolitan Bangkok.
Subscribe to our newsletter and be the first to get news and updates about the MICHELIN Guide
Subscribe
Follow the MICHELIN Guide on social media for updates and behind-the-scenes information