Following a standing ovation for the late Chef Paul Bocuse – The 'Pope' of French Cuisine – Chef Marc Veyrat's La Maison des Bois in Manigod in the Alps won its third star, after being awarded a second in last year's guide. This is now the third time Varyat has received Michelin's highest honour and comes three years after the restaurant was gutted by fire.
Fifty-seven new restaurants were added to the 2018 MICHELIN Guide France, which now has a grand total of 621 Michelin-starred restaurants, up from 616 in the 2017 MICHELIN Guide France.
Aside from having the most three-star MICHELIN listings, the 2018 MICHELIN Guide France also shines a spotlight on the growing influence of Asian chefs who are dazzling the world of French gastronomy.
Here's a toast to the Asian-born chefs' achievements. Read what our inspectors said about their restaurants below.
Takao Takano (Two Michelin Stars), Lyon – A Japanese Take on French Cuisine in the Heartland of Paul Bocuse
Japanese-born Chef Takao Takano has been the toast of Lyon for a while, thanks to his long-standing commitment to French gastronomy as well as his passion for his adopted hometown. Training under one of Lyon's rising culinary stars Nicolas Le Bec, who won two Michelin Stars for the restaurant that bore his name, Chef Takano was thrust into the spotlight after Le Bec's move to Shanghai.
Chef Takano's beautifully conceived and executed contemporary French cooking has made his restaurant one of the most sought-after reservations in town. It is hard not to be won over by his sense of precision, his humility in handling ingredients, his absolute respect of flavours and his subtle compositions.
Photo sources: Facebook, http://www.takaotakano.com
The best of the MICHELIN Experience in your inbox
Stay on the top of the best restaurants, offers, lifestyle, and events recommended in our guide cities.
Subscribe
Au 14 février (Two Michelin Stars), St-Amour Bellevue – A Japanese Man's Love for France
Chef Masafumi Hamano trained for nine years under Hiroyuki Sakai, one of the most celebrated iron chefs in Japan. When he was 29 years old, Chef Hamano challenged himself by moving to Lyon. Working for Nicolas Le Bec like chef Takao Takano (see above), before joining Au 14 février in the small French town of Saint-Valentin, Chef Hamano won his first Michelin Star in 2012. Heading the second branch of Au 14 février in another French town – St-Amour Bellevue – in 2013 he was awarded a Michelin star just four months after he took over operations. Chef Hamano today deploys his small masterpieces by providing diners a fusion of French and Japanese cuisine that is prepared with exacting perfection. His respect for produce is beyond reproach while his magic touch makes a world of difference in every dish.
Photo source: Facebook, https://www.au14fevrier-accueil.com/saint-amour-bellevue/
L'Essentiel (One Michelin Star), Deauville – A French and Korean Couple's Contemporary Cuisine Making Waves in Normandy
Charles and Mi-Ra Thuillant – a French-Korean couple – trained under some of the biggest names in French cuisine: William Ledeuil, Joël Robuchon and Iñaki Aizipitarte just to name a few. Serving beautifully crafted four-handed dishes in a large contemporary dining room, guests experience a marriage of East and West in a tasty flight of fancy!
Photo source: http://www.lessentiel-deauville.com/
Pertinence (One Michelin Star), Paris – A Beautiful Story of Two Asian Chefs Getting their First Michelin Star
Just 7 months after opening their restaurant, Japanese Ryunosuke Naito (who trained at some of the most prestigious restaurants in Paris – including Taillevent and Le Meurice) and Malaysian Kwen Liew (who originally studied Baking & Pastry before turning into a chef specialized in culinary arts) were awarded a Michelin Star for their interpretations of French cuisine. Ryu carefully and expertly transforms market-fresh ingredients into succulent classical French dishes, brushing away the cobwebs of tradition along the way.
Photo sources: Facebook, www.restaurantpertinence.com
Montée (One Michelin Star), Paris – A Japanese Chef's Love for French Gastronomy
After working in several restaurants in Kobe and Osaka, Chef Takayuki Nameura moved to the south of France in 1999 to expand his professional experience. In 2006 he opened his own restaurant Montée in Kobe and moved the restaurant to Paris in 2016. Chef Takayuki shares his love for French food with diners in his graphic, meticulously crafted dishes that are rich in distinctive flavours, revealing his undisputed skill in French techniques. The stripped-back décor of Montée further amplifies the culinary experience.
Photo sources: Facebook, www.restaurant-montee.fr
Étude (One Michelin Star), Paris – Creativity Nourished by the Pursuit of Harmony.
Japanese Chef Keisuke Yamagishi has been fascinated by the wealth of French cuisine since childhood. He opened his own establishment in 2013 after training under some of the best chefs in Tokyo and Paris. Inspired by his meetings with small-scale producers and his discovery of ingredients from afar like pepper from Taiwan with citrus notes and aromatics from Iran, Chef Keisuke Yamagishi performs a delicate balancing act between his French and Japanese heritage, offering set menus named "Symphonie", "Ballade" or "Prélude" that pay homage to Chopin, each a beautiful lesson in harmony.
Photo sources: Facebook, www.restaurant-etude.fr
Ken Kawasaki (One Michelin Star), Paris – A Celebration of Marriage between French and Japanese Cuisine
Hiroshima native Chef Ken Kawaski has put together a fine team that prepares visually exquisitely dishes, full of unusual flavours using market-fresh ingredients. His cuisine is inspired by traditional Japanese Kaiseki. Seated at a small counter of light wood, diners watch his team of chefs compose creations that pay respect to the purest of Japanese traditions right before their eyes.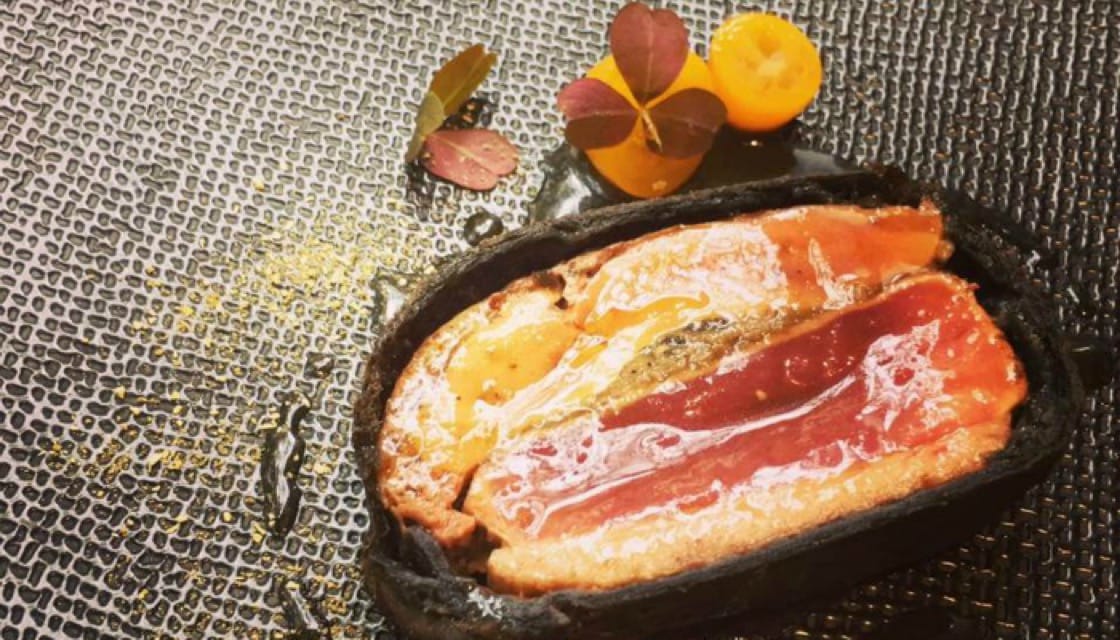 Photo Source: Facebook