Chef Matthew Geng and his wok technique. (© Nan Bei)
Chef Matthew Geng, Executive Chef, Nan Bei
MICHELIN Plate, MICHELIN Guide Thailand 2021

"I'm from Beijing, and I have fond memories of the noodles, dumplings, and buns there. So, whether I'm making them or eating them, these dishes make me nostalgic for home. And after almost three years here in Bangkok, I do enjoy exploring the food of Thailand and the region, but still, nothing can compare to food in Beijing – it will always be at the top of my list.

"When I have time off, I like making noodle dishes, like ma jiang mian (麻酱面), and dumplings with my friends. Every step in the preparation is like a trip back to Beijing. These simple favourites are humble, exquisite delights that send our taste buds and memories back home, which is so nice especially now, since we can't travel. And if I'm alone, I'll video call my family while I'm making these dishes, so I feel a bit closer to home."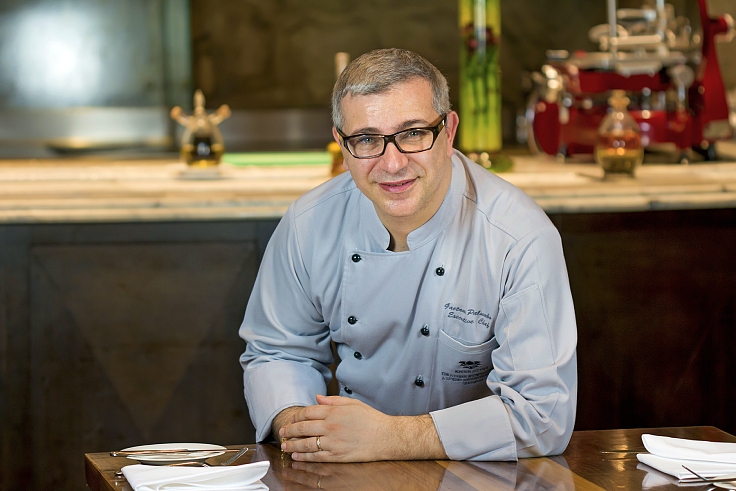 The Italian chef of Rossini's at Sheraton Grande Sukhumvit Hotel in Bangkok loves cooking Thai food. (© Rossini's)
Gaetano Palumbo, Executive Chef, Rossini's
MICHELIN Plate, MICHELIN Guide Thailand 2021

"When I'm at home, like during lockdown, I love cooking Thai food, especially Tom Kha Kai, a spicy and sour coconut milk soup with chicken, from Central Thailand. I love the combination of spicy fresh chillies and tart fresh lime juice with galangal, bergamot leaves, and lemongrass for a truly flavourful, aromatic dish.

"It is an easy, simple dish that anyone who loves coconut can make at home. Just start by boiling chicken stock, then add lemongrass, galangal, and bergamot for that deliciously rich aroma. Reduce the heat and add coconut milk, mushrooms, and sliced chicken. Then finish it off with chillies, lime juice, sugar, and fish sauce. Perfect with some steamed rice. It is one of my most favourite Thai dishes."



Chef Satongun talks home cooked khanom chin. (© Paste)
Chef Bongkoch "Bee" Satongun, Owner Chef, Paste
One MICHELIN Star, MICHELIN Guide Thailand 2021

"I love making khanom chin noodles at home. It takes me back to my childhood. There are two types of khanom chin noodles. The first uses fermented flour. Those noodles are brown and have a stickier texture than if you used fresh flour. And they keep longer. This is traditional khanom chin noodles. The second type uses fresh flour. These white noodles are bigger, softer, and easier to make. The nam ya, or gravy, is made of fish and curry paste, poured over the noodles. When I was little, my mum sold khanom chin nam ya at her shop. Every morning, we would make gravy, pounding the curry paste with the fish in a mortar and pestle. Then we would cook the mixture in coconut milk and prepare the vegetables, like green beans, bean sprouts, morning glory, sweet basil, and roasted chillies, which would be eaten with the khanom chin nam ya.

"I had never understood why we did so much preparation for a single dish of khanom chin nam ya, but now I understand. The vegetables add their own freshness and textures to the flavours. And the roasted chillies add a smoky spiciness. That's what makes all the effort worthwhile. This is what I make at home. It grounds me."



The French chef from Loire Valley enjoys cooking with his foodie family. (© Chef's Table)
Vincent Thierry, Chef de Cuisine, Chef's Table
Two MICHELIN Stars, MICHELIN Guide Thailand 2021

"At home, we spend quite a lot of time in the kitchen. I say 'we' because my wife joins me in cooking and baking. So, we eat 100% homemade cooking, and we almost always use only local ingredients. The dishes are varied. Pizza, club sandwiches, ox tongue with caper sauce, roasted chicken, potatoes au gratin, pastas, all types of salads -- carrots, beetroot, tomato and mozzarella, caesar -- cod, grilled salmon steak… the list goes on. But we always finish with something sweet. It could be some fresh fruit, or it could be a nice cake or tart. And, of course, everything is served family style."