As June comes to an end, start planning for July's dining adventures by exploring these exciting openings and menus by MICHELIN Guide restaurants in Singapore.
The new Ocean Restaurant at Resorts World Sentosa is now helmed by two-MICHELIN-Starred restaurant chef Olivier Bellin. (Photo: Resorts World Sentosa)
1. Chef-Owner Olivier Bellin of Two-MICHELIN-Starred L'Auberge des Glazicks Helms the New Ocean Restaurant at Resorts World Sentosa
After a hiatus, Ocean Restaurant at Resorts World Sentosa reopens with a new chef helming its kitchen. Known as Singapore's only underwater fine dining destination, overlooking the marine world of S.E.A. Aquarium's Open Ocean Habitat, the restaurant warmly welcomes Olivier Bellin, Chef-Owner of two-MICHELIN-Starred
L'Auberge des Glazicks
in France, as its new Chef Patron.
Born and trained in France, Bellin began his culinary career as an apprentice for MICHELIN-Starred restaurant chefs such as the late
Joël Robuchon
. Bellin then returned to his hometown of Plomodiern, France, and transformed his parents' inn into two-MICHELIN-Starred
L'Auberge des Glazicks
, where he sources his ingredients entirely from Brittany's local fisheries and terroir, grows herbs and vegetables in the property's garden, and is fervent about reducing packaging and plastics in his kitchen.
Adapting this philosophy of sustainable dining to Singapore, Bellin's new and modern European menus at Ocean Restaurant demonstrate a commitment to sustainable gastronomy and are seafood-focused. Featuring responsibly sourced seafood, local produce, and house-grown herbs, diners can expect creations that emphasise the fresh, natural, and healthy flavours of the sea.
"I am excited to be part of the newly-revamped Ocean Restaurant, which is such an incredibly unique and iconic dining destination in Singapore. I also connect with S.E.A. Aquarium's beliefs towards marine conservation as well as RWS's commitment to sustainable practices on a personal level. Together with Ocean Restaurant's culinary team, we want to create an immersive dining experience that conveys the beauty of the ocean and the need to protect the environment. We also want to imprint a strong, emotional impression on our guests," says Bellin.
Make a reservation at Ocean Restaurant here.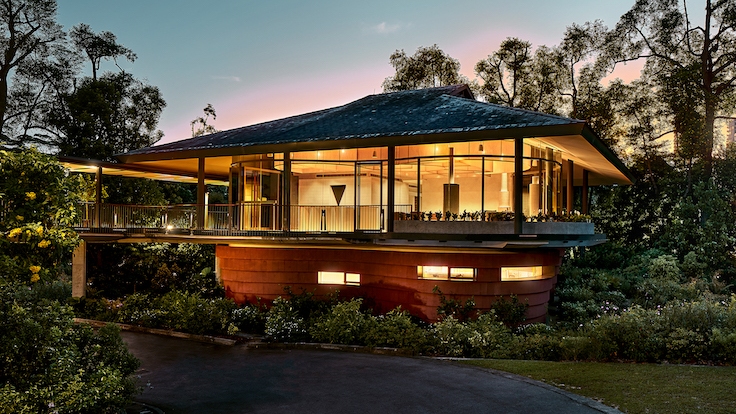 Pangium at the Singapore Botanic Gardens is the newest venture of one-MICHELIN-Starred Candlenut's Malcolm Lee (Photo: Pangium)
2. Pangium by Malcolm Lee of One-MICHELIN-Starred Candlenut Opens in the Singapore Botanic Gardens
Now open at the Gallop Extension of the Singapore Botanic Gardens, the second restaurant of MICHELIN-Starred
Candlenut
's Malcolm Lee, Pangium, is ready to invite diners to experience its Contemporary Straits cuisine.
Compared to
Candlenut
, which serves both tasting menus and à la carte dishes that can be experienced family-style, Pangium is an intimate, tasting menu-only experience that Lee describes as an exploration of heritage flavours through a contemporary Singaporean lens.
"At Pangium, we ask ourselves: how would we do it if we were to approach the same dish with a similar mindset as the people who first created it, but prepare it in the context of today so that present day diners might connect with it?" Lee explains.
"The experience is intended to offer guests tastes, small bites, as well as more substantial courses that will hopefully reignite flavour memories," says Lee. The meal at Pangium begins with a series of snacks, followed by a bread, a dumpling, a soup, and a seafood dish, culminating in a signature
nasi ulam
(mixed herb rice) course. The
nasi ulam
is a showcase of lesser-known vegetables and herbs that is accompanied by an array of side dishes that explore what Lee describes as forgotten recipes and flavours.
Experience Pangium and book your seat here.
Nouri's The Raw and the Cooked (Photo: Shaun Liew)
3. MICHELIN-Starred Nouri Celebrates Its 5th Anniversary by Unveiling a New Iteration of Its Crossroads Menu
After a month-long renovation, MICHELIN-starred
Nouri
celebrates its fifth anniversary by reopening last 06 July 2022 with a new menu and a space that aims to reflect the evolution of chef Ivan Brehm's restaurant philosophy coined Crossroads Thinking.
The name
Nouri
has Middle Eastern and Asian origins. It is Arabic for "my light", Aramaic for "my
fire", and old Korean for "world". For Brehm, the name embodies the purpose of the restaurant, which is to contribute to better relationships with people and culture through careful study.
The refreshed menu at
Nouri
explores raw, cooked, and fermented foods, with an objective to combine sensory pleasure through taste and historical moments of connection.
Diners can expect dishes such as The Raw & The Cooked, a new dish consisting of carabinero
crudo
,
tamarillo
, spiced prawn floss, and finger lime. A course called Barbarians' Head explores the origins of dumplings, highlighting Central Asia and its nomadic tribes for inspiration, serving small
manti
dumplings — of Turkish origin — filled with confit chicken skin in a spiced beef consommé that is poured table-side. Beside it, an A5 Wagyu and 'nduja roll references the important trade routes that connect East and West.
Closing the menu is Chocolate Fish Ball, a dish that speaks to Southeast Asians' penchant for savoury
desserts, while paying tribute to chocolate's ancestral origins in Central and South America. Chocolate sorbet is coated in chocolate crumbs and married with candied chilli, wild pepper leaf, and fried and candied
ikan bilis
. The dessert also features the use of
colatura di alici
, an Italian fish sauce made from anchovies and
garum
— a sauce or condiment prepared by fermenting the innards of fresh fish. A green chilli marshmallow is served alongside it.
Magae Sri Lanka, happening on 15 July 2022, is a charity lunch to support the people of Sri Lanka's humanitarian needs during its ongoing economic crisis. (Photo: Kotuwa)
4. Bib Gourmand Restaurant Kotuwa Hosts a Charity Lunch for Sri Lanka's Current Economic Crisis
With Sri Lanka's economic crisis deepening each day, its people continue to experience immense struggle as the unprecedented collapse spirals out of control. With this, Sri Lankan-born chef Rishi Naleendra of MICHELIN-Starred
Cloudstreet
and Bib Gourmand restaurant
Kotuwa
, along with Sabina Munshi of Baréskin Singapore, and the people behind Ceylon Spice Co., have come together in efforts to raise funds for the basic humanitarian needs of the Sri Lankan people.
Magae Sri Lanka, a charity lunch to support this cause, is an ode to the childhood and the journeys of Naleendra and Munshi, where they talk about how Sri Lanka has shaped who they are today. Set in Bib Gourmand restaurant
Kotuwa
, this one-day-only luncheon will be held on 15 July 2022 at 12pm. Diners can expect Sri Lankan dishes that both Naleendra and Munshi grew up with, evoking heart-warming and nostalgic Sri Lankan flavours.
Seats are priced at $250++ per person and can be booked online via https://cho.pe/kotuwasarvodaya. Anyone is also welcome to donate to this cause separately through a dedicated donation link that will be made available in July. For additional information and enquiries, call or write in to 69707838 and info@kotuwa.com.sg respectively.
Butcher's Block, located at Raffles Hotel Singapore, unveils its new Chef's Table experience. (Photo: Raffles Hotel Singapore)
5. Butcher's Block Introduces a New Communal Dining Experience Through Its Chef's Table
A new entry in the MICHELIN Guide Singapore,
Butcher's Block
is praised by the MICHELIN Guide inspectors for the variety of top-quality fish and meat dishes, all expertly prepared using American wood and supplemented with Asian flavours.
Helmed by chef de cuisine Jordan Keao, the
Butcher's Block
Chef's Table experience is described as the ultimate epicurean show-and-tell that takes place at the special 3-metre-long wooden table that takes centre stage in the middle of the restaurant.
The menu features a curated selection of signatures and off-the-menu specials personally presented to the table by Keao and his team, with dishes showcasing the distinct aromas, flavours, and textures that only pure wood-fire can forge. Menu highlights include the off-the-menu Suckling Pig, roasted and seasoned with a medley of ten piquant Chinese spices; Whole Grilled Mediterranean Seabass, aged and accentuated with brown butter miso sabayon; Australian Leg of Lamb hung high above the wood-fire for about 8 hours to gently cook while developing a smoky flavour before being served with Kabocha squash; and Rangers Valley WX Wagyu OP Rib that is cooked over the grill and complemented with bone marrow potato.
Make a reservation at Butcher's Block
here
. Stay tuned for the MICHELIN Guide Singapore 2022 Star & Bib Gourmand Announcement happening on 12 July 2022, 7pm!
Virgilio Martínez of MICHELIN selected restaurant Lima comes to Singapore for a chef's residency this August to October (Photo: Mandala Masters)
6. Virgilio Martínez of MICHELIN Listed Lima Holds Chef's Residency at Art

Lima in London is praised by our Michelin inspectors as one of those restaurants that just makes you feel good about life, and the MICHELIN-selected restaurant's owner, Virgilio Martínez, will be holding residency at MICHELIN-Starred Art at National Gallery Singapore — with the support of chef-owner Beppe De Vito, executive chef Daniele Sperindio, and the team — from 05 August until 30 October 2022.

Hosted by Mandala Masters and together with his wife, Pía León, they will be running MASL (read and pronounced "Meters Above Sea Level"), which feature multi-course menus that present the chefs' signature interpretation of Peru's vastly biodiverse landscapes and ecosystems to Singapore.

Martínez says, "To us, meters above sea level refers to the way we connect with the environment in Peru. Bisected by a major mountain range, Peru's unique geography requires us to look at the world vertically in order to access the origin of thousands of our ingredients." He continues, "The idea of going up and down helps us look attentively where products originate and from whose hands. Only then can we use this knowledge in a way that educates and surprises our guests."

MASL menus aim to explore all corners of the country, showcasing below sea level selections of squid, caviar and abalone, as well as a natural blue presentation of scallops, spirulina, and uni. Corn, kiwicha or amaranth, and cancha paint a crisp and colourful scene of 3,550 masl, before the menu peaks at 3,850 masl with a presentation of native tuber, clay, and high altitude leaves. A journey down to 185 masl features Amazonian nut, squash, and cabuya before finishing with dessert at 1,450 masl with cacao, hidromiel (fermented honey water), and mango. Book your seat to MASL here.