No matter how it is cooked — boiled, poached, fried, microwaved, or baked — this oval or rounded body surrounded by a shell is used for a variety of recipes. In this article, one of the most common, celebrated, delicious and nutritious ingredients is highlighted: eggs.


1. Burnt Ends - 1 MICHELIN Star - Singapore
Chef-owner Dave Pynt smokes quail eggs in the restaurant's 4-tonne wood-fired oven and serves them topped with caviar.
According to our MICHELIN inspectors, Burnt Ends is an obvious choice for meat lovers, prized for quality cuts of meat sizzling on wood-fired ovens and grills. But this carnivorous paradise also serves king crabs and freshwater marrons, plus a menu of sides such as smoked quail egg with caviar, and leek with hazelnuts and brown butter. Reservations are a must.

Photo by Burnt Ends
2. Jay Fai - 1 MICHELIN Star - Bangkok, Thailand
Cutting into
Jay Fa
i's famous "Khai Jeaw Pu" reveals succulent, generous chunks of sweet lump crab, held together by just enough egg
Jay Fai is a place that both taxi drivers and foodies wax lyrical about and it's easy to see why. Wearing her signature goggles, the local legend that is Jay Fai continues what her father started 70 years ago and makes crab omelettes, crab curries and dry congee.
Photo by Jay Fai
3. Baeza & Rufete - 1 MICHELIN Star - Alacant, Spain

The Chef Joaquín Baezalack and his Black Egg: egg on potatoes, cod, black garlic and spinach.
A restaurant that exudes a passion for cooking, plenty of experience and subtle contrasts in which the deliberately cultivated simplicity is compensated by high levels of gastronomic skill.
Photo by Baeza & Rufete
4. Taïrroir - 2 MICHELIN Stars - Taipei, Taiwan

Pu'er Tea Silkie Egg, Sweet Potato Fondant, Buckwheat Tuile, "Congee".

The 1,876 copper tiles hanging from the ceiling are quite a spectacle, but they don't outshine the Taiwanese cuisine on the table – reinvented with local produce, French techniques and artful plating.

Photo by Taïrroir
5. Roast - MICHELIN-listed - London, UK
Chef Stuart Cauldwell's pork, sage and onion Scotch egg.
Known for its British food and for promoting UK producers – not surprising considering the restaurant's in the heart of Borough Market. They take quite a lot of large tables but the bright room is big enough to cope.
Photo by Carla Gradiski
6. Hotell Borgholm - 1 MICHELIN Star - Borgholm, Sweden

Discover the egg filled with baked crondill cream and roe from Vänern, by the Chef Christofer Johansson.
The team at this historic hotel's restaurant provide a warm welcome and its wine list is a treasure trove. Tasting menus showcase seasonal ingredients from the beautiful island of Öland.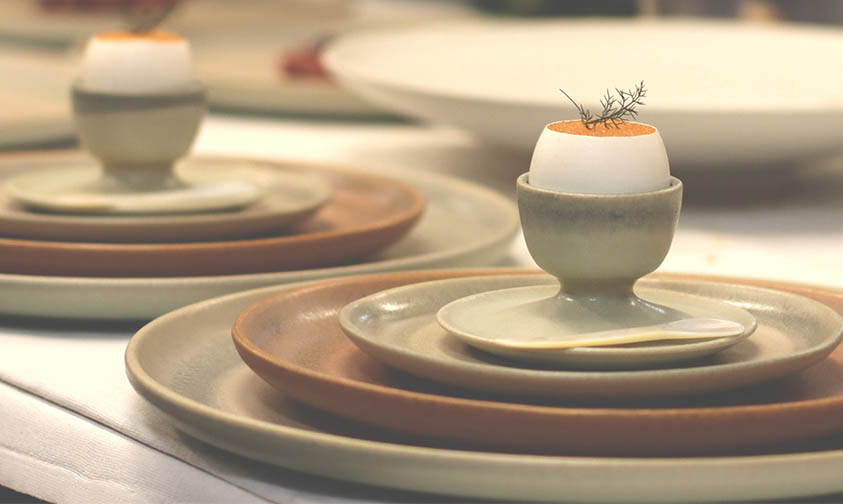 Photo by Hotell Borgholm
7. Phénix - 1 MICHELIN Star - Shanghai, China Mainland

Discover the "Puree caviar" dish by Pierrick Maire.
A new kitchen team arrived at this chic restaurant in 2019 and the French head chef has worked in some of the most prestigious kitchens in France. His dishes deliver on flavour without being overly complicated and come with rustic touches and subtle Italian influences.
Photo by Phénix
8. Auberge du Vieux Puits - 3 MICHELIN Stars - Fontjoncouse, France

Egg "Carrus" filled with Melanosporum truffles on mushroom and truffle puree, warm brioche and cappuccino, by Gilles Goujon.
Quality produce is the star of this inspired cuisine taking flavour to new heights. Seasonality, regionality, creativity: technically masterful yet modest, Gilles Goujon excels in finding the perfect balance, with the aid of a team who understand what diners want.
Photo by Auberge du Vieux Puits