F
ancy tucking into a multi-sensorial meal that takes you on a trip through verdant farms around the world and simulate the experience of dining with schools of fishes swimming or autumn leaves dancing around?
Welcome to the Plenitude Suite, a private dining space that was rolled out in modern Australian restaurant
Stellar At 1-Altitude
in August. Perched on the 62nd level of One Raffles Place, the intimate eight-seat communal dining room gives diners a front-row seat to learning about the provenance of ingredients, such as the caviar, cheeses and beef that are on the menu, while being immersed in the whimsical multimedia projections across the walls and dining tables. To top it off, there's plenty of champagne to go around to keep the night in high spirits.
Christopher Millar, executive chef of Stellar At 1-Altitude shares his farm trip experiences with diners during a Plenitude Suite dining session.
Tucked away in an inconspicuous corner at Stellar, the Plenitude Suite is a partnership with
Dom Perignon
. While the world-renowned champagne house has held Plenitude Suite pop-ups, Stellar At 1-Altitude is the world's first restaurant to house a permanent Plentitude Suite.
The suite is named after the concept of a plenitude, which stands for the maturation period of champagne. Helmed by Stellar's executive chef, Christopher Millar, the Plenitude Suite typically offers a 10-course menu, which pairs seasonal dishes with Dom Perignon champagne.
In between courses during the three hour-long meal, diners can watch videos of Millar chatting with oenologists and farmers in France. The virtual cross-country trip takes them to the historic Abbey of Saint Peter of Hautvillers in north-eastern France, where Dom Perignon was born, a sturgeon farm run by French caviar producer
Sturia
in Bordeaux, the Bapt Henri cattle farm and the production houses of acclaimed cheese-maker
Herve Mons
.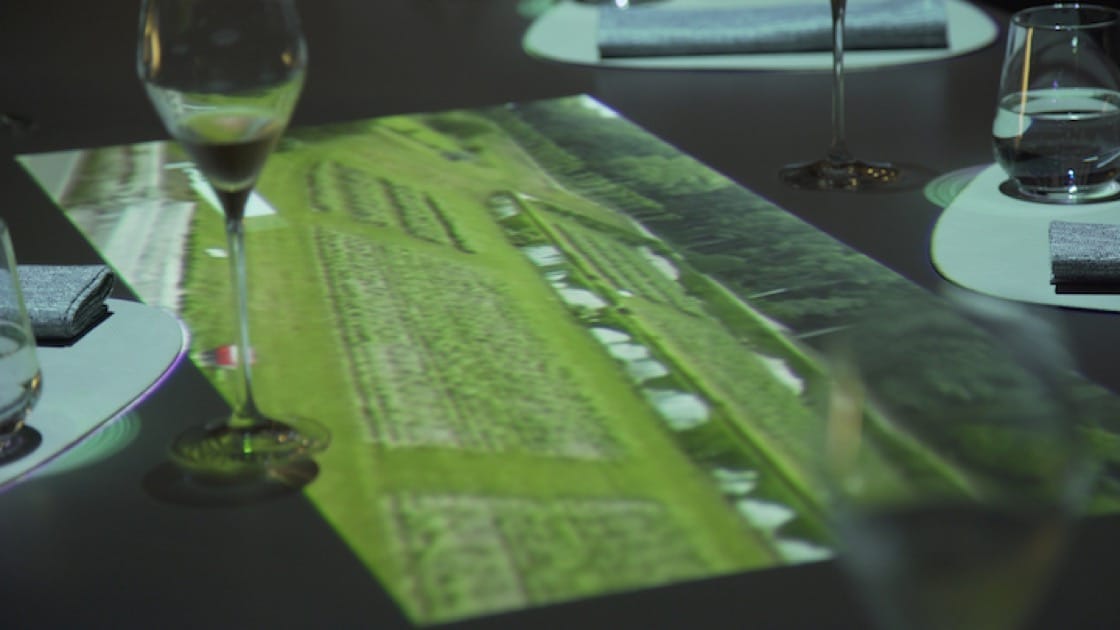 Diners get to make virtual trips to farms around the world during a Plenitude Suite dining session.
Millar hopes to elevate the dining experience with the Plenitude Suite. He says: "Making these amazing journeys to farms really shouldn't stop there. What we want to do is to share that experience by bringing diners here, who may not have much connection with nature, closer to the source." He adds that this move is in sync with local diners, who are expressing more interest in knowing more about the stories behind the produce.

Besides seeing the produce up-front, Millar relishes the opportunity to meet and cultivate a closer relationship with the farmers and food producers. "When we receive these amazing ingredients in Singapore, we don't know exactly what has gone into producing them," he says. "These farm trips are about digging deeper; getting to know the farmer and understand what goes into creating some of the most immaculate ingredients. It gives us a whole different perspective and appreciation of the ingredients."
Chef Christopher Millar (middle) interacts with Scott de Bruin (extreme right), who runs Mayura Station, a full-blood wagyu farm in South Australia.
For example, Millar visited
Mayura Station
, a full-blood wagyu farm on the Limestone Coast in South Australia in October. Interacting with Scott de Bruin, the second-generation owner of Mayura Station, he got a first-hand look at how 3,000 cattle are brought up on a single-source concept. Almost every part of the cattle's diet is grown on the farm, from the calcium-enriched water that seeps through the limestone caves that lie beneath the farm's grounds to the feed ration, which includes corn, wheat and rye.
He says: "Scott is a progressive farmer, who pushes things ahead by using technology to bring out the best of his environment. It is inspiring to meet such custodians of wonderful produce. After meeting them, you feel a greater sense of responsibility to deliver the perfect produce."
On farm trips, Millar also collaborates with chefs from around the world. As part of his recent trip to Australia, he dropped by his hometown Melbourne to cook with chef and friend
Philippe Mouchel
, who is the chef-owner of his
eponymous French restaurant
in Collins Street. Mouchel, who is the protege of the late legendary chef Paul Bocuse, has run restaurants in Australia for the past 20 years. During the trip, the two chefs showcased two ways of cooking with the flat iron cut of the Mayura wagyu — Millar grilled the steak while Mouchel opted to make a classical French dish, beef tartare, which was seasoned with capers, colatura (anchovy sauce) and smoked vinegar.
Millar says: "By doing these exchanges, it allows us to keep learning techniques as chefs and it gets our creativity flowing. We bring what we've learnt back into our kitchens."
The Mayuru flat iron steak with chervil root, bone marrow crust and Dutch cream potatoes is one of the main courses in the Plenitude Suites' Christmas menu.
The Mayuru flat iron steak is also one of the main courses in the Plenitude Suites' Christmas menu ($440++ a person). The buttery soft meat is served with chervil root, bone marrow crust and Dutch cream potatoes, and is paired with a glass of Dom Perignon Rose in the menu that is available from 22 to 25 December.

Millar says: "Creating this pairing for the Dom Perignon Rose, we used the Mayura oyster blade, which has a complexity to it. It has a rich nutty flavour, which pairs very well with the freshness and vibrancy of the rose."
Pastry chef Jasmin Chew fires up sweet tidings with Christmas Fireplace, a charcoal-themed dessert platter.
The multimedia projections at Plenitude Suite also take on a festive theme with Yuletide icons such as gingerbread man, prancing reindeers, ice-skaters zipping around and glorious showers of snowflakes appearing on the table. For dessert, pastry chef Jasmin Chew fires up sweet tidings with Christmas Fireplace. Against a backdrop of glowing embers, Chew and her team assemble a log-themed dessert platter.

The rustic-looking platter, which is draped with pine leaves, houses rolls of chocolate parfait with sherry reduction that resemble coal briquettes, "lump coals" that are charcoal streusel-studded choux puff loaded with rhubarb mousse, and served with a smoky mist from meringue doused in liquid nitrogen.
A visual spectacle of a table filled with lighted candles is a stunning curtain call to the meal.
The biggest spectacle of the night is reserved for the last. Diners are mysteriously blindfolded before they are unveiled to see a shimmering galaxy of candles placed on a starry table backdrop.

Millar hopes that the experiential dining session at the Plenitude Suite can leave an indelible mark on diners through heightening their understanding of the produce and champagne.

Legend has it that when Benedictine monk Dom Perignon first encountered champagne, he famously said "Come quickly, I am tasting the stars." Quoting Dom Perignon, Millar says: "When diners finish their experience in the Plenitude Suite, they must feel like they have been drinking stars."
The Plenitude Suite is located at Stellar At 1-Altitude, Level 62, 1 Raffles Place
---