In every way, Caprice is a grande dame of Hong Kong's French fine-dining scene, having been spotlighted in the MICHELIN Guide Hong Kong Macau since it debuted 12 years ago. Under the tenures of Vincent Thierry and Fabrice Vulin, the elegant establishment in Four Seasons Hotel Hong Kong received two stars in 2009, three stars from 2010 to 2014, and two stars from 2015 to 2018.

French native Guillaume Galliot took over the reins in 2017, maintaining Caprice's two-Michelin-starred status until last year when the restaurant was elevated to three stars in the MICHELIN Guide Hong Kong Macau 2019 edition. But for him, three stars is not the ceiling of his achievements.
A Fourth Star
"When you reach three stars, it's not a lifelong award. You need to fight every year for that. In your mind, you need to create a fourth star and work towards that to make sure you keep these three. You have to always constantly be researching and fighting for the best," he says emphatically.
That fighting attitude and a lifetime of work and travel has culminated in the pinnacle of his success so far. After an early start as a commis cook in the restaurant of revered Charles Barrier in his hometown of Tours in France and later in the three-Michelin-starred Jardin des Sens in Montpellier, Galliot left the country for stints in fine-dining restaurants around the world, from Saint Barthelemy and Morocco to the Raffles Hotels in Beijing and Singapore.

Along the way, his culinary style evolved into a global palette of flavours and ingredients built on solid classical French-based cooking. "Just like wine as it ages and becomes more elegant and refined, the more I travel, the more knowledge I accumulate and I get better and better with age and experience."
Galliot doesn't believe in shouting in the kitchen (Pic: MICHELIN Guide Digital)
Injecting His Personality

In 2012, he moved to Macau with his Singaporean wife and started The Tasting Room within the City of Dreams complex, earning one star just six months after opening, and two stars three years later. That was his first taste of the Michelin stars.

"Any award is positive, as long as your primary vision is to satisfy your guests. When your restaurant is full of happy people, you just don't want to stop," he says, when asked what keeps him going. "Hong Kong is a big city with people from all over the world coming and eating here. We have to try to surprise them each time, that's my target and philosophy."

Taking over the helm of a long-standing establishment like Caprice was no easy task. "Caprice is a 12-year-old restaurant and I love the place. For me, it's a timeless place that will never go out of fashion. But when I arrived in Caprice, it was a totally different style that was very unlike my approach to cooking."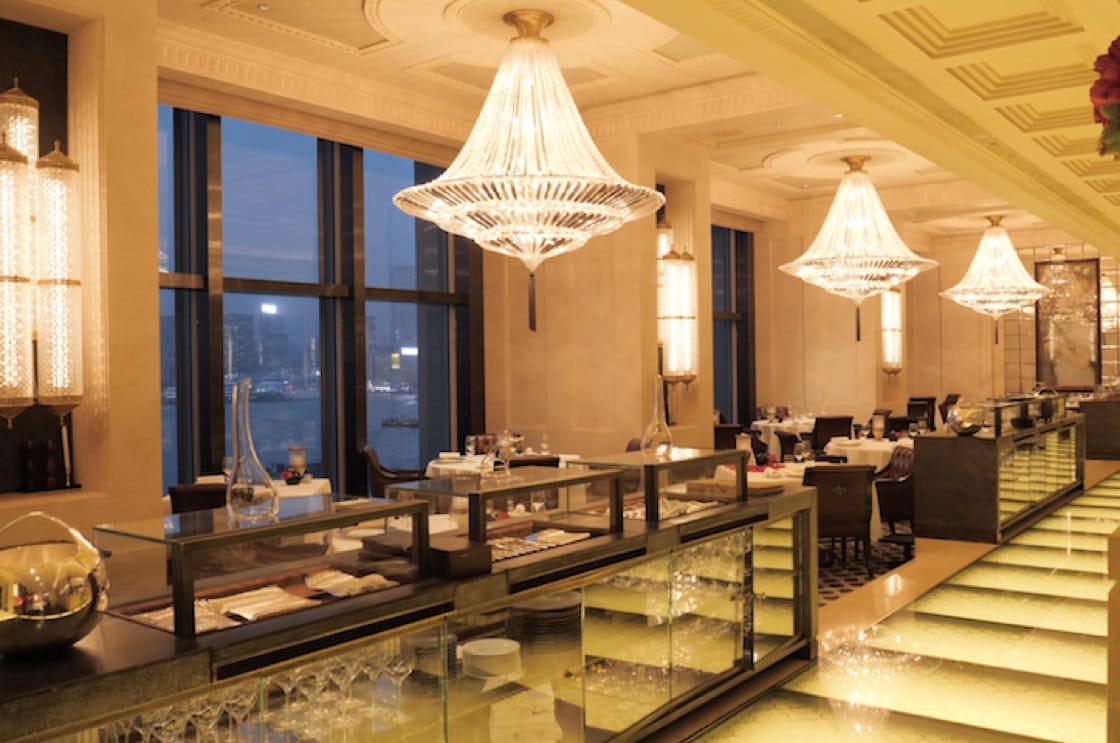 Caprice is a timeless place. (Pic: MICHELIN Guide Digital)
Charged with the mission of injecting his personality into the cuisine, Galliot turned the perception of rich, heavy French cuisine laden with butter upside down with his light touch and ingredient-centric approach. "We have a menu that changes every day. It forces us to be creative and have everybody on the staff focused together to create a different menu each day."
The menu at Caprice changes every day (Pic: MICHELIN Guide Digital)
The Happiest Moment
The chef says that the part of the day that gives him most joy is when he is receiving fresh produce and cannot wait to show them to his staff. "I'll ask them to come and look at this lamb or this fish, and sometimes they will be like: 'Are you okay, chef?'," he says, laughing. "Just receiving a beautiful product makes me very happy because it makes our job easier. We just have to bring this product to people in a way that they can also see how beautiful it is.

"Food for me is not just about filling the tummy. It is sharing and enjoying. More and more, I love my work. I put in my best to present the product to the guest and that brings joy to everyone. When you manage to make them happy, you win the bet."