Twenty-five years of Experimentation

2020 marks the 25th anniversary of the opening of The Fat Duck and, to celebrate this milestone, over the coming year the iconic restaurant is serving an Anthology Menu of its classic dishes.

This menu will feature a different seasonal Menu (or 'Volume') each quarter, in order to explore the most famous and fantastical dishes to have come from Heston Blumenthal's imagination.

Our Michelin Inspectors have already experienced Volume 1, which is being served until November, and they advise booking early, particularly if you have a special date in mind; tables are released several months in advance, and you need to be quick to get one!

Honours and Awards
The Fat Duck opened on 16th August 1995 in a 16C former pub in Bray, Berkshire. In the early days, it resembled a French bistro, and was known for its triple-cooked chips, but it gradually became synonymous with Heston's innovative, multi-sensory cuisine, and received its first Michelin Star in 1999.

Heston continued with his culinary experimentation (his motto: question everything) and a Second Michelin Star followed in 2002. Soon after, in 2004, the restaurant received the ultimate culinary accolade of Three Michelin Stars – one of only three at the time in the UK and Ireland. In 2006 Heston received an OBE for services to British gastronomy.

Heston's Groundbreaking Approach
The fact that Heston has enough iconic dishes to create four different menus is testament to his groundbreaking approach to cooking and the influence he has had on gastronomy both in the UK and further afield.

Heston has never been afraid to challenge culinary norms, concentrating much of his time on scientific investigation and experimentation. Having come to the realisation that eating is about emotional responses, Heston began to personalise his menus; playing with diners' perceptions and memories through taste, touch, sight, sound and smell.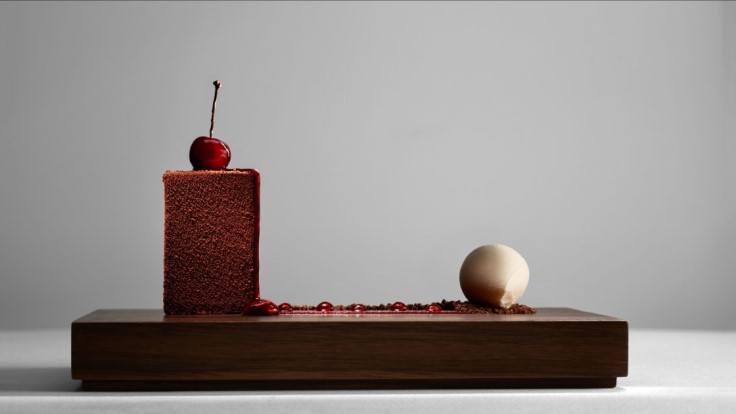 Anthology Menu - Volume One

NITRO-POACHED GREEN TEA AND LIME MOUSSE (2001), AERATED BEETROOT (2011)
This groundbreaking dish remains one of the most intriguing beginnings to a meal: the light above your table turns green and the mousse is lowered into liquid nitrogen. The resulting palate cleanser is crisp and intense; overlaid with a note of lime, which is sprayed into the air with a theatrical flourish. The earthy beetroot macaroon is filled with powerfully flavoured creamed horseradish to stimulate the appetite.

Aerated Beetroot (2011)
RED CABBAGE GAZPACHO (2001), ORANGE & BEETROOT JELLIES (2002)
This intense peppery cabbage gazpacho is served with a scoop of bitter Pommery mustard ice cream. The jellies mess with your mind as the orange one has the earthy beetroot flavour while the purple one has a distinct orange tang.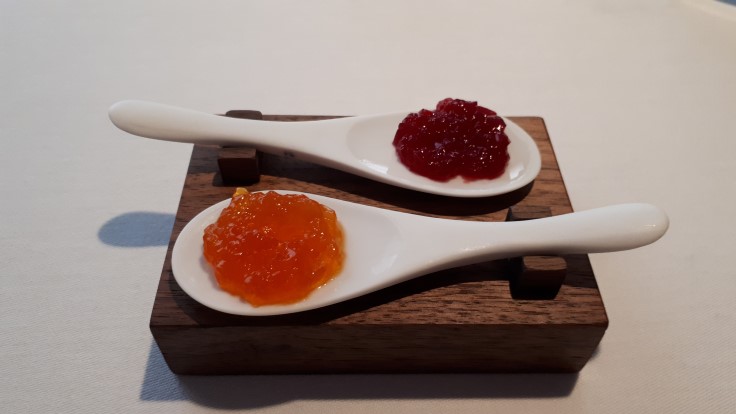 Orange & Beetroot jellies (2002)
JELLY OF QUAIL, LANGOUSTINE CREAM, PARFAIT OF CHICKEN LIVER (1999)
Truffle and oak toast, scented moss
A homage to Alain Chapel's Pigeon Jelly, this dish features a pot of clear quail jelly with a subtle star anise and onion essence, covered with a layer of silky smooth langoustine cream and topped with a quenelle of rich chicken liver parfait. A finger of toast fried in beef fat comes with truffle, oak and moss flavours; stirring up memories of damp woodland walks.

SNAIL PORRIDGE (2003)
This instantly recognisable signature dish plays with perception and reality, combining a base of rich, buttery, slow-cooked oats with a vibrant garlic and parsley sauce, topped with tender snails and a powerful fennel kick.

Snail porridge (2003)
CRAB ICE CREAM (1998)
A tiny biscuit cone is filled with a rich crab ice cream topped with pepper sauce 'syrup' and an edible sprig to represent a chocolate flake. Hey presto, it's a 99 ice cream straight from your childhood!

SOUND OF THE SEA (2007)
This well-known and evocative dish grew from the idea that sound can change how we experience our food. The fish dish is served with tapioca sand, sea vegetables and a light sea foam – and you listen to waves crashing and seagulls cawing whilst you eat it.

Sound of the Sea (2007)
THE CORONATION FEAST OF JAMES II AND QUEEN MARY (1685)
(Reputed to be one of the most spectacular banquets ever served in Britain)
Beef Royal: Soft, flavour-filled, slow-cooked beef comes with smoked anchovy, pickled mushroom, Selim pepper and salmagundi salad.
A lightly caramelised fillet of meaty turbot is served with a quenelle of super soft caviar, a sweet verjus jelly, lovage cream and succulent oyster.

The coronation feast of James II and Queen Mary (1685)
COUNTING SHEEP (2015)
Inspired by the comforting smell of baby powder, this playful dessert features a raised rotating pillow and a soothing lullaby. The malted meringue has a soft, creamy centre and comes with two sublimely fluffy pillows; one containing a light orange blossom sponge and the other, a tonka bean ice cream and a soporific lavender jam.

LIKE A KID IN A SWEETSHOP
Your meal ends with a delicious selection of petit fours from the 'sweetshop': these include a delightfully intricate white chocolate playing card.

Evocative, playful and as intriguing as ever, The Fat Duck provides an immersive dining experience which remains with you long after the event. We look forward to seeing which of Heston's iconic dishes will feature in the remaining three Volumes!

Like a kid in a sweetshop