Here are our favourite restaurants with outside spaces in Warsaw.
Warsaw From Above
Szóstka, plac Powstańców Warszawy 9, Warsaw
Terrace on 6th floor © Malgosia Minta
Hamachi crudo with apricots and pickled blackcurrant leaves © Malgosia Minta
'Szóstka' is the Polish word for 'Six' and here it refers to the floor of the hotel in which the restaurant is located. Nestled in an orangery-like space and flanked by a vast terrace, it offers a unique view of the Warsaw city centre landscape and its diverse architecture – from the neoclassicist domes of art galleries and the stone-covered façades of town buildings to mirror-covered skyscrapers. When the sun is shining, enjoy lunch or dinner in the open air on the shaded terrace; when the temperature falls, worry not, as you can still enjoy the view through the panoramic windows. Chef Dariusz Barański's cooking showcases the quality of his produce, taking inspiration from both Polish and Mediterranean flavour profiles. Dishes follow the seasons and the weather, with dishes such as hamachi crudo with apricots and pickled blackcurrant leaves or the zucchini blossom and goat's cheese tempura. The menu is short but evolves regularly, providing a great excuse to return time and again.

---
© Justyna Chrobot
© Justyna Chrobot
When you wish to run away from the hustle and bustle of the big city and squeeze in a meal as you go about your daily tasks, Concept 13 is the place to go. Located on the tip of a luxurious department store, it provides all the calm and relaxation you need on a busy day. Its sunny terrace is the perfect spot to kick-back, and the à la carte menu is built on international favourites like steak tartare, Caesar salad or taglioni with shrimps. If you have time to linger longer, there's also the chef's menu, which comprises more original dishes where the chef's personality shines through.

---
Secret Garden
alewino, ul. Mokotowska 48, Warsaw, Bib Gourmand
Secret Garden © Alewino
Zucchini flowers with homade ricotta © Malgosia Minta
A long-time favourite of Warsaw, alewino is deservedly highlighted with our Bib Gourmand award. Take a turn off one of the courtyards of Mokotowska Street and enter into a truly secret garden protected by the walls of old buildings and filled with mature trees, colourful hydrangeas and aromatic herbs planted in wooden boxes. Between them, find your table, then order the likes of chanterelles with fava beans and savoury sabayon; a refreshing chłodnik – a chilled soup of baby beetroots with crunchy kohlrabi and soft egg; or stone bass with white asparagus and herbed gnocchi. These are accompanied by well-chosen wines, mostly of central European origin.

---
Art and Dining
Muzealna, al. Jerozolimskie 3, Warsaw
© Muzealna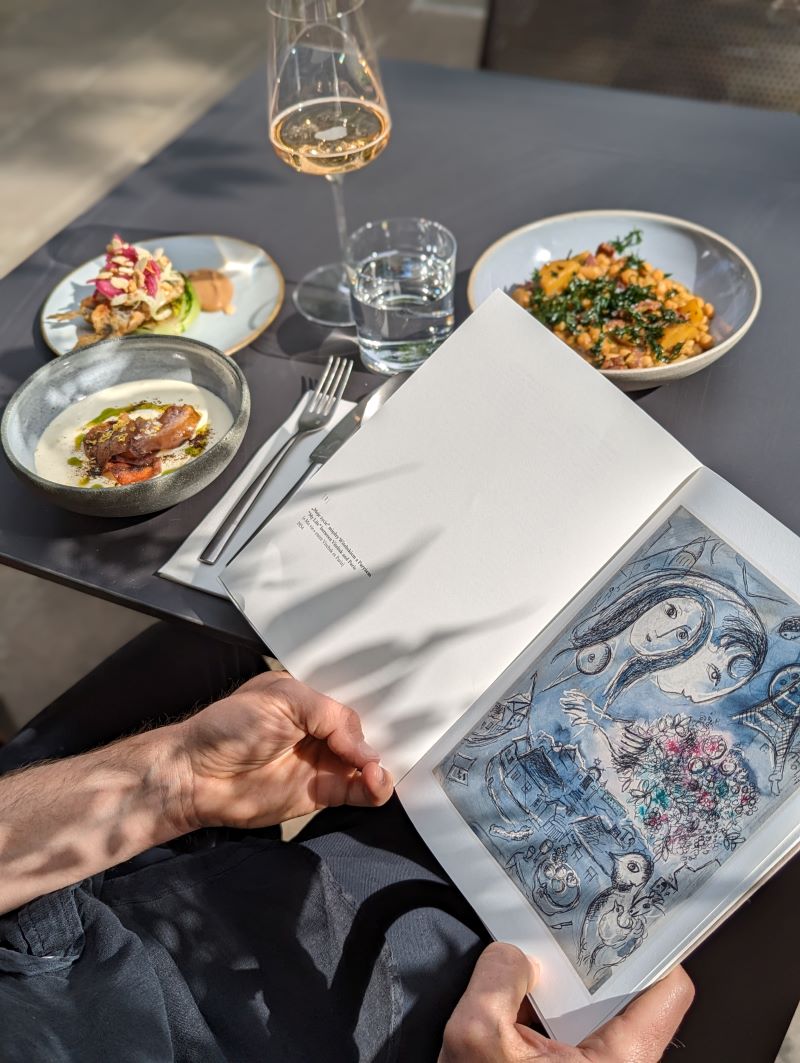 © Muzealna
Summer in the city means plenty of art and culture. If visiting the National Museum in Warsaw, be sure to stop by Muzealna restaurant, which spreads out into the museum's garden during the summer months. On blissfully warm days be sure to sit outside and indulge the greenness around you, as well as in the fresh, seasonal dishes which arrive at your table. You might find marinated trout with buttermilk dressing and pickled cucumber; beef tartare with chanterelles, pickled cucumbers, crème fraîche and lovage mayo; or Silesian dumpling with spinach pesto, wild garlic and green asparagus.


---
Europejski Grill © Tomo Yarmush
© Tomo Yarmush
Hotel Raffles Europejski is one of the oldest in Warsaw – a true gem of a hotel for history and design lovers alike. But you don't need to stay there to enjoy its restaurant – the Europejski Grill – which, over summer, opens its terrace facing the monumental Place Piłsudskiego. From this vantage point you can enjoy a view of the square, as well as seeing how the past intertwines with the present in every corner of the city. If you're passing, stop for a light lunch of grilled octopus salad; tomato with gazpacho and watermelon; or blinis with caviar. Alternatively, make a night of it with friends over grilled monkfish or Irish lamb and a bottle of fine wine.

---

Illustration Image © Alewino


This post is brought to you in partnership with the Polish Tourism Organisation