MICHELIN-recommended restaurants have sommeliers to curate their wine menus, and now you do, too. Wine Access' MICHELIN subscription program delivers four bottles, five times per year, curated by restaurants like Three Star Per Se, Three Star Quince, and Two Star minibar. The bottles in each seasonal box are picked Wine Access' team of sommeliers working in tandem with MICHELIN-Starred restaurants. The result is a quartet of outstanding bottles of wine to pair with dinner, whether you're cooking at home, eating with friends or family, or even tucking into a humble slice of pizza.
The next Wine Access x MICHELIN wine selection is from Three MICHELIN Star Eleven Madison Park. The restaurant has held three stars since 2011, but this year became the world's very first vegan restaurant to earn Three Stars. Chef Daniel Humm's plant-based menu is a bold vision of luxury dining, paired with wine selections that wine director Gabriel Di Bella says "represent passionate farmers and winemakers from around the world, who embody the notion of terroir by crafting pure representations of their respective regions' wine traditions."

Di Bella adds, "EMP's [wine] list has been shaped for almost 25 years by outstanding and caring wine directors and sommeliers who've made [our] list one of the best offerings in this country. I appreciate this collaboration and also value the many different perspectives on my team. It's important to me that every sommelier who joins Eleven Madison Park has a voice of their own in our wine program. When a passionate individual gets to tell you the story of a wine they personally feel connected to, this [really] enhances the guest's journey. And that's what we do at the end of the day here, we bring people on a journey. The best feeling for our team is when you get to recommend a bottle completely outside the geographical area or taste profile the guests initially thought of. Hopefully they end up having the best time, love the wine either on its own or paired, and ask you how they can get a case of it.
Read on for pairing recommendations from Di Bella, then order your Eleven Madison Park x Wine Access shipment before it sells out.

2015 Remelluri Rioja Reserva
Pairing: Fried mushrooms with thyme and ginger

Telmo Rodriguez, since his return to Remelluri, produces a very elegant Rioja—fragrant and fresh. The tannins, present but refined by a longer barrel aging, are a great ally to balance the fried mushrooms' texture. The blend, dominated by Tempranillo, provides spice flavors that complement the hints of ginger and thyme.
2020 Trimbach Riesling Reserve Alsace
Blistered fava bean salad with green chickpeas and sorrel

The Trimbach estate dates back to the beginning of the 17th century, and it's now managed by the 13th generation. The Riesling grapes for this bottling are selected from Ribeauvillé and Hunawihr—an area known to bring structure and intensity. While the wine has a lot of power, its freshness makes it an amazing pairing for the fava bean salad.
"Wine is not only made of grapes. Each bottle is filled with the history, the culture, and the love of the people who produced it."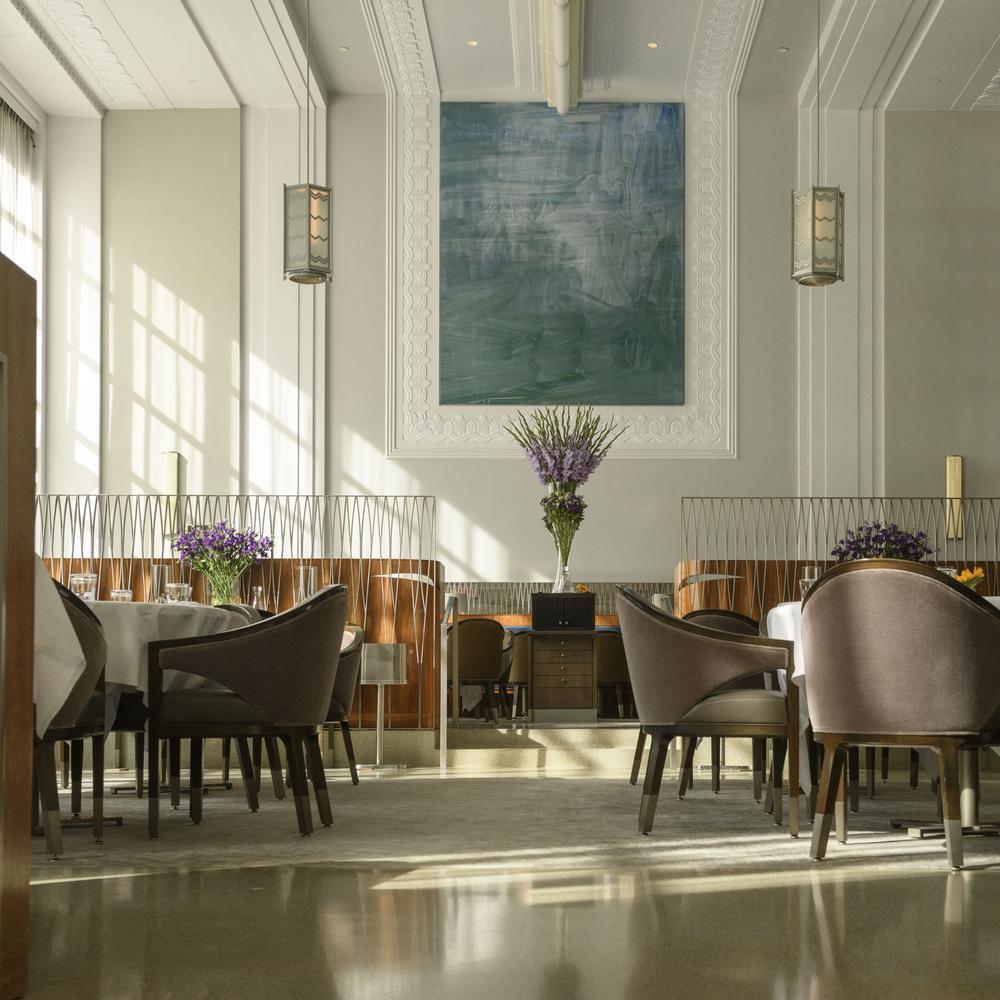 Eleven Madison Park © Evan Sung/Eleven Madison Park
2018 Castell'in Villa Chianti Classico Tuscany
Pairing: Grilled maitake mushroom with juniper, pine, and matsutake rice porridge

Castell'in Villa, led by owner Coralia Pignatelli della Leonessa, is one of the most iconic estates in Tuscany, producing world-class, age-worthy wines since 1968. With intensity and an elegant structure, this wine is already charming, but can age even longer. The Sangiovese is developing stunning black fruit and mushroom flavors while keeping a solid structure, which plays superbly with the rice porridge.
2019 Guy Farge Terroir de Granit Saint Joseph
Pairing: Grilled pepper with zucchini, seitan, and coriander blooms

Saint-Joseph is one of the areas where Syrah expresses its full potential. Here at Guy Farge's domaine, now led by his son Thomas, the fruit and spices really shine, and they're excellent companions to the flavor of coriander. Grown on granitic plots, this bottle retains freshness and acidity, perfectly balancing the unique texture of Seitan.
---
---
Presented in partnership with Wine Access


Hero image © Wine Access