Food is political. In honor of Martin Luther King, Jr. Day, here is a list of Black-owned MICHELIN Guide restaurants in the US. For comprehensive lists of organizations working to fight racial injustice and food inequality, see Civil Eats and Hunter College's Food Policy Center.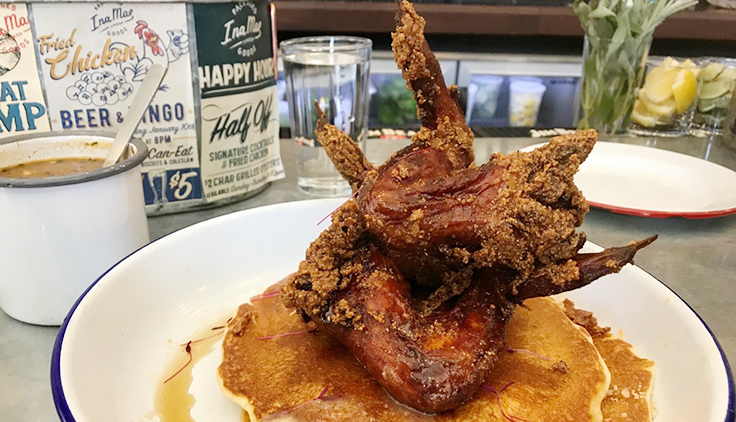 Ina Mae's crispy chicken wings on salted praline pancake. Photo by Michelin North America
Chicago
Demera
Vegetarian and omnivorous offerings abound on the menu, which also features a small glossary of terms to help newcomers. Pleasantly spicy yesiga wot combines tender chunks of beef with onions and ginger in a rich berbere sauce. Served with turmeric-infused split peas and spicy jalapeño-laced collard greens, this stew is a hearty pleasure. Sop up the extra sauce with piles of tangy and soft injera, presented in the traditional manner in lieu of silverware.

Ina Mae
This handsome New Orleans-style tavern feels right at home in vibrant Wicker Park. Named for chef-owner Brian Jupiter's great-grandmother, Ina Mae, the menu ticks off many NOLA classics—think packed seafood po' boys and steaming gumbos, like the utterly delicious Ya-Ya, bobbing with shrimp, crawfish, chicken, and okra.
Luella's Southern Kitchen
This earnest kitchen makes your order from scratch, and it's more than worth the wait. The surrounding artwork is half the fun anyway: you might even recognize prints like "Sugar Shack" by artist Ernie Barnes from the 1970's sitcom Good Times. The tender buttermilk-fried chicken is a thing of beauty, served with warm collards braised with ham hock. Then pillowy biscuits, cooked to order and served with apricot jam, are pure bliss; as are Mississippi hot tamales stuffed with Slagel Farms beef and melted cheddar cheese.
Soulé
The vibe is abuzz with diners swapping stories of their travels here, primarily for the food, which is as the moniker promises—soul infused with Creole. Chef/owners Bridgette Flagg and Shaneka Fields' version of fried chicken is bar none. Crisp, juicy, and well seasoned, these birds are accompanied by collard greens; just as dirty rice and green beans are offered along with boldly spiced lamb chops.

Virtue
The very talented Erick Williams' well-executed Southern cooking draws a smart crowd, largely from nearby University of Chicago. For starters, imagine skillet corn bread with a steak knife for slicing and slathering on the honey butter, while dirty rice topped with chicken gizzards is just what the soul ordered. Don't miss the butcher's snack, a selection of house-made charcuterie with pepper jelly.

Miss Mamie's Spoonbread Too's cornbread. Photo © foodgasm_with_sanzum/Instagram
New York
Abbysinia
The dining room here spacious and flooded with natural light; the staff gracious; and the décor simple and functional. This is essentially light, healthy and spicy cooking, and the best way to experience it is to come with a group and order a slew of entrées to sample. Whatever you do, save room for the delicious slow-cooked beef awaze tibs.

Africa Kine
Following the closure of the original location a few years ago, fans of Senegalese cuisine are happy to see the return of this West Harlem café run by a pair of Dakar natives. Keep it simple with grilled fish or meat sided by a salad, or opt for more succulent items such as peanut butter-enriched lamb mafe or suppa kandja (lamb and fish simmered in an okra and golden palm oil sauce).

Beatstro
This restaurant celebrates the Bronx as well as its rich Puerto Rican and African-American presence. The menu, flaunting a cross-cultural blend of cooking styles, features ethereally light pork rinds with barbecue seasoning and lemon, as well as golden-fried green tomatoes. Also save room for mojo chicken, with roasted potatoes, collard greens, and salsa verde.
Berber Street Food
For excellent pan-African cuisine, head to this beloved West Village service counter. Owner Diana Tandia hails from Mauritius, but her menu spans the Caribbean, Nigeria, and even France. Street food snacks and popular bowls layering the likes of richly spiced jerk chicken or berber beef over grains and vegetables are quick hits. But, if you're seeking a dish to savor, order the four-hour roasted lamb, worthy of a fine-dining operation.
Kokomo
Ria Graham and husband, Kevol and chef Mitchel Bonhomme bring a vibe to Williamsburg with their pan-Caribbean cuisine. Yard-long flatbreads, like the rasta pasta, are a favorite, thanks to the presence of shrimp, Jamaican callaloo, and plantain. Other hits include a vegetarian whole-roasted cauliflower in cashew sauce seasoned with allspice. Fish tacos and braised oxtail will leave you wanting to return for more.

Melba's
With its colorful spirit and lineup of Southern classics, this comfortable spot—as charming and lovely as its owner, born-and-bred Harlemite Melba Wilson—is a perfect reflection of the neighborhood's flavor, culture and past. It's a place to gather and relax over good food and drinks, from Auntie B's mini-burgers slathered with a smoky sweet sauce to a golden-brown and berry-licious fruit cobbler that's nothing short of heaven on a plate.

Miss Mamie's Spoonbread Too
This tiny institution just off Central Park West turns out tried-and-true classics as baked turkey wings, homemade meatloaf, Louisiana catfish, and a creamy red velvet cake for dessert. Grab a fresh-squeezed lemonade and dive into the sampler, stocked with deep-fried shrimp, fall-off-the-bone beef short ribs, more fried chicken, and sides of cornbread stuffing and hoppin' John. Desserts are made in house, so a slice of chocolate layer cake or wedge of sweet potato pie are mandatory.

Red Rooster
This Harlem landmark still draws a crowd for its most comforting of comfort food that celebrates the neighborhood in which it resides. Shrimp & grits, chicken & waffles, mac & greens: when a dish has an ampersand it will probably be big enough to share. If you're teetering on the edge of wanton over-indulgence and need one final push, then finish with the doughnuts, which come filled with sweet potato cream.
Swahili Village's goat stew, Mbuzi Mchuzi with pilau and spinach. Photo by Michelin North America
Washington, D.C.
Cane
Jeanine Prime and her brother Peter Prime cook the Trinidadian street food the siblings grew up on. Everything prepared by the kitchen is delicious: think rich stews, perfect doubles, and channa, redolent of spices and heat. Perfectly braised brisket in spicy brown sauce features tender root vegetables, paired with rice, and scooped into a fresh coconut shell.

Chercher
Expect authentic items native to the culturally rich region of the namesake mountains. Rip off a piece of the cool and lacy injera and then dig into the lamb wat, a tender stew fueled by the fiery notes of berbere. Simmered vegetables add a welcome dose of earthy flavor on the side.

Das
The impressive menu runs the gamut from traditional Ethiopian cuisine to dishes that have the potential to take even the most seasoned and ambitious palate by surprise. A basket filled with injera—a spongy and sour bread that serves as both chaser and utensil—is bottomless. For a meal that won't disappoint, order the chicken and beef combination sampler.

Keren
Go ahead and order breakfast all day long, since Eritrean restaurant Keren keeps the morning meal front and center. Ful, a staple breakfast dish of favas, jalapeño, tomato and onion, is a good place to start (there are six variations). Then go for the "five Eritrean" items for a well-rounded, veg-focused combo that's so good it will render you unable to pick a favorite.
Swahili Village
Expect a span of East African flavors that extend beyond the Kenyan roots of Chef/owner Kevin Onyona. The Swahili Basket is a great way to sample such apps as samosas and bhajias (vegetable fritters) served with a lethal pilipili sauce.

Tsehay
A he compact menu encompassing all the classics brings diners in droves. From vegetarian options to staples like tibs, this kitchen does it all. A platter of spongy injera is served with each dish for a bit of flourish. Tear strips of it to dip into the fragrant yebeg we't (spiced lamb stew with red chili sauce); or the shiro we't special (chickpea flour stew with tomato, garlic, and spices).

Zenebech
This kitchen's exquisite cuisine reflects the many fascinating nuances of Ethiopia itself. While many cultures break bread together, few do it as well as this one, where injera is torn apart to scoop up stews, like awaze tibs. Its tender lamb cubes, in a smoky, brick-red berbere, are simmered to tender perfection, then crowned with greens, spicy lentils, and potatoes.

Meals by Genet's veginatrian combination. Photo © thewritefood/Instagram
California
Alta Adams - LA
The cooking here is soulful and comforting, starting with a plate of golden-fried black-eyed pea fritters with a garlicky green herb sauce for dipping. Their fried chicken is decadent, served juicy with a wickedly spicy hot sauce and caramelized sweet potatoes. Buttery coconut cake for dessert is pure, old-fashioned bliss.
Awash - LA
Just as the eponymous river is vital to those that live near its banks, this restaurant is an absolute standout for those craving authentic Ethiopian food. Vegans will rejoice at the vegetable-laden menu, while carnivores will delight in the meaty tibs (a hearty stewed preparation) that can be scooped up with torn pieces of tangy injera.

Back A Yard -San Jose
Though this Caribbean spot is located in the heart of downtown San Jose, dining here feels like a vacation thanks to cheerful murals, a lively soundtrack and hospitable servers. Specialties include smoky, spicy and tender jerk chicken, flavorful curry goat and vinegar-marinated escovitch fish fillets, all accompanied by coconut rice and red beans, a side salad and caramelized fried plantains.
Barcote - Oakland
Whether you opt for a meaty plate of kitfo (spiced minced beef cooked in clarified butter); a sampler of vegetarian stews like spicy misir wot (lentils simmered in berbere sauce); or hearty atakilt wot (cabbage, potato, and carrot stew with turmeric); you'll be captivated by the layers of flavor.

Cafe Romanat - Oakland
Order up a homegrown beer, honey wine or a nutty ground flax or sesame seed juice to pair with the sambusas, triangular pastries stuffed with piquant jalapeño-spiked lentils. All the combination platters, served on spongy, slightly sour injera, are perfect for sharing.
Meals by Genet - LA
The menu here ventures well past the region's best-known items. Don't miss the pan-fried freshwater trout, sumptuous chicken stew, and crumble-in-your-mouth teff cookies to close. Another delight is Hirutye's yebegsiga alitcha, a lamb preparation featuring luscious, slightly spicy berbere and awaze paired with spongy injera.

Miss Ollie's - Oakland
Even on the coldest Oakland day, the soul-warming Caribbean cuisine at this little cutie will transport you to the islands. Barbados-born Chef-owner Sarah Kirnon named her restaurant after her grandmother, and it now serves up many of her childhood favorites, including plump, sweet grilled shrimp in a jerk marinade and some of the best fried chicken in town—with a flaky golden-brown crust.
Walia - San Jose
Start things off with an order of sambussas, fried dough triangles filled with lentil, onion and chilies. Then choose from an all-meat, all-veggie or mixed selection of warming stews, like tibs firfir, featuring lamb in a garlicky berbere sauce dolloped on spongy injera. Vegetarians will love the many plant-based options, including alicha wot or split peas in turmeric sauce.

Zeni - San Jose
Relish the spongy, enticingly sour injera used to scoop up delicious yemisir wot (red lentils with spicy berbere); kik alicha (yellow peas tinged with garlic and ginger); or beef kitfo (available raw or cooked) tossed with that aromatic spice blend, mitmita, and crowned by crumbled ayib cheese.

Cane's cumin-spiced channa on Indian fried bread. Photo by Michelin North America
Hero image: © dmbaker/iStock