For American Independence Day, July 4th, we're celebrating the wonderfully rich diversity of the US and the cuisines found across the country. Restaurants in the U.S. MICHELIN Guide range from Afghani to Hawaiian, with everything in between. The choice is astounding: yakitori, tacos, mapo tofu, Neapolitan pizza, larb, biryani...if there's a global dish you crave, it can be found somewhere in the US. Below, where to eat food from around the globe and celebrate diversity.
New York
Hunanese
Hunan Bistro
: A dinner of delicious, lip-scorching, and hearty Hunan food might kick off with as sour string beans sautéed with minced pork, chilies and toothsome konjac noodles. Next up: pork belly braised in their signature soy- rice wine- and star anise-broth, best eaten with greens and some soft, white rice. Finally, fish fillets dusted with cumin and set in a warm oil infused with toasted sesame hints at the raw firepower that is Hunan heat.
Greek
Mythos: This family-run and friendly restaurant tempts with impeccably fresh fish, cooked over charcoal and basted simply with olive oil, lemon juice and herbs. Settle into an array of pikilia; cold appetizers such as melitzanosalata, eggplant whipped with herbs and olive oil. Whole smelts are a rare and traditional treat, simply pan-fried with a lemony-herb dressing. Finish with a choice of authentic, nutty and syrup-soaked pastries.
Peruvian
Claudy's Kitchen
: A native of Peru, Chef Claudia Berroa follows a preservative-free dictum, so diners may expect a plethora of local and organic flavors. Savory empanadas, like chicken, lomo saltado, aji de gallina or verde chorizo, are impossible to resist. Desserts shine just as bright with the chef's famous and fast-selling flans, starring passion fruit, vanilla and pumpkin.
Claudy's Kitchen's empanadas © claudyskitchn/Instagram
Washington, D.C.
Afghan
Lapis
: From the stunning Afghan rugs warming the floor to the sepia-toned heirloom photos on the walls, this place exudes warmth and charm, albeit in a highly stylish manner. Chopawn is the real deal—this trio of grilled-to-perfection lamb chops is served with sensational cardamom-scented rice and draws you in forkful after fluffy forkful.
Lao
Thip Khao
: Chef Seng Luangrath's crispy pig ears dusted with a deliciously tart tamarind salt and dipped in fermented chili-fish sauce are both original and outstanding; but the knap paa, or Chilean sea bass, is a true standout. Brushed with curry paste and coconut cream, then grilled in a banana leaf, this dish will have you wondering if it's dinner or a present?
Ethiopian
Zenebech: While many cultures break bread together, few do it as well as this one, where injera is torn apart to scoop up stews, like awaze tibs. Its tender lamb cubes, in a smoky, brick-red berbere, are simmered to tender perfection, then crowned with greens, spicy lentils, and potatoes.
Lapis's buranee bandejan © Omar Popal/Lapis
Chicago
Basque
mfk.
: Simple, flavorful dishes, like warm boquerónes stuffed with marinated anchovies and Fresno chilies, or croquettes with Montamoré cheese and Sherry aïoli are tempting. A crumbly slice of Basque cake and an expertly pulled cortado end the meal on a high note.
Korean
Perilla
: Chef Andrew Lim's forte lies in his contemporary take on familiar Korean food. Here you will find tables spread with delicious banchan, tailed by Wagyu beef tartare accented with Asian pear.
Filipino
Kasama
:
Traditional Filipino food is given a creative spin here
, in such items as maitake mushroom adobo with mussel emulsion; "pancit" reflecting Spanish influence with Serrano ham; and an elegant take on "halo-halo" combining Asian pear granita, pandan ice cream and freeze-dried mandarin.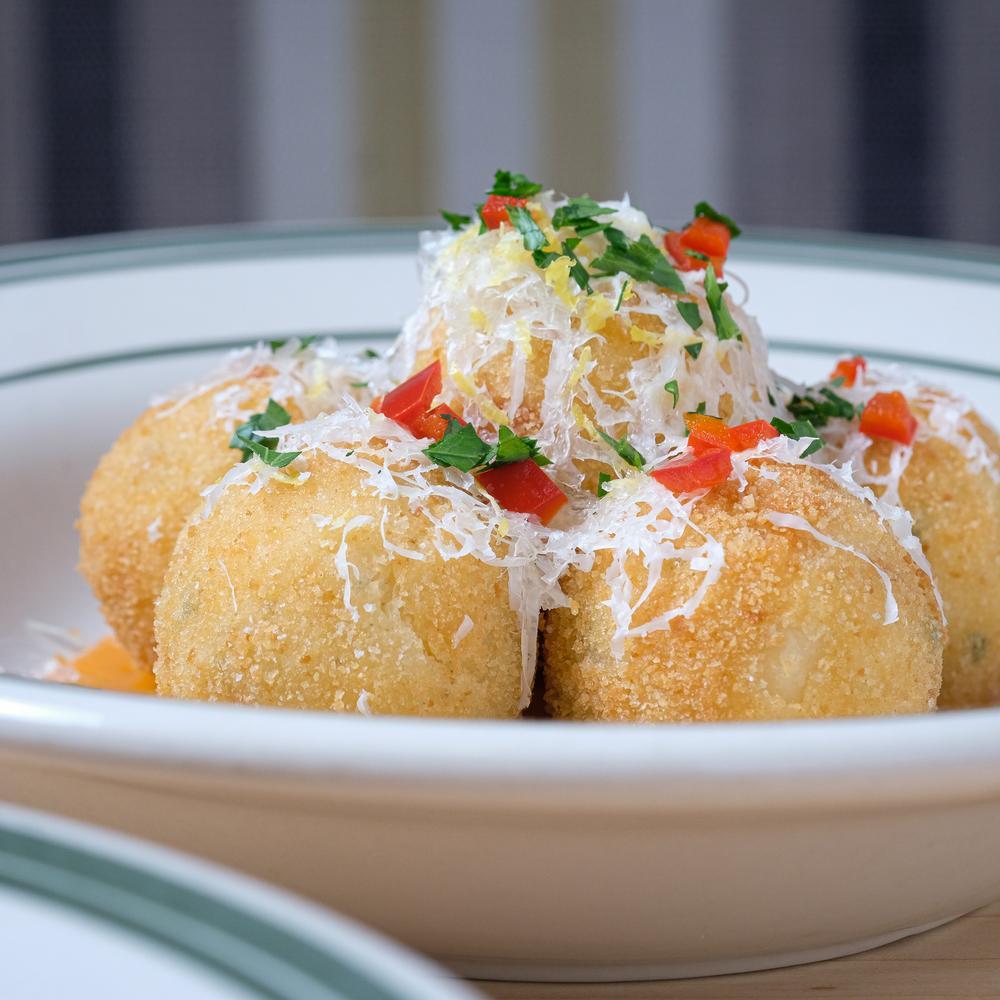 mfk.'s smoked piquillo pepper and potato croquettes © Galdones Photography/mfk.
San Francisco
Italian
A16
: A16 is known for rustic Italian cooking and a vast selection of delicious, unusual wines from all over the boot. Dinner reservations are indispensable, especially if you want one of the prime counter seats facing the open kitchen and wood-burning pizza oven.
Hawaiian
Liholiho Yacht Club
: Fusing Californian technique with the flavors of Chef/owner Ravi Kapur's native Hawaii, this dining room hums with groups savoring beef tongue bao, luscious coconut-clam curry and nori crackers heaped with tuna poke. If you turn your nose up at Spam, a Hawaiian staple, try the house-made (and off-menu) version. It just might convert you.
Russian
Birch & Rye
: At this cozy nook, chef/owner Anya El-Wattar combines her upbringing and restaurant chops to offer a unique, ingredient-focused interpretation of Russian cuisine that is in equal measure indulgent and fresh.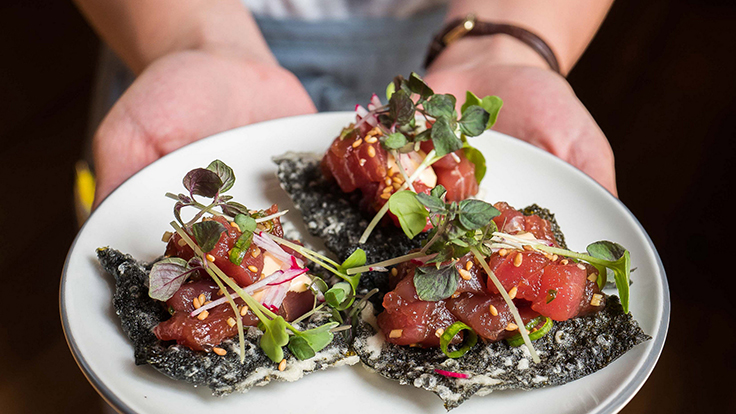 Liholiho Yacht Club's tuna poke on nori chip © Liholiho Yacht Club
Los Angeles
Mexican
Guerrilla Tacos: Almost everything on this menu is a hit—from fish tacos with chipotle créma to taquitos stuffed with all the accoutrements of a loaded baked potato, then drizzled with tomatillo salsa. For a more unusual bite, try the pocho tacos, highlighting wild boar.
Persian
Flame: This restaurant focuses on salads, grilled meats and slowly simmered stews enriched with dried lime and pomegranate. Start with the soulful classic ash reshteh, thick with beans, broken strands of pasta and finished with a drizzle of kashk (fermented whey).
Argentininian
Carlitos Gardel: Start with a salad or crispy empanada here with a side of chimichurri that's so good it's even available for purchase. Sweet lovers rave about desserts, like a fluffy wedge of mascarpone tart with strawberry drizzle.
Guerrilla Tacos's hamachi tostada © Guerrilla Tacos
Lao
Sticky Rice
: Spice-rubbed chicken wings arrive piping hot and gently charred; while pork laab tossed with toasted rice powder, cilantro, lime and mint is a delightful special. Next up is the eponymous purple sticky rice—with coconut sauce and chopped mango.
Barbecue
The Polite Pig
: Meat reigns supreme on the menu and there's no going wrong with the brisket—sliced thin, black pepper-rubbed and served with sides like creamy potato salad.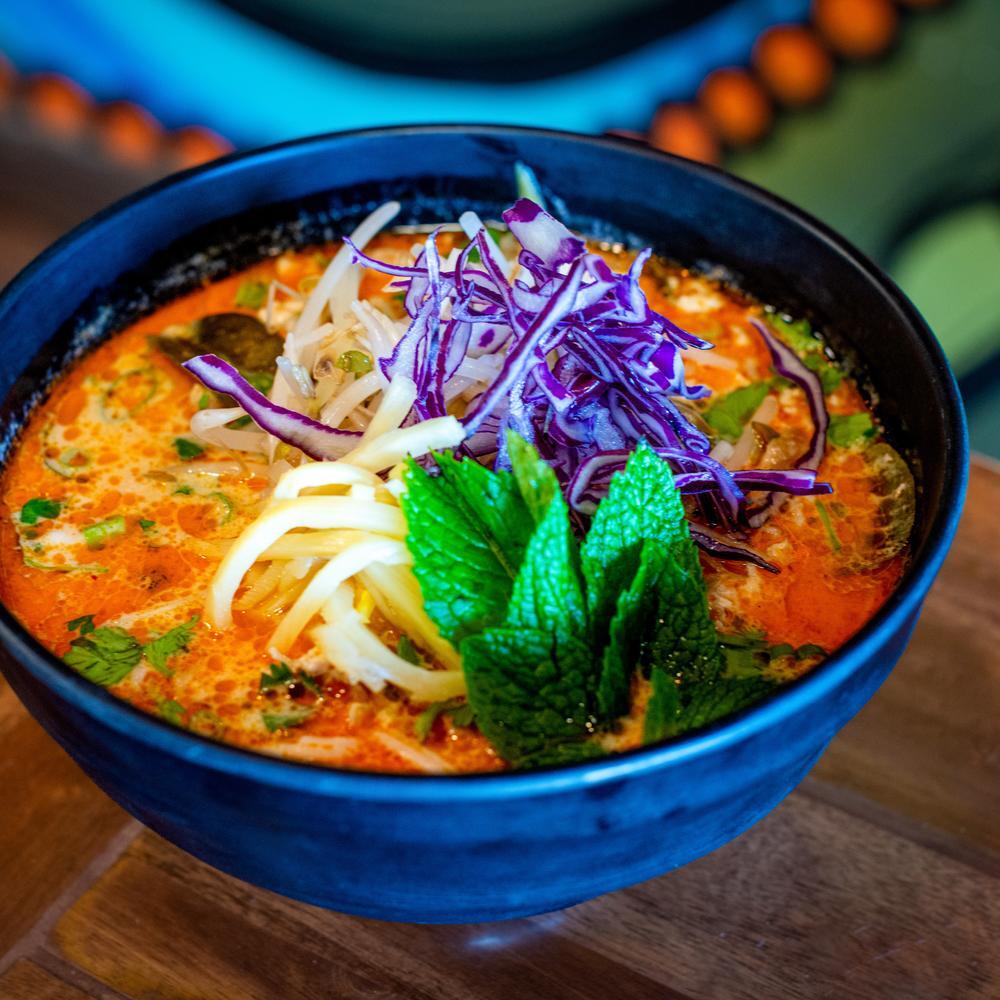 Sticky Rice's kapoon nam gai soup © Thuyvi Gates/Sticky Rice
Tampa
Dim Sum
Yummy House
: During lunch hours you'd be well-advised to select from the separate dim sum menu, which features typical bites like dumplings and turnip cakes, as well as sweet regional specialties like pineapple buns and Hong Kong-style egg tarts.
Vietnamese
Bistro BT
: The Vietnamese plates are a cut above, though, and include the likes of crispy spring rolls faithfully packed with ground pork, glass noodles and wood ear mushroom; followed by deeply aromatic pho bobbing with springy noodles and generous amounts of meltingly soft tenderloin.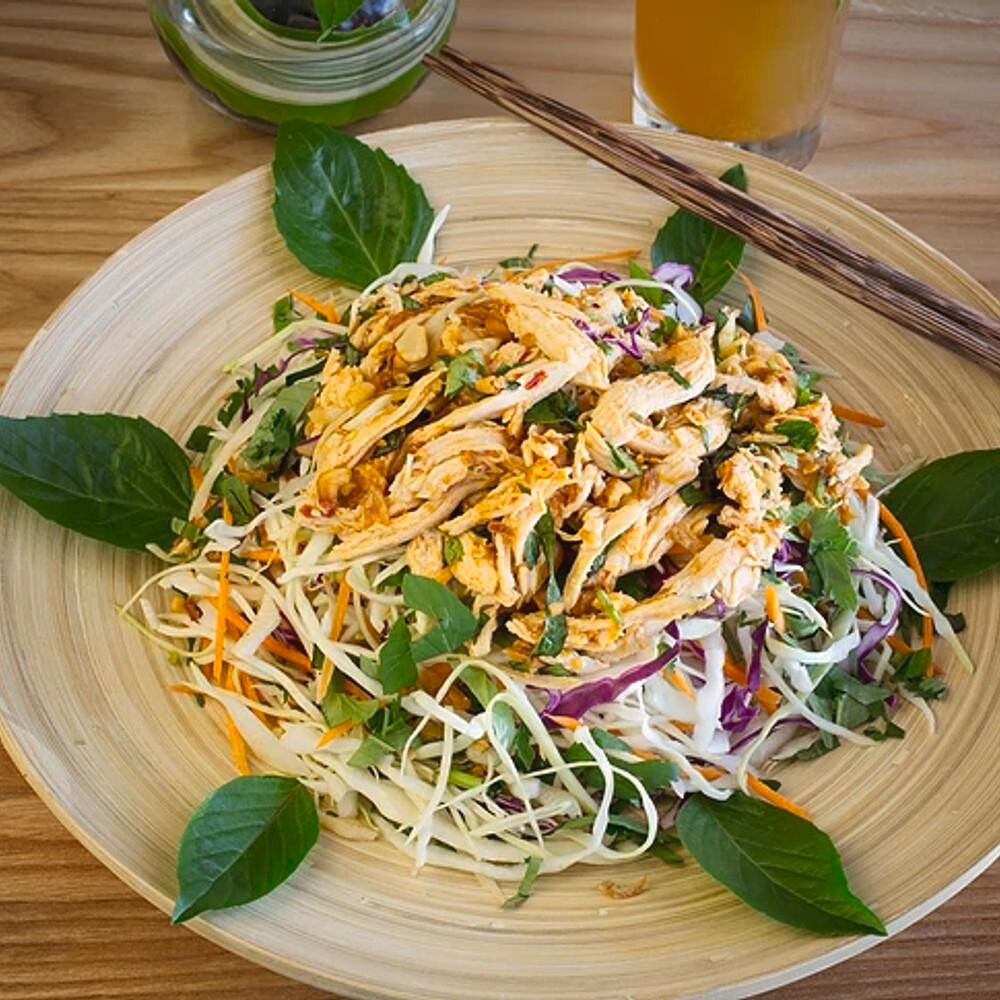 Bistro BT's chili chicken cabbage salad © Angel Webb/Bistro BT
Hero image: Perilla's japchae © Daniel Kwon/Perilla