There's no morning pick-me-up greater than breaking into a warm pastry before powering through the day. And we have many thanks to give to the French, who got the art of pastry-making down to a science. From flaky croissants to delicate macaróns, these are the eight buttery and flavorful pastries any die-hard baker should know.

1. Croissant

The key to this flaky viennoiserie is simply a good butter—preferably from Normandy—with a high melting point. This makes all the difference when it comes to layering. A stellar croissant should have a beautiful cross section boasting a honeycombed interior when sliced in half. Bonus: day-old croissants are excellent for making almond variations.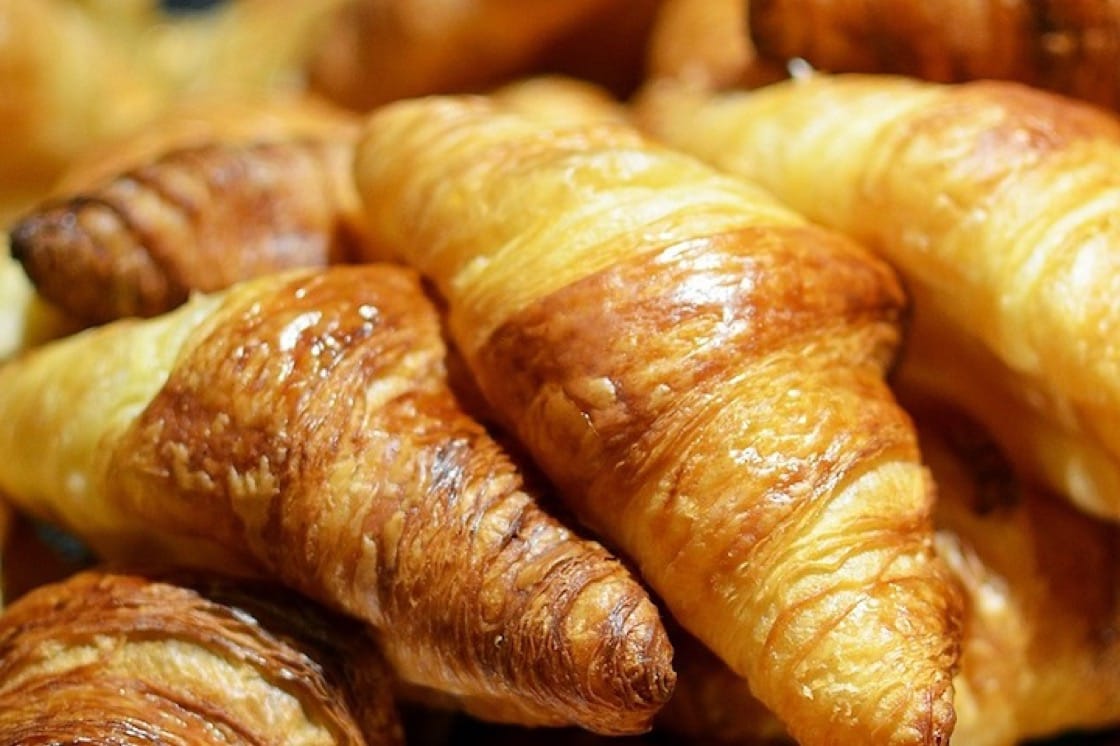 2. Baguette

Made with only flour, water, yeast and salt, the mark of a truly good baguette is the sound it makes when breaking open the beautifully bronze exterior to release a soft, resilient interior. Best to eat these beauties the day of, with a good smear of homemade or local butter.

3. Madeleines

These distinctive shell-shaped tea cakes are made with eggs, plain flour, sugar and loads of butter—and when made right, lighter than air. Enjoy with a cup of tea.

4. Macarón

This sweet meringue-based confection has been celebrating much hype over the past several years, no doubt due to the myriad of pastel colors and flavors.Made with egg whites, icing sugar, granulated sugar, almond powder or ground almonds, the macarón usually consists of a ganache, buttercream or jam filling that's been sandwiched between two delicate shells.
5. Paris-Brest

This show-stopping pastry makes an excellent dessert table centerpiece. Shaped like a bicycle wheel, a Paris-Breast is traditionally made from a ring of choux pastry filled with a praline-flavored cream and dusted with icing sugar.

6. St. Honoré

A distant cousin of the Paris-Brest, the St. Honoré—or Gâteau St. Honoré—is named for the French patron saint of pastry chefs. The pastry begins with a base consisting of puff pastry dough and topped with a ring of pâte à choux, then filled with pastry cream. Delicate sugar-dipped cream puffs make for the final topping.
7. Kouign-amann
Thanks to pastry pro
Dominique Ansel
, this round crusty cake has been re-popularized at his many pastry shops around the globe. Often compared to puff pastry, the bread dough uses the same method of folding in layers of butter and sugar. Pronounced
qween-ah-mahn
, think of this as a denser version of a croissant, only the kouign-amann has that extra step of being dusted with sugar.
8. Mille-feuille
A work of patience, the beauty of this French pastry lies in its layers: bakers work by layering puff pastry with pastry cream and repeating the process at least thrice to form this dessert. The top layer is then dusted with sugar and sometimes cocoa powder, or glazed with fondant for a fancier touch.