With new additions to the selection every month, it's hard to keep up with special dishes from MICHELIN Guide restaurants. That's why we're making it easy and highlighting one unique offering that's caught our eye and getting the story behind it. And we want to hear from you too—make sure to like and follow our Facebook page and let us know some of your local favorites and you might see them here. Bon appétit!
---
Marrying the panache of an old-school chophouse with the vibrancy of Korean barbeque, MICHELIN One Star Cote is a favorite with New Yorkers and visitors for its modern, elegant riff on the classics. Simon Kim and chef David Shim along with the team have raised the bar on group dining with a dark and moody ambiance setting the scene to complement the mouthwatering cuts of meat and their new limited-edition offering, Legend of the Seven Jades.
After nine months of development, this lively experience debuted to the public late last month. Featuring a curated raw bar with a litany of seasonal ingredients—think caviar, bluefin tuna, rainbow trout roe, hamachi, uni, truffle, and beef tartare—served with delicate and light tartlets, and all the (elevated) fix-ins (crème fraîche, pickled mustard seeds, and more), the resulting bites are unique and crafted by diners. Served in custom jade glassware, this one-of-a-kind dish exemplifies Cote's ethos of bringing fun back to fine dining.
With that, we asked Kim to dish on his favorite combinations, what drink he'd pair with such diverse and delectable flavors, and what's next for Cote.
Gary He © Cote
What was the initial feedback to Legend of the Seven Jades?
It's been great so far, with people coming in, taking pictures of themselves enjoying the dish, making tartlets, feeding each other, toasting with it and really memorializing the experience. It brings everyone together.
In three words, how would you describe the Legend of the Seven Jades?

Convivial, exquisite, and joyful.
What was the inspiration behind the dish?
I'm a steak guy, but I have always loved having a surf experience before the steak arrives. I also love eating the best ingredients from around the world, so the team and I wanted to find a way to create the ultimate raw bar experience made from the most precious treasures from the sea. The Legend of the Seven Jades dish is our way of giving customers the delightful experience of sharing a unique meal and celebrating life.
Was there ever a version of this dish that didn't make it through R&D that you loved?
From the onset of creating this dish, it's been smooth sailing. It's hard to go wrong when you have the best ingredients in the world and amazing people around you. Adding a convivial human element along with the best ingredients simply brings you joy.

Take us behind the scenes, how do you maintain quality for all these different ingredients?

We never compromise quality. For all of our dishes, the process starts with sourcing the highest quality ingredients and we're very fortunate to be working with trusted purveyors who believe in the same philosophy.
What is your favorite combination?

My favorite combination is adding a little bit of crème fraîche, a big mound of tuna tartare, a big mound of caviar topped with Perigord truffle, and a sprinkle of salt flakes.
What is your favorite wine pairing with this dish?

I like to start the experience with a really cold, dry vodka martini, stirred with olives and made with Chopin Family Reserve. After the martini, I usually switch over to a glass of nice champagne. I don't normally drink very expensive champagne but when you are ordering the Legend of the Seven Jades, it's a celebration of sorts. So I like to indulge in my favorite bubbly which is Dom Perignon's P2.
What do you think is the most crucial component of this experience?

I believe that great food has the magic to bring people together. So while this dish has some of the best and most precious flavors from the sea, it's also about creating a convivial experience through food and celebrating friendships.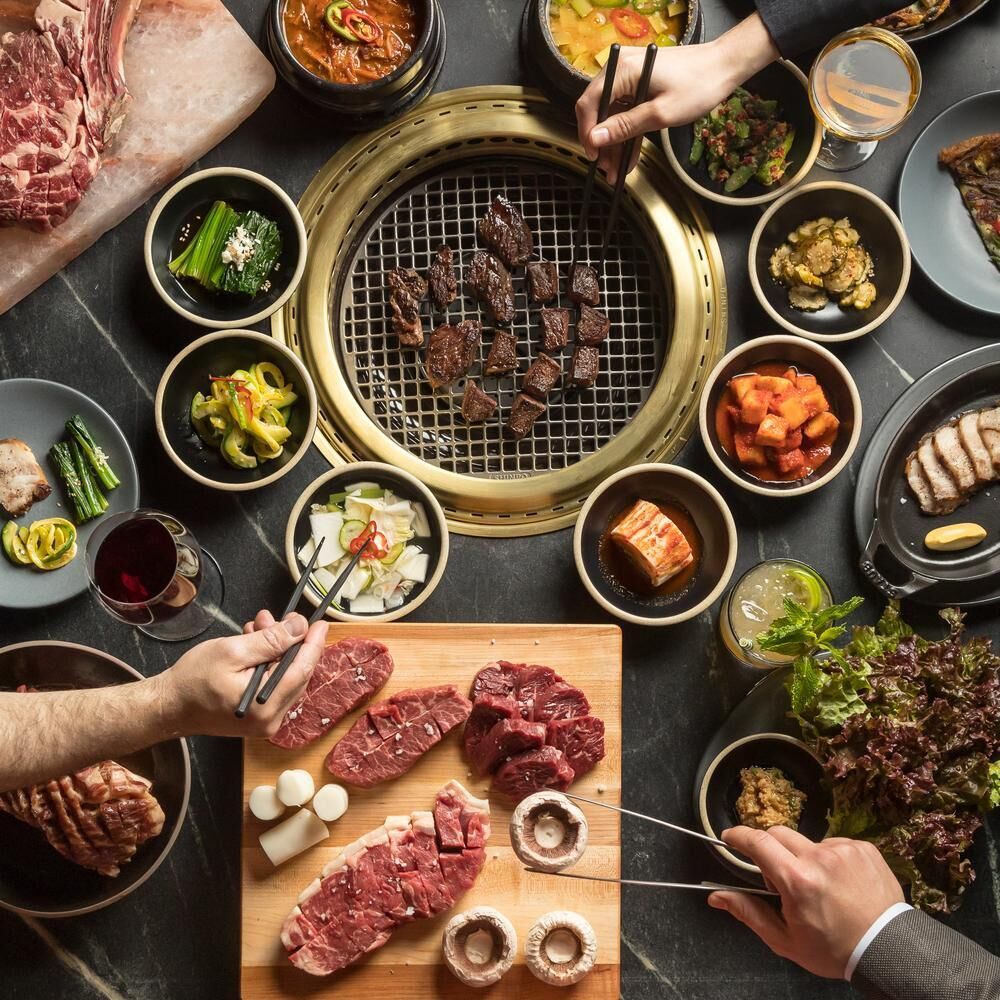 Gary He © Cote
This limited-time offering is priced at $695 and serves 4-6 people, offering a distinctive experience and a unique culinary adventure.

And while the bites might be too tasty for words, don't miss out on the rest of the delightful menu. Our Inspectors recommend that "first-timers should go for the "Butcher's Feast", featuring different cuts of beef, an egg soufflé, and enough banchan to cover your table."

---
Hero image: Gary He © Cote
---