"Like côte de boeuf and côte-rôtie," says owner Simon Kim of Cote Korean steakhouse in Manhattan's Flatiron District. "There's actually a Korean word for 'flower,' which is also pronounced, 'cote.'" That same flower can be seen in the restaurant's logo.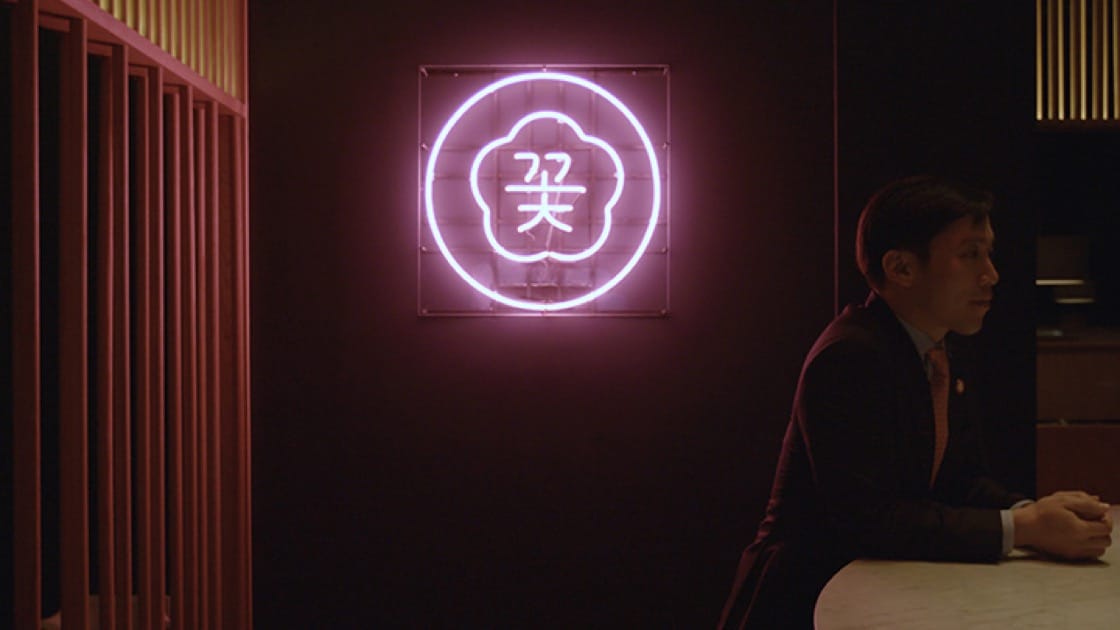 Cote owner Simon Kim in front of the restaurant's logo.
For Kim, food is family; it was the focal point for his brother, sister, father and mother. Korean barbecue was the norm for the Kim family.

Cote happens to be the first Korean steakhouse in the five boroughs.

"It's called gogijib," says Kim. "Gogi in Korean means meat, jib is house. American steakhouses are very rich—there's a lot of butter in the steak, there's creamed spinach. At Korean steakhouses, we eat a lot of fermented vegetables. I thought that it doesn't really exist, where you can eat meat and still have a light experience."

Executive chef David Shim notes that the experience at Cote is incredibly informal: "You get great service, you get great food, but it's your world."

At Cote, Shim's straight-forward cooking focuses on procuring the best ingredients while utilizing the dry-aging room located downstairs.

"I like to provide what I grew up with—stuff that comes from my heart and my background," Shim says. "Being Korean and my experience in New York kitchens. It's a gateway to Korean cuisine in a sense, because a lot of the steakhouse lovers get to try kimchi or pickles at other traditional restaurants."

While the Korean flavors at Cote are very authentic, everything else is a subtle nod to New York City. Take the "Butcher's Feast" on the menu, which features four cuts of beef—dry-aged, wet-aged, American Wagyu and Korean-style short rib. All of which is accompanied by things like savory egg soufflés and spicy kimchi stew.

Executive chef David Shim inside the aging room at Cote.
"The idea here is to allow our customers to have a gastronomical journey of eating meat," adds Kim.

It has been quite a year for Kim. In the wake of Cote's opening on June 8 of 2017, he closed his beloved Piora, a one-Michelin-starred restaurant in the West Village. And less than five months after opening, Cote received it's first Michelin star on October 30.

"It felt like someone just shocked me with something—I was so excited," expresses Shim. "I was up in the clouds all day."

Kim recalls walking out of the hospital after seeing the first sonogram of his baby. "It was a very deep emotional experience," he says. "Here's my pregnant wife. And here's the restaurant that I closed. And here's the restaurant that I opened that got a star. It was euphoria mixed with nervousness mixed with sadness."

"Michelin to me is the greatest honor as a chef," adds Shim. "Everybody strives for it, everybody wants to achieve it. And only a few are lucky enough to receive it."

For Kim, a Michelin star was always something that he aspired to: "I saw my father as a Michelin inspector. If I could please him, I thought I could please Michelin inspectors. And my mother was my Michelin-starred chef. So I build restaurants to please them. That's what drives me.

"We could not be more grateful—just to be able to do what's close to your heart. And in a business that you really love doing and to get this much recognition, honestly, no words other than grateful."

Video and photos shot by Kathryn M. Sheldon, an award-winning producer, photographer and editor with a background in still photography and television production. Having produced food and beverage content for seven years at NBC, she is currently producing video content for the MICHELIN Guide.