There's something elusive and enthralling about Downtown Miami's outer bands at dusk. The air is smoked with haze, humidity, and construction dust (the current Magic City building boom is vast). The street lights glow green, catching palm fronds that punctuate the area's alleys and lots. There's an electric buzz—in both noise and feel—that courses through the twilight. It feels like you're on the brink of something profound that's fueled, and in no way impeded, by the heat. This zone is home to Mignonette, the nine-year-old oyster bar and seafood restaurant by Chef Daniel Serfer, which stands all but alone on this borderline.
Located at NE 18th Street and NE 2nd Avenue, Mignonette is directly across from the Miami City Cemetery, a block north of a popular padel club, and a block south of an Advance Auto Parts. Essentially, this place is a transitional zone between Downtown proper and a largely commercial and residential neighborhood known as Edgewater. But it's this unique spot that only compounds the restaurant's singular appeal: Low-lit and sparse yet seriously intimate, the atmosphere alone is exciting, even slightly edgy. "The building is very old, from the 1920's, so it has a lot of natural charm," says Serfer. He says he hopes that guests will "appreciate the building's uniqueness as [the team and I] do." That the food is consistently excellent only heightens the mood.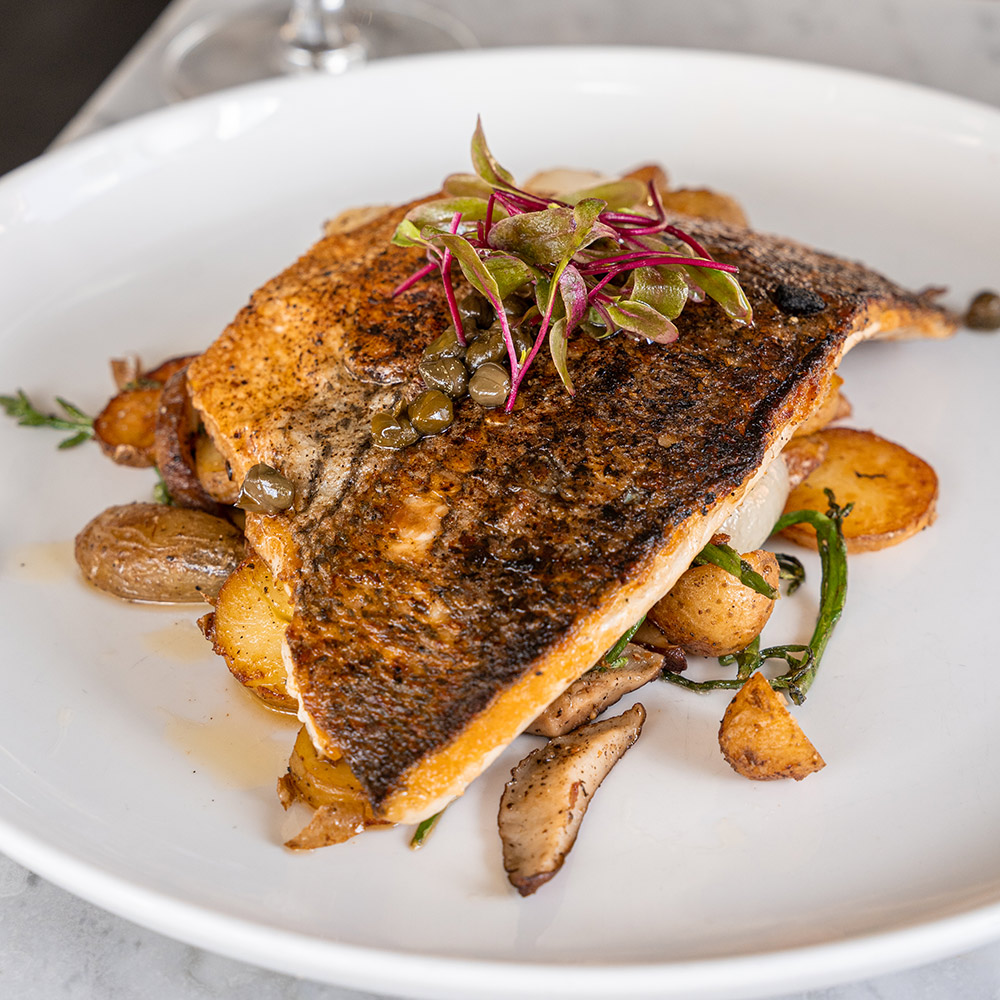 Striped bass © contrasting_flavors
The oyster selection is deep and varied. Their current stock is displayed, at any given time, in marquee movie letters above the bar. The servers are well-versed on the roster—but, as it happens, I don't like oysters, and I go to Mignonette for their plated courses.
But if you do like them, Serfer says, "oysters are our number one. We take great care sourcing them and shucking them and allowing them to speak for themselves." My recommendation, with or without the shellfish, is to start with the fish dip, a Floridian staple, which comes with pickled cherry peppers that emit a nice, hot kick. The novelty of peppered, buttered and toasted saltines adds a homey element, too. Take one saltine, add dip, and finish off with a pickle. Eat and repeat (the waiters will refill your Saltines and pickles if you run out).



---
---
Smoked fish dip © Mignonette
Entree-wise, Serfer and his team have introduced a Black Grouper filet prepared over Carolina gold rice, French ham and a green pea emulsion. It's phenomenal, with the gems of ham adding a pronounced down-home terrestrial balance to the tender grouper. I loved it, and will be ordering it again. If looking for something a little more casual, the Lobster Roll is a Mignonette classic.
Lastly, a note about one of Mignonette's sides, of which there are many: For some reason, I always get the green peas, which are heavily buttered and served with shallots. So do my friends. So, disclosed without prompt, does the waiter who served us this past week. They're very simple, but somehow they strike Mignonette's whistle notes: It's a high-grade place, but, equally, it's low key and unpretentious. And that enthralling feeling–of place, of vibe–augments it to memorable levels.


Charred octopus © contrasting_flavors
---
Hero Image: Oysters © contrasting_flavors
---