It's that time of year again when the sun makes its hasty retreat before the traditional workday is done. As the holiday season approaches, no one could have predicted that the Covid-19 pandemic would last this long — but here we are. Though the weather (and the news) may be frightful, a good meal is most definitely still delightful. And MICHELIN-recommended restaurants around the country are still working hard to help us celebrate the occasions that are near and dear to us. That fact alone is something to be thankful for.

This Thanksgiving, whether you're looking for an indulgent splurge, for some comfort or for something more unconventional, there are restaurants across the country with menus to match your mood.


California


Two MICHELIN Stars, MICHELIN Guide California 2020
This year, for the first time, Chef Suzette Gresham began cooking takeaway meals out of Acquerello's Two-MICHELIN-Starred kitchen. Now, in time for the holidays, Chef Gresham and her team are preparing a deliciously technical take-home feast featuring turkey two ways — roulade of turkey breast and a confit thigh terrine. The farm-driven sides and salads merge beautiful California produce and thoughtful flavor pairings, as in the
Yukon gold mashed potatoes
with smoked butter and Comté or fall chicory salad with pink peppercorn vinaigrette. A pecan and caramel layer cake is all you need for dessert. The meal starts at $195 for two people and extras include an ounce of winter truffles or a flight of private label caviars. A brilliant selection of wines is also available. Orders can be made via
Tock
.
Acquerello's Thanksgiving feast. Photo by Giancarlo Paterlini.
Lucques / A.O.C. (comfort)
MICHELIN Plate, MICHELIN Guide California 2020
Chef Suzanne Goins' beloved Lucques sadly closed for good during the pandemic, but luckily for us, her catering company with business partner Caroline Styne, Lucques Catering, is alive and well. The company is offering a generous Thanksgiving menu to-go featuring an oven-ready turkey, gravy and cranberry sauces, five different sides like "mom's stuffing" and brussels sprouts with pancetta, plus a choice of two pies. The meal is priced at $425 (which is just over $50/pp for a group of eight). A vegetarian menu and a handful of snacks from sister restaurant A.O.C. are also available. Or you can order your Thanksgiving meal a la carte (via
Tock
) and load up on wines from the cellar as well.
Turkey and sides from Lucques Catering. Photo by Aaron Cook.
Zócalo (unconventional)
MICHELIN Plate, MICHELIN Guide California 2020
The heat-and-serve Thanksgiving meal from Zócalo in Sacramento may revolve around a traditional turkey, but the seasoning and the sides all lean towards Mexico. A set meal for four costs $110 and includes a turkey brined in a red chile marinade plus a choice of five sides from chile herb stuffing, smoked sweet potatoes, five-spice brussels sprouts served with chipotle aioli and more. Or customize your meal a la carte and add on tres leches for dessert. There is also an enticing list of margaritas available to-go. Orders can be placed via
Toast
for pickup at the Midtown location.
Chicago
Three MICHELIN Stars, MICHELIN Guide Chicago 2020
Channel your inner modernist chef with a cook-at-home Thanksgiving meal kit from Chef Grant Achatz and the Alinea team. The meal toes the line between fine dining and approachable comfort with dishes like butternut squash soup with date mousse and a free-range turkey roasted with compound butter and served with fruit compotes. The meal serves from four to 12 people (kits start at $325) and can be combined with luxurious add-ons like winter truffle mac & cheese or a chilled seafood tower. Wine pairings are also available via
Tock
.
Thanksgiving by Alinea. Photo courtesy of Alinea Restaurant
MICHELIN Bib Gourmand, MICHELIN Guide Chicago 2020
At Virtue, Chef Erick Williams' Hyde Park restaurant celebrating the cuisine of the African American diaspora and the American South, comfort is king. The Thanksgiving menu promises more of the same. The feast feeds four to six people and costs $189 (just under $50/pp for a group of four). It features an All-American menu of brined and roasted turkey, collard greens, giblet gravy, cranberry sauce, candied yams, mashed potatoes and pecan pie. The turkey can be ordered a la carte, and other classics like mac and cheese, brussels sprouts and sweet potato pie can be added to each order. Wine is also available. Pre-orders can be made via the restaurant's
website
.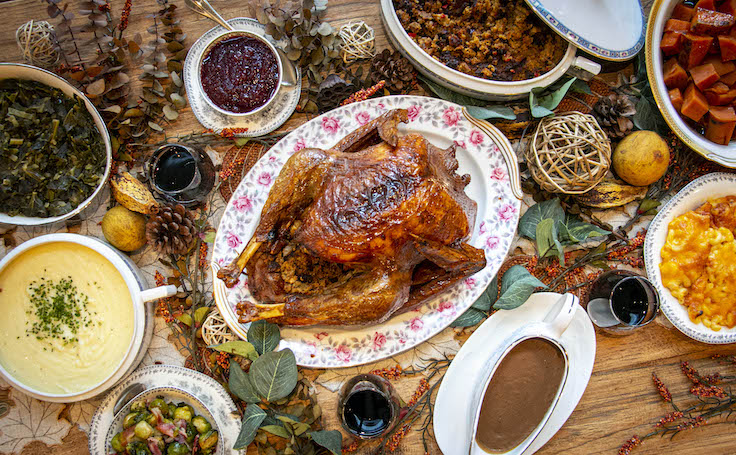 An All-American Thanksgiving feast at Virtue. Photo courtesy of Virtue Restaurant
HaiSous (unconventional)
MICHELIN Bib Gourmand, MICHELIN Guide Chicago 2020
Chef Thai Dang is cooking a multi-course Thanksgiving feast centered around an air-dried roast duck flavored with lime leaves for guests in Chicago who want a taste of something different this year. His Vietnamese-influenced set menu features starters like delicata squash with grilled Vietnamese sausage, sides like fish sauce-roasted brussels sprouts and garlic fried rice, and stuffed banana cream puffs for dessert. A minimum of two orders is required at $80pp. Orders can be made via the restaurant's
website
for pick-up only.
Air-dried duck for Thanksgiving at HaiSous. Photo courtesy of HaiSous restaurant
New York
Two MICHELIN Stars, MICHELIN Guide New York City & Westchester County 2020
Gabriel Kreuther and his talented kitchen team are cooking an indulgent Thanksgiving meal by way of Alsace this year. The menu features a boneless turkey stuffed with chestnuts and pistachios with sides like bread and corn stuffing alongside braised red cabbage and spaetzle mac and cheese. Desserts include a maple pecan pie and spiced sweet potato pound cake. The meal is priced at $425 and feeds four people. Orders can be made via
Tock
for pick-up at the restaurant's Midtown address or for delivery via Doordash.
MICHELIN Bib Gourmand, MICHELIN Guide New York City & Westchester County 2020
The Thanksgiving at Home menu at Buttermilk Channel, a restaurant known for its fried chicken sandwich, is as comforting as you'd hope. Cider-brined turkey is served with trimmings like cornbread stuffing, buttermilk mashed potatoes and roasted brussels sprouts with chestnut gravy. A meal for $85 feeds two, or double that and get a meal for four. Add-ons like extra cranberry sauce and biscuits are also available. There are two pies to choose from for dessert (pecan and pumpkin) along with a select list of turkey-friendly wines. Orders can be made via the restaurant's
website
for pickup on Thanksgiving day.
Cote (unconventional)
One MICHELIN Star, MICHELIN Guide New York City & Westchester County 2020
The city's first (and only) MICHELIN-starred Korean BBQ restaurant has transformed its popular dine-in Butcher's Feast into a Thanksgiving prix-fixe, anchored by a selection of four USDA Prime cuts of beef for $85/pp. The flurry of accompaniments to the meal aren't necessarily Thanksgiving classics, but turkey-stuffed mandoo nod to the occasion. Separately, Cote is also offering takeaway and delivery kits fit for any celebratory meal. Large format prime rib meals or Niman Ranch galbi jjim stew for a group ($185 for six people) are available for pre-order at the restaurant's
website
.
Celebratory prime rib at Cote. Photo by Gary He
Washington D.C.
One MICHELIN Star, MICHELIN Guide Washington D.C. 2020
Chef Aaron Silverman and his team at Rose's Luxury are preparing a take-home Thanksgiving feast starting at $240 for two to four people. The all-natural turkey is lemon-pepper brined and the cranberry sauce is unabashedly Ocean Spray. Sides like charred brussels sprouts and mushroom stuffing are tried and true while showy add-ons like a five-layer caviar dip or potato gratin with Perigord truffles are a special treat. There are three pies to pick from — apple, pumpkin and sweet potato — and a handful of curated wines, cocktails and nonalcoholic beverages. Orders can be made ahead of time via
Tock
.
MICHELIN Plate, MICHELIN Guide Washington D.C. 2020
Chef Amy Brandwein transformed her downtown DC pasta shop into a
provisions store
during the pandemic and now her team is cooking a real Thanksgiving bounty with an extensive selection of dishes. Diners can choose between a whole trussed chicken ($22) or an eight to ten-pound turkey ($9/lb), though both require at-home roasting. There are platters of antipasto or sides like sage stuffing (Chef Brandwein's family recipe), mashed potatoes with parmesan and pumpkin raviolini. Sides start at $32 and will feed four. There is a classic apple pie (among other desserts), and for those doing the cooking at home, a selection of breakfast pastries—a must for a full day of kitchen work.
Thanksgiving sides at Centrolina. Photo courtesy of Centrolina restaurant
MICHELIN Bib Gourmand, MICHELIN Guide Washington D.C. 2020
If you love Thanksgiving for the sides alone, then Fancy Radish has a meal to get excited about. This vegan restaurant is preparing a multi-course menu with a cornbread-stuffed mushroom and tofu centerpiece accompanied by a root vegetable mash and roasted brussels sprouts. Each order is a single serving for $35. If you're just here for dessert, three plant-based sweets include a chocolate pumpkin fudge bar, apple cinnamon tart and matcha panna cotta. There are cocktails, bottles of wine and non-alcoholic drinks available as well. Pre-orders can be made on the restaurant's
website
until noon November 24th for pickup on Thanksgiving day.