After much anticipation, James Kent, the former executive chef of one-MICHELIN-starred NoMad, and Jeff Katz, previously manager of one-MICHELIN-starred Del Posto, launched Crown Shy in March inside an 87-year-old landmarked Art Deco building in New York City's Financial District.

Accessed through the building's marble lobby, the 120-seat Crown Shy is an expansive space, but the smart screen dividers give it a more intimate feel. There's also a long marble bar featuring an interesting and global menu that is separate but visible from the dining room.

After having worked at multiple culinary destinations, such as Bouley, Jean-Georges and Eleven Madison Park, Kent wanted to do more—and in collaboration with Katz he feels he is doing exactly that at Crown Shy. Unlike the duo's former restaurants, Crown Shy is aimed at being a more casual, neighborhood spot.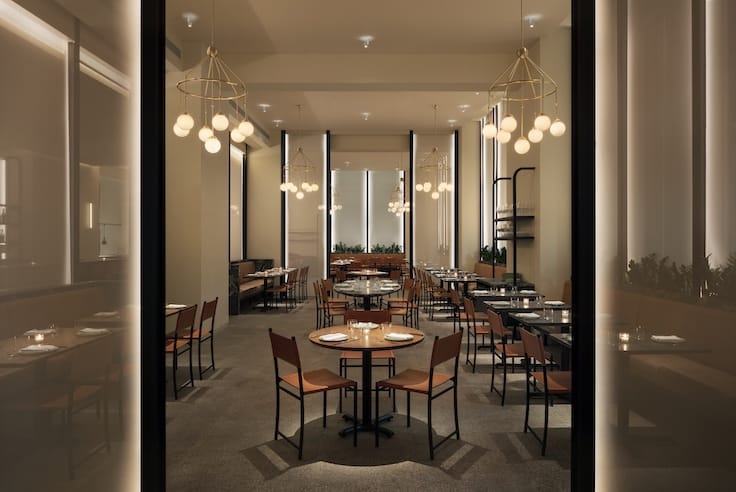 The dining room at Crown Shy. (Photo by Chris Payne.)
"The cuisine follows European techniques, not regional French or Italian, though. The spread is [inspired by the team's] experiences garnered throughout [our] cooking history and travels," says Kent. The kitchen at Crown Shy is taking its incredible experiences from Peru to Paris and bringing everything into one dish using local, seasonally available ingredients. This translates into plates such as puffed bread served with white bean hummus and 'nduja (inspired by the chef de cuisine's mother's recipe from Old Delhi) sitting on the menu alongside of farro topped with medallions of lamb, blanched fava beans and pickled ramps.

The menu includes an array of visually appealing salads. In the green goddess salad, little gem lettuce is dressed in the herbaceous namesake dressing and garnished with thinly-shaved breakfast radishes and bread crumbs for texture. Another salad is comprised of blistered snap peas tossed in a lemon-wasabi vinaigrette.

Kent's experimentation with French techniques and spices is most visible in the grilled citrus-marinated chicken presented with cilantro, thinly-shaved watermelon radish and jalapeño (pictured above). They serve a housemade hot sauce alongside for those looking for an extra kick.

The team here includes pastry chef Renata Ameni, who worked with Kent at Eleven Madison Park, and has offered seasonal and refreshing desserts such as a swirl of satsuma sorbet and vanilla ice cream topped with toasted marshmallow and honeycomb candy for crunch. (An all-time favorite of diners is the sticky toffee pudding.)

Wine director Luke Boland, who also worked at Del Posto, and bar director Jonathan Lind, formerly of the NoMad, have designed the cocktail list similarly to the food menu by drawing on their experiences and travels. They have also incorporated an array of non-alcoholic options such as the Hojito, which combines minty hoja santa with lime, herbs and tonic. "We are really proud of our drinks selections, and our menu covers drinks to [span the entirety of a diner's time with us]," says Katz.

The pull-apart Parkerhouse roll. (Photo by Natalie Black.)
And any drink would pair well with Kent's take on the classic Parkerhouse roll. The complimentary bread is prepared from a buttery dough layered with roasted garlic, lemon zest and Kalamata and green olives before it's baked. The layers are easy to pull apart and share (or not) with others at the table, and it is served with tangy Labneh seasoned with fleur de sel and olive oil.

Looking ahead, the restaurant is planning to introduce a wine and dinner series that will include wine selections from across the globe. The Kent-Katz team also have plans of adding three distinct dining experiences, including a more formal one, on the upper floors of the same building.

Hero photo by Natalie Black.