Almost exactly one year after the official announcement was made, Chef Curtis Duffy and Director of Operations Michael Muser are finally ready to open their new restaurant, Ever. As Chicago moves through its multi-phase plan to re-open businesses after social distancing measures shut down most of the city, Duffy and Muser are preparing to welcome guests into their dining room once again. Reservations beginning July 28th are now available on Tock.

The duo most recently ran Grace, one of Chicago's top destinations for world-class fine-dining. Duffy's exceedingly precise and sometimes daring cuisine earned the restaurant Three MICHELIN Stars in The MICHELIN Guide to Chicago from 2014 to 2018 (Grace closed in late 2017, after the 2018 guides were published). After a highly publicized split from their business partner, Chicago's dining community has been eagerly awaiting Duffy and Muser's return. Still, it's not without irony that Ever is opening in the midst of a pandemic that has forced many kitchens to close for good.

"Our hearts go out to all of our friends and colleagues who have lost their jobs and their businesses during the last few months," said Muser, who co-owns Ever with Duffy. "We will work so hard to make Chicago proud. We hope that Ever will be among the first of many ambitious restaurants to open and reopen in the coming months."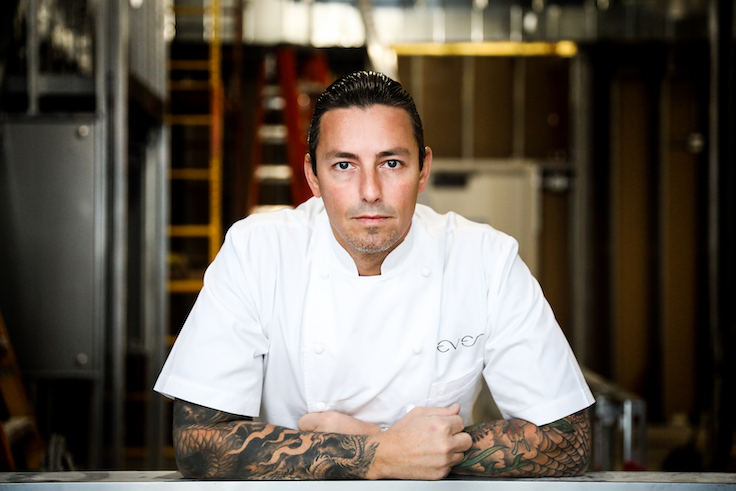 Chef Curtis Duffy. Photo by Michael Muser courtesy of Ever Restaurant.
Ever will open with one multi-course tasting menu anchored by the very best quality meat, seafood, and pristine seasonal produce, with an optional wine pairing. When asked about the inspiration for Ever, especially in relation to the emotionally-charged story behind Grace, Duffy is unequivocal. "I will continue doing what I've always believed in and that's working with the best ingredients that I can find and continuing to cook at the highest level. Will it be similar? Of course. It's my voice. It's my food."

To allay concerns over social distancing, tables will be spaced at a minimum of six feet apart (the dining room will be operating at reduced capacity until phase five). And to ensure the health and safety of all guests and employees, the team is undergoing specialized Covid-19 training. Details are available at ever-restaurant.com.

The two-year break from professional kitchens may have forced Duffy and Muser to take a step back, but it has not softened their ambition. "Like Michael says, there are thousands of restaurants in Chicago and you picked us for tonight. We owe it to you to give you everything we have. It's emotional for us to have this opportunity to make it great and we're not going to let people down."


Ever is located at 1340 W. Fulton Street in Chicago's West Loop neighborhood.