Dokkoon Kapueak was watching the live unveiling of the 2021 edition of MICHELIN Guide Belgium and Luxembourg. Little did she know that her life was about to change forever.

"It was like I was dreaming," said a lively voice on the line to Bangkok.

It was 9 a.m. in Belgium's Knokke-Heist. "I never thought I'd win. I simply watched the announcement as usual to stay updated. It never occurred to me what was about to happen. But I was so happy. Shocked, more like. I couldn't believe we won a MICHELIN Star!"

It has been more than ten years since Dokkoon, or "Koon", left her hometown of Ubon Ratchathani for Belgium. "I'm from a rural area. I only finished elementary school. Like others, I went to Bangkok for a factory job. After a while, I switched to a job in a seafood restaurant. My aunt, who was already in Belgium, told me to take massage courses at Wat Pho. I also studied cooking with Ajarn Yingsak [Jonglertjesdawong]. After that, I worked at a hair salon for some years. Then, my aunt needed help at her massage parlour, so she helped me apply for a visa. That was how I came to Belgium," the 38-year-old recounted her journey over the last decade.

"I wanted a better life so my parents could live comfortably."



Kapueak receiving the 2021 edition of MICHELIN Guide Belgium and Luxembourg Star plaque. (© Boo Raan)
Just like many other countries, the entries in the 2021 MICHELIN Guide Belgium and Luxembourg were broadcasted online due to the ongoing pandemic that has been affecting every sector, especially restaurants.

"After announcing that we were awarded One MICHELIN Star, someone from MICHELIN came to deliver a chef jacket. I saw it happen to other places, but I never thought someone would really come knocking on our restaurant's door." The Instagram post showing a tearful Koon receiving a jacket conveyed more than words could describe.

Boo Raan is the first and, so far only, Thai restaurant in Belgium and Luxembourg to receive the honourable One MICHELIN Star. MICHELIN inspectors praise the restaurant with 'Boo Raan is the best Thai restaurant in Benelux' in their review.

After a long night of celebration, Koon excitedly talked about the origin of Boo Raan like it happened yesterday.

"I never call myself 'chef'. I've never had any mentor or been trained properly. I just love to cook. I love to explore – to smell an ingredient's fragrance and to taste it."
Dokkoon Kapueak and Patrick de Langhe and the team in front of the freshly awarded Thai restaurant. (© Boo Raan)
"I worked at my aunt's Thai massage shop for four or five years before I met Patrick de Langhe. At the time, I just said 'hello' to him like I did to regular customers. One day he asked if I knew any Thai restaurants around the area. I told him I knew there was one, but I never went there. I mostly cooked myself," she shared. "He then asked if I could really cook. I replied that it was just my family's homemade style. Later, he asked me to cook a takeaway meal for his friends coming from America. I told him I wasn't joking when I said I only cooked to my family's taste. But he insisted that I cooked something. I was on a day off and had free time, so I agreed because I could use some extra money."

Out of curiosity, we asked what the menu was. "Basic dishes like Chicken Satay, Chicken Curry, Spicy Beef Salad, and possibly lab kai (Spicy Chicken Salad)," she replied. "The next day, he texted me, saying 'We have to talk.' I was so worried. Was my food too spicy? Did I make them sick?"

"His first words were 'I think we have to do something with your food,'" Koon added in Thai.

Her voice sounded so sincere, with an accent reminiscent of her hometown. "Your food is perfect. You can't keep it to yourself." That conversation was the beginning of their partnership in the Thai restaurant "Boo Raan" on Edward Verheyestraat Street, which has been open for five years.

Though "Boo Raan" means "traditional" in Thai, do not mistake it for a spot for royal Thai cuisine served with typical Thai royal decor. From the exterior, you would not think this place is a Thai eatery.

"The name 'Boo Raan' means preserving genuine Thai taste. We don't adapt to European's tastes. If you order phad kaprao, you'll get the same level of spiciness as in Thailand. The dip for nua yang jim jaew (grilled beef with spicy dip) tastes the same as back home. We do not localise by using king crabs or lobsters. If a dish is traditionally spicy, we will make it hot because it's the taste we've been eating."

The owner also joked that "boo raan" also extends to her given name from her parents.

"Standing in front of the restaurant, you might not take it as a place for Thai food. Everything is modern – be it interior or tableware. There's no trace of ancient Thai settings. I told Patrick, if I were to run a restaurant, I wouldn't want people to recognise its Thainess from three kilometres away. I had certain ideas for decoration. I didn't want plates with elephants painted on them. I made that clear from the beginning."

Apart from being a newly minted One MICHELIN Star place, another newness to Boo Raan is the sharing concept, which is relatively new in Europe. "We have introduced sharing plates like we have in Thailand," said Koon.

But, alas, every rose has its thorns.

A modern table setting of Boo Raan. (© Eleonore Van Bavel/ Boo Raan)
"There were times I cried as I cooked because sometimes it's just too much," she shared on our overseas call. "I was just exhausted. But you know what? I had to push through because I knew that I was already far from home. I had come so far. I couldn't just give up. I want my parents to live comfortably. It's okay to feel down, even if you can't talk to anyone about it."

When asked if she ever wants to return home, the reply was, "Never. If I went back home, what would the others do – my friends, my employees, and my partner Patrick? Who would take my place? This is my life, and my responsibility now. We started it, and we have to go all the way. There's no turning back."

In addition to mental and physical challenges, the co-founder and chef talked about difficulties with ingredients. "I got migraines every day because I am stubborn. I insist in what I believe in -- the flavours. I'd only back down a little on spiciness. If we can't find holy basil leaves, phad kaprao won't be on the menu that day. There are no substitutes. People here call stir-fried beef with sweet basil leaves phad prik. But this won't be available either if I can't find sweet basil leaves. During the first month that we did a test run, the main complaint was that our food was too spicy. But I looked at the percentages. If 20% said too spicy while the remaining 80 said they like it, I'd listen to those 80. I want people to know this is how thick the curry needs to be and that it needs to contain eggplant and sweet basil leaves. I must stand by what I do."

Despite the newfound fame, Koon remains humble. "I'm not a chef. I've never had any mentor or been trained properly. I never call myself 'chef'. I just love to cook. I love to explore – to smell an ingredient's fragrance and to taste it."



"Our relationship isn't based on a work hierarchy. We are one family. We take work seriously. But outside work, we're a group of girlfriends. One big, warm Thai family."
The Thai powerhouse of Knokke-Heist. (© Boo Raan)
Earning a MICHELIN Star where fine dining is highly celebrated and usually defined by European cuisine, especially French, proves that hard work and determination pay off for anyone with the will.

"I am over the moon that I earned respect from real chefs, and from MICHELIN. I strongly believe the family-style concept got us here. The second factor is quality. The third is the consistency as we ensure that each dish tastes the same for every visit."

But Dokkoon Kapueak isn't the only Thai powerhouse of Boo Raan. The restaurant is also run by four other Thai women, all hailing from the same region of Isan (Northeastern Thailand).

Nittaya "Nit" Yokma, is from Kalasin. She helps prepare ingredients and menu availability. Sisaket-born Somporn "Dao" Roobroeck helps source ingredients. Yuwadee Spriet, from Buriram, lends a hand during weekends. Nongnoot "Nuch" Nakinchart, from Korat, does the dishes. Koon is the only cook.

When we jokingly observed that no men worked there, Koon replied, "We are not discriminating. We only had Thai girls applying for work here. We five met here by chance."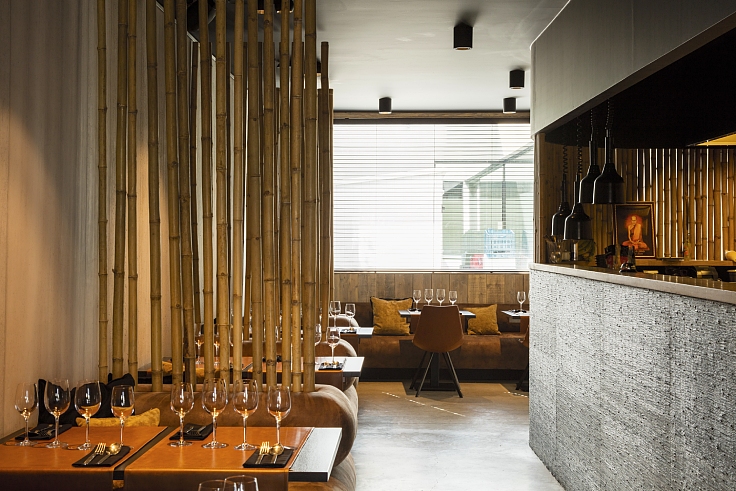 The interior of the Thai establishment. (© Boo Raan)
Similar to Bangkok's street food queen, Jay Fai, the starring taste depends on one cook. "If I get sick, we have to close the restaurant. That's about 100 seats a day. I once got sick for 2 day, and we lost 200 customers."

Maybe it was fate that brought five women from Thailand's Northeast together 10,000 kilometres away from home to cross paths in Knokke-Heist, a Belgian town with over 34,000 people. Their similar backgrounds helped form this sisterhood.

"You may think there would be so much drama with girls working together. It's true that we didn't know each other before, but now we support one another. Our relationship isn't based on a work hierarchy. We are one family. We take work seriously. But outside work, we're a group of girlfriends. One big, warm Thai family."

But could a Thai Northeasterner live without a taste of home? Koon shares that Isan delicacies are also available as she cooks up nam tok nua (sliced grilled beef salad), nam tok mu (sliced grilled pork salad), lab kai (spicy minced chicken salad), and tam thai (a variation of green papaya salad). "But we don't serve pla ra (fermented fish) here. Not because we're ashamed of its smell and appearance, but because we want to keep it for ourselves after work!"



Chef Koon at the live announcement of the 2021 MICHELIN Guide Belgium and Luxembourg. (© Youtube/ MICHELIN Guide)
In a world where great male chefs are recognised and kitchen work is deemed too heavy for women, Chef Koon isn't fazed.

"Cooking is in our blood. We Thais are often raised to become ladies of the house. However, gender isn't what matters. It is the attitude," replied Koon to our observation. "If chefs love what they do, they will be attentive to their cooking – whether they are girls or boys."

As chefs turned into rock stars and cooking shows never seem to cease to inspire youngsters to join the culinary world, the Isan chef hopes she is a small part helping people realise their culinary dreams.

"Don't give up. Give your best with what you love. Do not compare yourself to others, especially those with privilege. Know your roots, and where you come from. Then, make the best of what you do. Listen to suggestions and improve from them."

As we look to the future when we all can travel internationally again, if you are in Knokke, Koon shares what not to be missed. "Everything" is the answer – be it po pia kai (chicken spring rolls), chicken satay, deep-fried prawns, phad thai goong (phad thai with prawns), or chicken curry. Each dish is shared between friends and families. And she guarantees that Thailand is just a bite away.

"On the day of the Star revelation, I said to Patrick we could only dream of getting one. It's impossible. When it was announced that we won, I called my mum. She congratulated me, without knowing what receiving a MICHELIN Star really meant," she recalled and shared that her father passed away long before seeing her rosy days. "My attitude shifted with the award. I used to think you needed to cook and present the food in certain ways to achieve one. But that wasn't the case. We can do it. It is possible."

"I'm just a rural girl. My parents were construction workers. Getting a job in a factory was the best someone like me could hope for."
Traditional with a modern touch of Thai food by the team of Boo Raan. (© Eleonore Van Bavel/ Eleonore Van Bavel)
It's been a long time since she left her homeland, but one thing that we assume has never changed as shown on this 10,000-kilometre call was her humility.

"I never thought I would have a chance to share my stories with someone like you, professional and so well-educated. I never thought people who heard about me would think highly of me. It still feels like a dream that we received One MICHELIN Star. I thank you from the bottom of my heart."

Looking back to little miss Dokkoon, "You know, the dream of becoming a chef felt so far away.

"I'm just a rural girl. My parents were construction workers. Getting a job in a factory was the best someone like me could hope for. I used to dream that, with a little bit of money, I'd open a little clothing shop or a seafood restaurant. All I ever wanted is a better life."




Portrait of Dokkoon Kapueak: © Henk van Cauwenbergh