Last March, a bright-eyed and bushy-tailed Chef Dan Bark and his partner Faye Tragoolvongse were ready to debut their new restaurant baby, Cadence by Dan Bark, to the world. As the pandemic unfolded, they were forced to put their plans on pause and seriously face how they had launched their dream project during one of the worst years the F&B industry has ever experienced.

The chef's previous restaurant, Upstairs at Mikkeller, had been a massive success, achieving One MICHELIN Star every year since the guide launched in Thailand in 2017. Cadence would build upon the progressive American cuisine of Upstairs, though this time in a larger, more swish space in an expansive townhouse in Ekkamai.

Finally able to welcome diners in July, Cadence was quick to impress with a 15-course menu of delights like Kagoshima Wagyu tartare and agnolotti with truffle and chorizo. So impressive was Cadence that after only six months, the restaurant achieved One MICHELIN Star in the 2021 guide. Dan Bark joined Masato Shimizu of Sushi Masato and Wilfrid Hocquet of Blue by Alain Ducasse as new entries.

We caught up with Dan post-ceremony to talk stars, cooking philosophy, and favourite eats.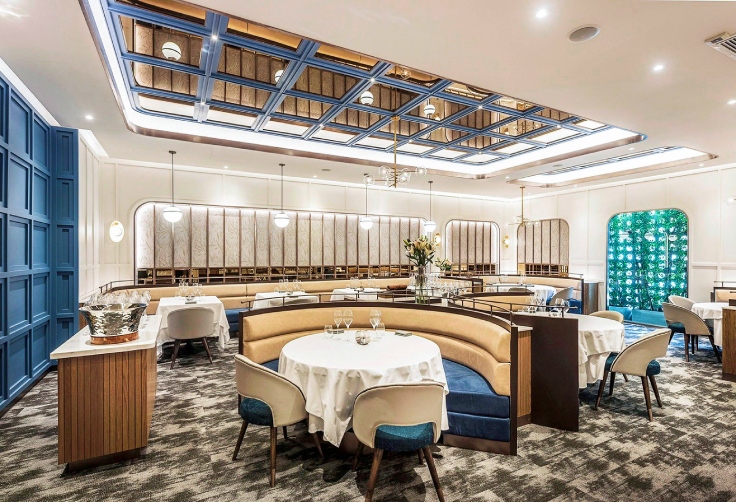 The elegant dining room at their new premises. (© Cadence by Dan Bark)
Did you have any idea that you would be recognised this year?
"This is my fourth year being involved with MICHELIN, so Faye and I have a pretty good idea of the way things work. When we got the call to join the event, we were pretty thrilled because we weren't sure how long we had to be open to be considered, or whether any credentials would transfer over from Upstairs."

What is your cooking philosophy?
"Aside from technique and innovation, the driving force of our menu is the ingredients. We try to support local producers whenever we can, but if we can't find what we need, then we'll import. Generally, I try to stay away from generalisations, like being locavore or American or Korean, so that we won't be put in a box and expected to stay within those confines. And somehow, without maintaining any specific style, the flavour is distinctive.

"It's funny, we had a guest recently who had eaten at Upstairs in the past, and he mentioned that even though the menu, presentation, and entire experience was different, he could still recognise it as my food."

Will this award change anything?
"We are lucky because we have a lot of support from guests who dined at Upstairs, but I think that if anything, the Star will bring in new faces who might not be familiar with us."



"People begin to explore new restaurants just because they are in the guide, then the city draws in more internationally acclaimed chefs, and then the chefs begin to demand more out of the farmers and suppliers, which in turn changes the whole farming landscape."
The Korean American born chef and Manuel Montana, President & Managing Director at Michelin East-Asia & Oceania. (© MICHELIN Guide Thailand)
What are your thoughts on Thailand's food scene right now? Do you have any predictions on how it might change in the coming year?
"I think overall the food scene here is super exciting. Coming up as a chef in Chicago, I had the privilege of experiencing what MICHELIN does to a city. The guide debuted there in 2010 while I was working at Avenues, which achieved Two MICHELIN Stars. After that first year, the food culture in the city completely skyrocketed, and I'm seeing similar patterns in what the guide has done to Bangkok.

"People begin to explore new restaurants just because they are in the guide, then the city draws in more internationally acclaimed chefs, and then the chefs begin to demand more out of the farmers and suppliers, whether that be by growing organic produce or changing to more sustainable methods, which in turn changes the whole farming landscape.

"When I first arrived here it was tough to find fresh, high-quality products, but now a lot of the farmers are producing beautiful yields, so we don't have to import nearly as much. We are now in this exciting place where we have the talented chefs and the farmers who are producing top-notch products. I think we are right there with a lot of the world's food hubs, and that leaves room for a lot of interesting things to happen."



A borderless and beautifully crafted menu served at the restaurant. (© MICHELIN Guide Thailand)
Why should someone visit your restaurant?
"Aside from the food, we focus a lot on the entire dining experience. In fact, one of the reasons we moved from Upstairs is so that we can have control of the entire guest experience. As soon as you walk into Cadence, diners feel taken care of. I don't want to give anything away for those who haven't visited, but we have some fun things in store! Additionally, we keep our menu prices fairly low. We take the things you'd expect from a three-star restaurant and offer it at a more approachable price. You won't have to drop 10,000 baht a person to get that super-special dining experience."

Finally, where are your favourite places to eat in Bangkok?
"Faye and I were just able to visit Le Normandie, and it's worth all the hype. I also really like Haoma. Chef DK is really cool, and his flavours are on point. For something more casual, Sri Trat, which highlights dishes from Trat province, is solid."