Okay, so maybe the idea of a cocktail that tastes reminiscent of the grilled beef you had a dinner is somewhat off-putting, but hear us out. Some of the city's best bartenders have put their taste buds to the test in creating crave-worthy drinks that seamlessly fuse happy hour and dinnertime. From gooey desserts to regional spicy salads, these are the Thai food-inspired cocktails that will satisfy more than just your need for a drink.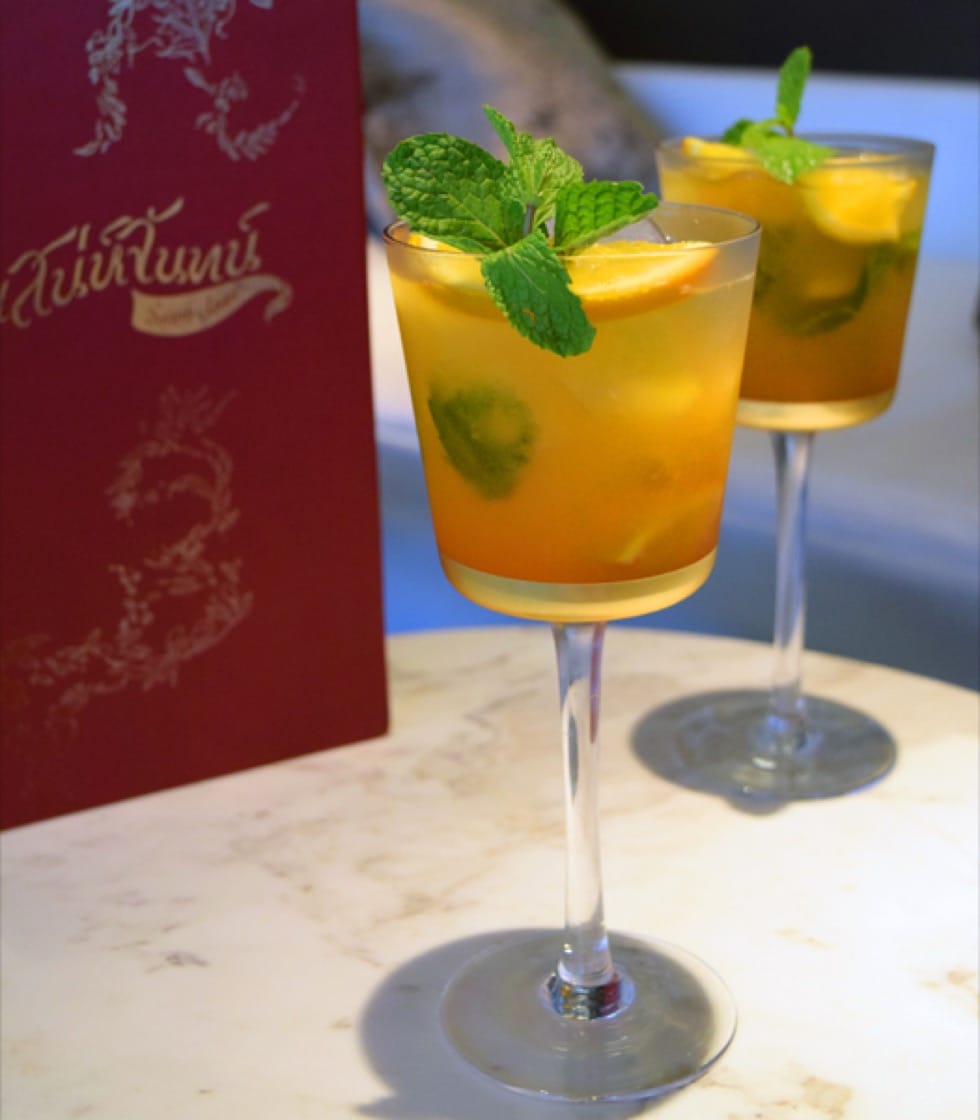 Saneh Jaan (1 Michelin star)
"Saneh Jaan"

Most of Saneh Jaan's one-star dishes are crafted from ancient recipes that had once been served to the royal family. The restaurant's namesake — a bite-sized nutmeg dessert made with steamed mung beans ground with coconut cream, palm sugar and cinnamon then finished with perfumed smoke from a scented candle — lives on as a cocktail in addition to an item on the dessert menu. Disaronno Amaretto, a marzipan reminiscent liqueur, is mixed with fresh lemon, orange juice and simple syrup for a boozy evocation of Siam's bygone days.

Bamboo Bar (Mandarin Oriental)
"Khao Lam"

Head bartender Jamie Rhind took a different approach when creating drinks for Bamboo Bar's Thailand-inspired "Compass" menu. Instead of trying to mimic dishes as cocktails, he uses the food as inspiration by using the same ingredients but combining them in his own way. Like Hang Lay, a take on northern curry gaeng hung lay, which mixes Phraya Rum with zesty turmeric, ginger and tamarind. Teetotalers will be impressed by Khao Lam, a combination of smoky sticky rice, coconut, and beans that does the snack of sweet custardy sticky rice in bamboo tubes justice.

Bunker (Michelin Plate)
"Ka-Nom-Chan" (Photo Credit: Ongwat Studio)

Even though this sticky dessert's most redeeming quality is arguably its texture, you won't want to skip the bar team at Bunker's liquid version. Khanom chan's squishy gelatin layers are replicated with Lamai rum, pandan syrup, coconut rum and egg white. The outcome is creamy and dangerously delicious.

Eat Me (Michelin Plate)
"Som Tum Pu Pla Ra"

When it comes to Thai food-inspired cocktails, Eat Me's head bartender Pop Direkrittikul may deserve the title of King. Isaan favourite som tum pu pla ra, or pungent salted crab and fermented fish sauce papaya salad, is a dish that not a lot of people can get behind, so it was a bold choice for Direkrittikul to add it to his 'Sip Some Thai' menu. His interpretation combines Ketel One vodka with garlic, tomato, lime, chilli and anchovy syrup. The concoction is more refreshing than its fishy inspiration, but still packs a sour and spicy punch.

Namsaah Bottling Trust (Michelin Plate)
"Tom Yum"

This boozy tom yum at Namsaah Bottling Trust is far from just an alcohol-splashed soup. The bartenders here have somehow turned the heavy flavour bomb of a soup into something refreshing. Beefeater gin is infused with lemongrass, chilli, kaffir leaves and lime for a Thai twist on the Spanish classic. If spice isn't your thing, opt for the less ped (spicy) — but still decidedly Thai — version with kaffir lime and lemon.

Thaipioka
"Crying Tiger Grilled" (Photo Credit: Tim Kloecker / 103prozent.de)

This dish of grilled beef with jaew sauce might be the last that you'd expect to be reinterpreted into a cocktail, but the guys behind the bar at Thaipioka are daring — not to mention masterminds with a shaker. They steep the grease drippings from grilled beef with rum then add rye, absinthe and bitters for a heady, umami-infused libation. The only thing missing is the spicy jaew sauce, but the drink is impressive enough that they can be forgiven.