Bali's dining scene is heating up with an eclectic hotbed of hip and creative restaurants set against a picturesque backdrop on the idyllic Indonesian island. For a long time, Bali's main tourist attractions revolved around lush paddy fields, gorgeous spa resorts, postcard-perfect beaches and the friendly carefree locals. Over the past few years, Bali's burgeoning restaurant scene has been coming into its own. New restaurants have mushroomed everywhere from the buzzy streets of Seminyak to the up-and-coming enclave of Canggu.
Growing in tandem is the
Ubud Food Festival
, a epicurean event that shines the spotlight on the Indonesian and Asian cuisine. This year, the festival will run from April 13 to 15. In its fourth edition, the annual festival has built up its status as one of go-to food events in Asia. Best of all, Bali is just a three-hour flight away from Singapore.
This year, expect a gastronomic line-up of more than 100 gourmet events that include collaborative chef dinners, cooking demonstrations, film screenings, workshops, food tours and forum discussions. Close to 100 chefs, restaurateurs, farmers and entrepreneurs will take part.
Indonesia-born Rydo Anton, head chef of the two Michelin-starred Gaggan, is one of the headlining chefs at Ubud Food Festival 2018.
Headlining this year's festival is Rydo Anton, head chef of the two Michelin-starred
Gaggan
, a progressive Indian restaurant in Bangkok. The Indonesia-born chef will team up with
Locavore
, a European-Indonesian restaurant in Ubud that heavily uses native ingredients grown in Bali for a sold-out special dinner. Chef Rydo will also hold a cooking demo and share his thoughts on two discussion panels: The Michelin Effect and More Stories from Behind the Pass.
Chef Rydo's innovative cuisine is in tandem with the festival's theme, '
Generasi Inovasi
', which is 'Innovative Generation' in Bahasa Indonesia. The theme is inspired by Indonesia's young and tech-savvy population, who are driving the nation's booming economy. Through the lens of 'Generasi Inovasi', the festival celebrates innovative and sustainable ideas in Indonesia's food industry, which creates a distinct food culture.
Ms Janet DeNeefe, founder and director of the Ubud Food Festival notes that innovation has boosted the prominence of the international status of Indonesian produce and cuisine.
She says: "Over the past year, we've seen a huge increase in artisan Indonesian products produced for the domestic and international market by social enterprises, such as
JAVARA Indonesia
, an artisanal produce purveyor. These companies work directly with farmers to teach them how to become 'farmerpreneurs', resulting in beautifully packaged, high-quality products."
She points out that more top chefs and restaurants in Jakarta have also been gaining international recognition with the Jakarta's Best Eats Awards and Guide were launched by FoodieS magazine this year.
The best of the MICHELIN Experience in your inbox
Stay on the top of the best restaurants, offers, lifestyle, and events recommended in our guide cities.
Subscribe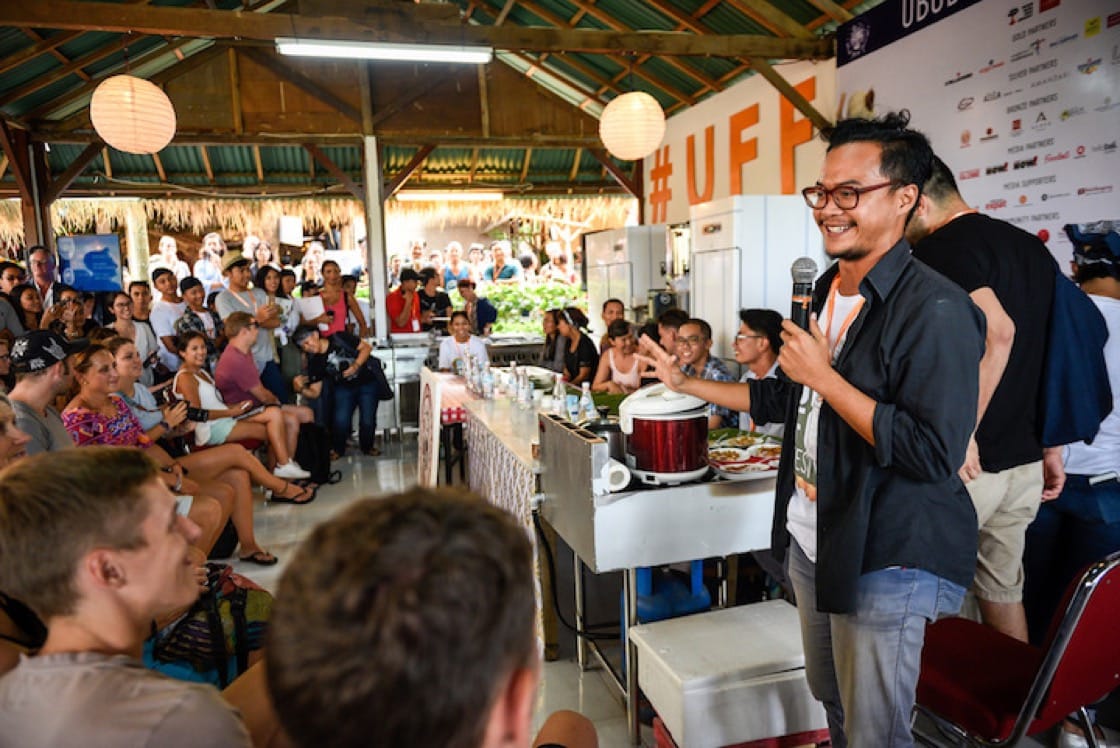 A sambal eating contest at Teater Kuliner at last year's Ubud Food Festival. Photo: Matt Oldfield.
New this year is the Coffee Lounge at Indus Restaurant, which will showcase the festival's finest brews. (Indonesia is, after all, the world's third largest coffee producer.)
Coffee
aficionados can take part in a single-origin coffee and chocolate pairing workshop with Pipiltin Cocoa, and a manual brew masterclass with The Coffeenatics from Medan.
Teater Kuliner
(Culinary Theatre) in the Festival Hub, which has free entry, celebrates the diversity of Indonesian cuisine from little-known Balinese ingredients and West Timorese smoked pork to Papuan snacks, while the Food for Thought stage will have 18 panel discussions with culinary experts, covering topics such as the impact of apps on the dining industry and whether the farm-to-table movement is actually improving farmer livelihoods.
Be in the thick of kitchen action at the The Kitchen Stage at
Indus restaurant
, the ticketed cooking demo stage. There will be 18 high-energy cooking demos, including three culinary battles between the chefs.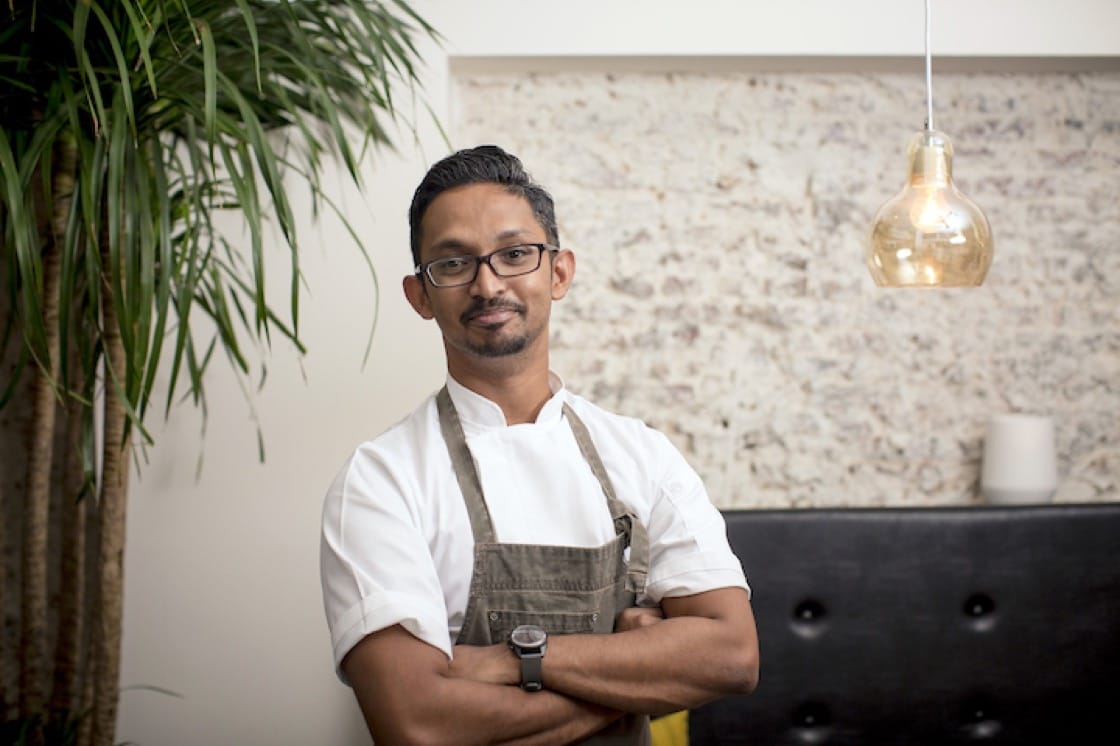 Chef Rishi Naleendra of one-Michelin-starred Cheek By Jowl restaurant in Singapore will showcase fish with leek and bonito butter at The Kitchen Stage.
Flying the Singapore flag high are a handful of chefs who are based in the Republic. Chef Sun Kim of two-Michelin-starred Meta will hold a four-hands dinner with Maurizio Bombini, executive chef of Mandapa of Ritz-Carlton Reserve Resort in Ubud. The South Korean chef will also share his recipe for crab meat and salted egg bibimbap at The Kitchen Stage.

Chef Rishi Naleendra of one-Michelin-starred modern Australian restaurant, Cheek By Jowl, will whip up fish with leek and bonito butter at The Kitchen Stage. He will also cook at the sold out World Class Culinary Collective, sharing the kitchen at the famed Ubud dessert restaurant Room4Dessert with Mejakawi's Benjamin Cross and KAUM's Wayan Kresnayasa.

Another acclaimed chef, Petrina Loh of Asian fusion restaurant Morsels will present her signature dish of steamed Venus clams in fig broth at The Kitchen Stage, and will be commandeering Asian restaurant Hujan Locale kitchen for her special event Wildly Creative Fusion. Daniel Chavez, chef-owner of OLA Cocina del Mar and TONO Cevicheria in Singapore will share his secret to making Tiger's Milk, a citrus-kissed Peruvian ceviche.

Ms DeNeefe hopes that international visitors will leave the festival with a "newfound fascination for the incredibly diverse cuisines of the archipelago, and that they share our excitement for the exciting future of Indonesia's culinary industry".

She adds: "For Indonesians, I hope they leave with boosted pride in their extraordinary culinary heritage and remarkable aptitude for innovation. Indonesian food is never, ever dull!"

For more information on Ubud Food Festival 2018, go to www.ubudfoodfestival.com
Main photo credit: Anggara Mahendra
RELATED: Locavore's Chef Ray Adriansyah Spills On Being Proud of Indonesia's Culinary Heritage