Tasmania-born chef Joseph Lidgerwood first came to Seoul as a "culinary pilgrim" hosting pop-dinners on his Asia tour, but he ended up so besotted with Korean ingredients that he decided to make the city a permanent stop.
To share his discoveries – foraged finds sourced on excursions across the Korean peninsula and unusual pairings with traditional Korean liquors – Lidgerwood opened restaurant EVETT in the city's Gangnam district at the end of 2018. Less than a year later, the restaurant received a one MICHELIN star recognition in the MICHELIN Guide Seoul 2020 for its inventive offerings.
READ MORE: MICHELIN Guide Seoul 2020 Star Selection Announced
"Before coming to this country, I had heard so much about other Asian cuisines such as Japanese, Vietnamese or Chinese cuisine, but so little about Korean cuisine," Lidgerwood said, adding that he was "instantly captivated" by the vast variety of local ingredients he found here.
This is what drove him to fix the spotlight firmly on Korean ingredients, techniques and flavors at EVETT, Lidgerwood said, in an effort to "showcase what makes this country special". Yet each element is presented in unexpected ways to cast a different light on them, so even the most jaded Korean diner will find something new to discover. Diners at the restaurant, whether local or foreign, will have the feeling that they are trying ingredients that they already know but in a delicious new way that makes the familiar unfamiliar, Lidgerwood promises.
Besides overcoming cultural barriers, Lidgerwood is also keen to bridge the gap between his guests and his kitchen team. Chefs at EVETT take turns to come out of the kitchen to present their dishes personally at the dining table, giving them the opportunity to personally explain to their guests the techniques and stories behind everything on the plate, from the provenance of the duck in their signature dish of Magnolia-aged duck served with rehydrated dried peaches, to why they choose to age their Korean Jirisan black pork in brown butter ad beeswax.
"Food has changed drastically in the last 50 years; it has gone from being a thing of survival to a thing of pleasure," Lidgerwood explains. A mission well accomplished for the EVETT team is when every guest leaves the intimate restaurant with not just the feeling that they have discovered something new along the way – but with great joy at having done so as well.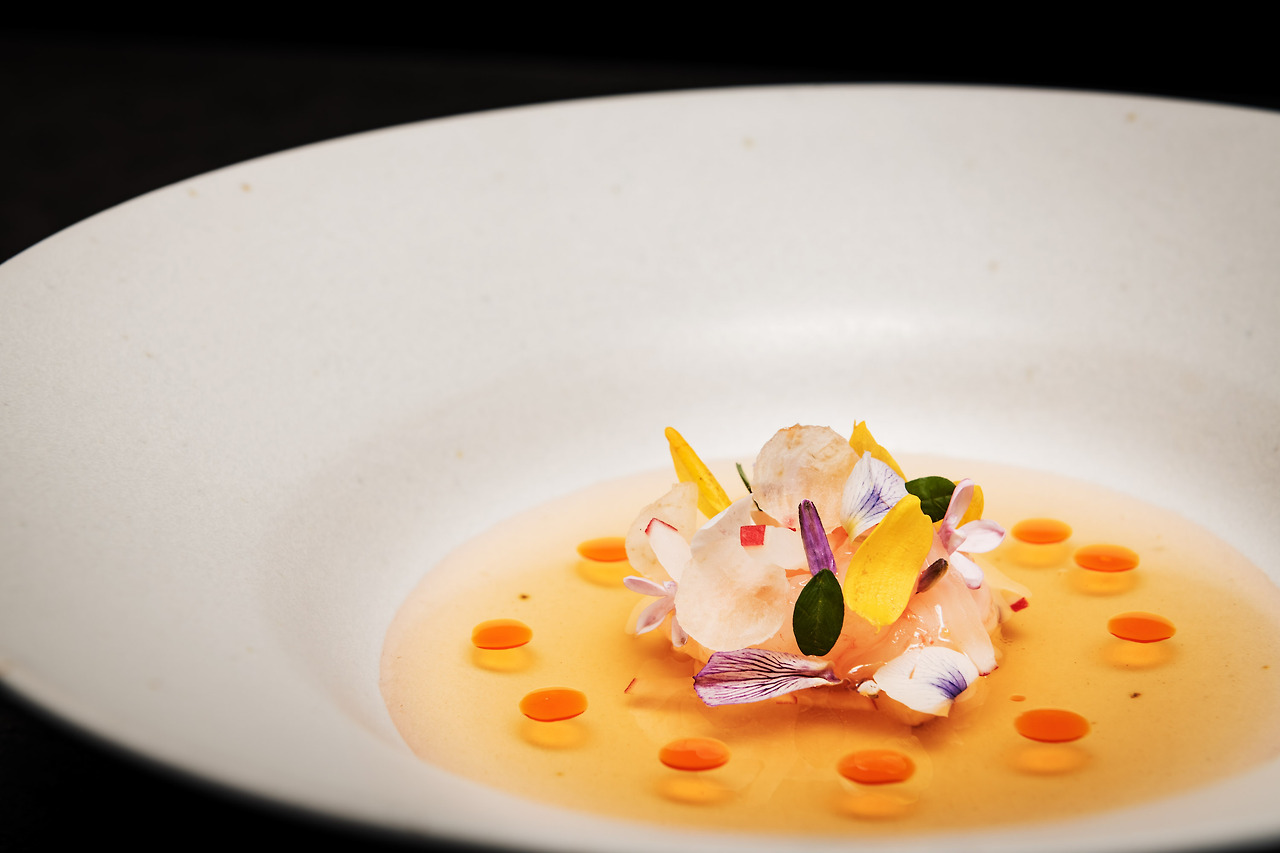 Dokdo Flower Shrimp (Photo: EVETT)
What was your first encounter with the MICHELIN Guide?
I first heard about the Guide when I moved to the UK from Australia. We didn't have the MICHELIN Guide in Australia and it was a foreign concept to me. The first restaurant I worked in the UK was one MICHELIN-starred Restaurant called Kitchen W8. It was a beast of a kitchen with six chefs serving around 80 guests. It was a drastic change in working hours and attention to detail to what I was used to in Australia. It surprised me in many ways.

I started on the garnish section and quickly grew into life working in a Michelin-starred kitchen. I worked my way through various sections there for two years and from then on, I went to work on at famous MICHELIN-starred restaurants including The Ledbury, Tom Aikens, and The French Laundry.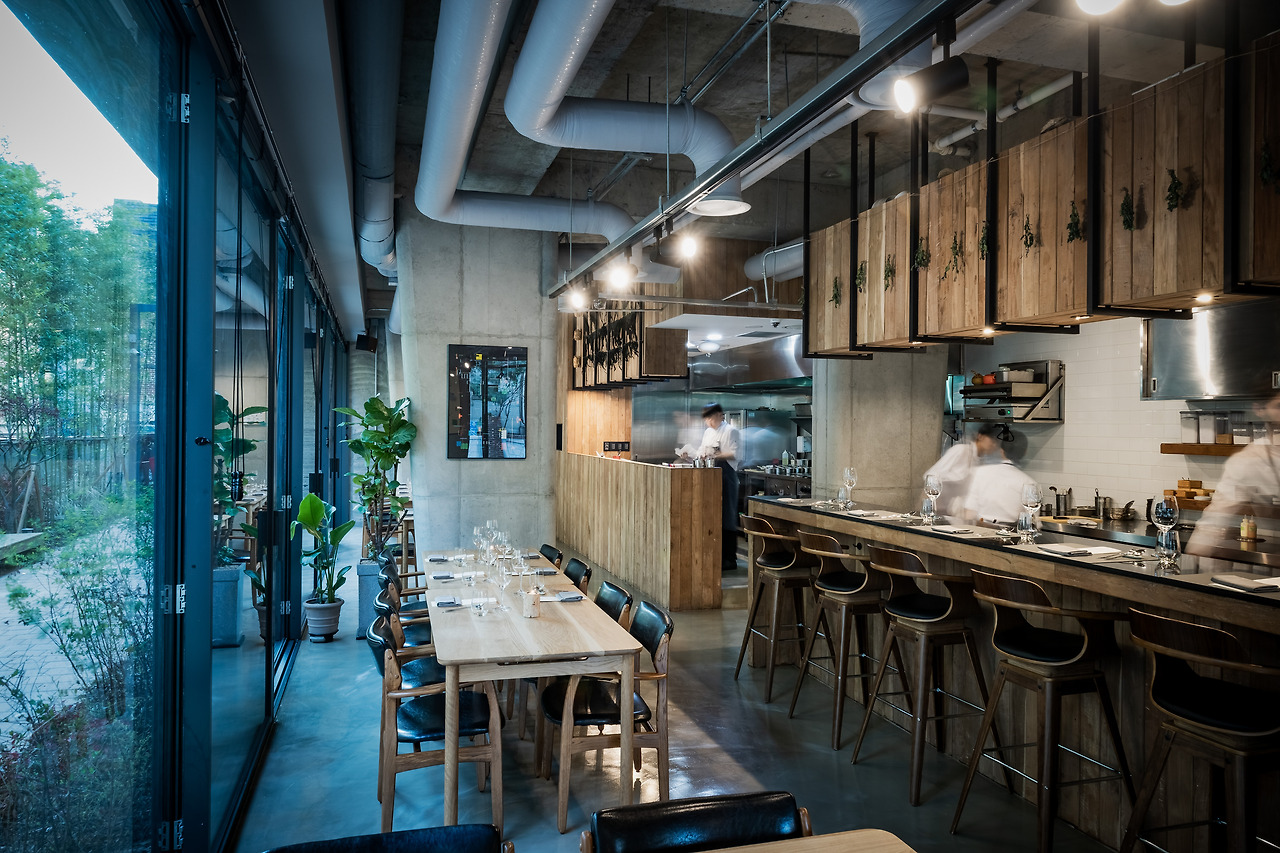 Interior of EVETT ⓒEVETT
What was it like when your restaurant received a MICHELIN star for the first time?

I remember having to take the evening service off to receive the award when I first received the news. It was a mixture of guilt and excitement; on one hand, I was leaving the boys in the kitchen to face a fully booked service and on the other hand, we were receiving our first accolade.
When we won our first star in November 2019, it was exactly a year since we opened and it marked what was an incredibly hard year. Opening a small restaurant on the isolated side of town took a lot to get going. Our primary goal is to cook good food that we believe in and not compromise on our core philosophy. We struggled through the first months - the winter was especially hard, but we wanted to make it to the one-year mark as most businesses fail within the first year.
We kept cooking good food and slowly but surely we started having a local following. I also think this pursuit in just keeping our head down and concentrating on the food and the guests' experience led to the MICHELIN recognition.

How did you celebrate?
I returned from the MICHELIN Guide Seoul 2020 Star Revelation and Gala Dinner at the end of the night with a bottle of champagne and the MICHELIN plaque. Looking around the kitchen that night, I couldn't have been prouder of the team. We celebrated together as a team after service. It was an intense feeling of happiness mixed with beers and some much-needed banter with the team.
On the month that we received our first MICHELIN star, many guests congratulated us on winning a star; these are regular guests that have visited more than 20 times this year! I explained to them that though we are extremely honored to have won this award in our first year, what gives me the most satisfaction is seeing guests such as themselves, who constantly come back to the same restaurant. For me, that was the biggest sign that we are on the right track.

RELATED: On The Menu At The MICHELIN Guide Seoul 2020 Gala Dinner
As a chef, what does having a MICHELIN star mean to you?
It is recognition for the amount you are willing to give to this industry. It gives chefs a platform to push further as it gives you the recognition that you are on the right track.
We will use this as a platform to push the boundaries of the food we create and the guests' dining experience. We want to dial down the number of guests we serve each day and focus on each table. This will mean looking at different options in regards to how we approach each facet of the experience - from the menu to the restaurant layout. On the same note, we will look at how we can offer each guest to a new experience by challenging guests with perceptions of what is food and why we eat certain food and not others.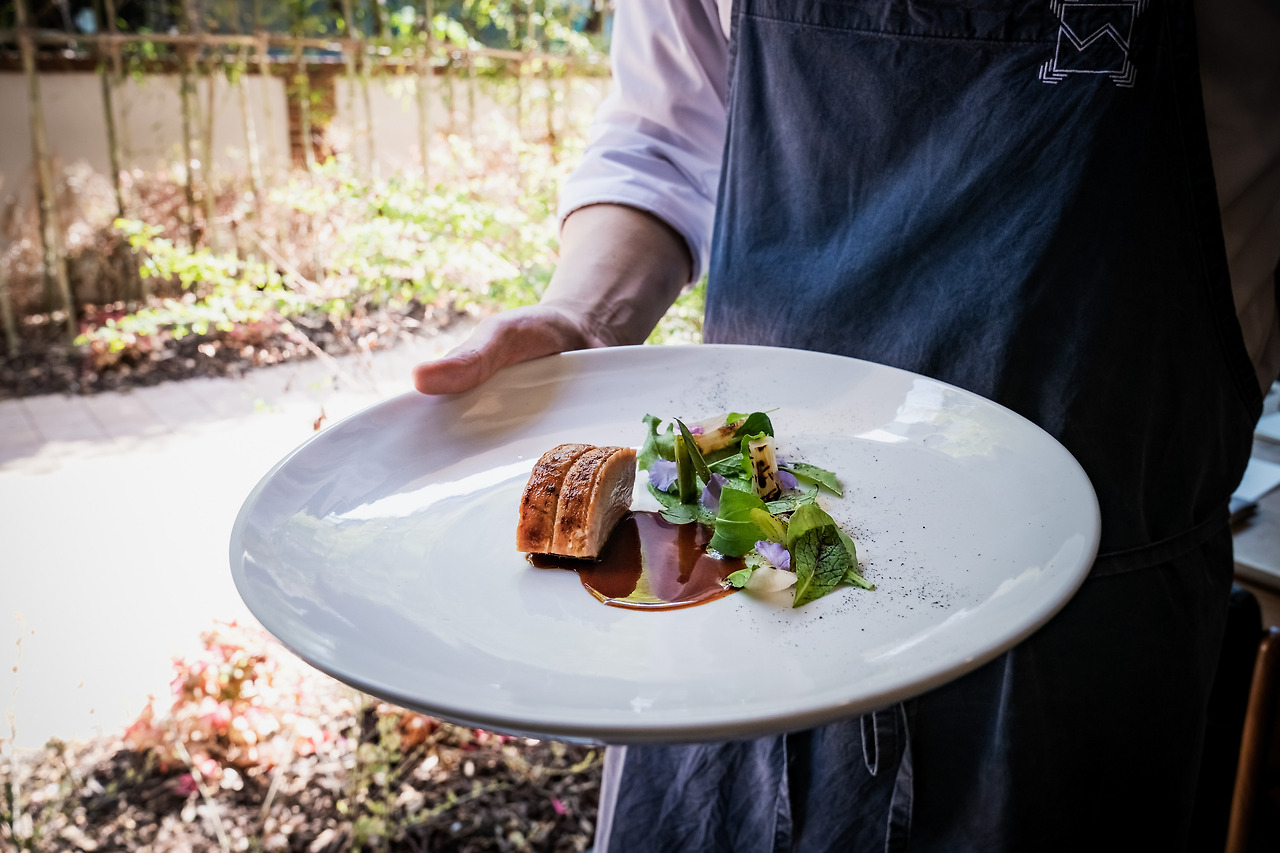 Chefs serve dishes to table (Photo: EVETT)
How has the MICHELIN Guide influenced your career?

My life hasn't changed drastically since winning a star. I still am at the restaurant 90 to 100 hours a week! It's really hard to say as it has been just a few months [since we rececived a MICHELIN star] but the restaurant has been full every day since then. Having a full restaurant with happy guests is really what we put all this effort into - so having the influence of the MICHELIN guide helps me achieve this goal.

Do you have any advice for young chefs aiming for MICHELIN stars?
I think any chef who sets out to win accolades is in it for the wrong reasons. Work hard, work your butt off, don't make excuses and cook food people want to eat.
READ MORE: The First Day We Got Our Stars: Allen Suh
This story was written by Julia Lee and edited in English by Debbie Yong. Read the original article in Korean here.