Korean chef Allen Suh is so determined to leave a good impression of Seoul on his guests, he even named his restaurant after that intent.

At L'impression, a wide window stretches across the width of the restaurant, allowing diners to appreciate the changing of the seasons as the trees outside change from brilliant green to rustic shades of red and sunset orange. Further afield, the skyscrapers of the vibrant capital city of South Korea come alight as night falls, and glimmer like stars beyond the restaurant's window.

The serene vista is mirrored by the calming grey tones of the restaurant's dining room, where Suh offers an exploration of modern French cuisine inflected with his Korean heritage and global sensibilities. Classic French ingredients share the spotlight with local culinary techniques in dishes such as the foie gras aged in doen-jang, a fermented Korean soybean paste, or the 30-day aged Korean beef with rice yeast. In others, local ingredients such as Dokdo flower shrimps and naeng-i, a seasonal wild herb, take centerstage.

It is no exaggeration to say that the superstar of the Michelin Guide Seoul 2020 is restaurant L'impression. The restaurant received two stars just a year after opening, and gained the attention of gourmets around the world. We met with chef Suh shortly after this year's Star Revelation Ceremony to find out more about his thoughts on the new accolade.
Main Dish: Korean beef aged in rice yeast and seasonal greens ⓒl'impression
What was your first encounter with the MICHELIN Guide?
I've known for a long time that the MICHELIN Guide is a world-famous evaluation system, but I've only vaguely understood that the more stars there are, the better it is for restaurants. After graduation, I started working in a Japanese restaurant in San Francisco, where I first saw a MICHELIN star plaque on their wall. It was then that I realized that the MICHELIN inspectors evaluate restaurants outside of France as well. I felt proud to work in a MICHELIN-starred restaurant, and I also had a dream that if I were to lead a restaurant someday, I'd like to get a good evaluation from the Guide.

What was the first thing you did when you realized L'impression received two stars?
I called my restaurant team the moment I stepped down from the stage. In Korea, chefs only get to know how many stars they receive during the MICHELIN Guide's Star Revelation ceremony. I told my team that even though we all had a hard time, we did great — I thought it was important that this is the first thing that I did.

I called my parents, too. In fact, my parents don't really understand what it means to run a MICHELIN -starred restaurant. However, they knew that I had achieved one of my lifelong dreams, so they congratulated me. When I was alone in the car going back to the restaurant from the awards ceremony, tears were falling from my eyes. I had mixed feelings of gratitude, relief, and many more emotions.

How did you celebrate?
Our restaurant has some regular guests, who came to congratulate our team with snacks and wine. This was the best part of the celebration. We felt that they weren't just guests, but more like our friends and partners. The day of the MICHELIN Star Revelation - I still remember that it was a Thursday night – our entire team went to a nearby pub together, had glasses of beer, talked a lot, and toasted each other heartily.
As a chef, what does having a MICHELIN star mean to you?
It's a reward for every single member of our team. I've heard that our restaurant is known for its high-pressure environment, and now our crew can see that working hard has its rewards. The team's joy meant a lot to me.
And as more people became aware of our restaurant and more customers want to visit, we can keep our restaurant operations more stable. As it takes a lot of investment and effort to run a fine-dining restaurant, I had a hard time with investors at the beginning. I wanted to work with the best people, create a beautiful space, and use premium items and ingredients in the restaurant from the start, but we didn't receive as many customers as we had hoped for. Restaurants not only need to be good, they also need to survive. Now that I've received a good evaluation by the MICHELIN Guide, the restaurant has become a lively place.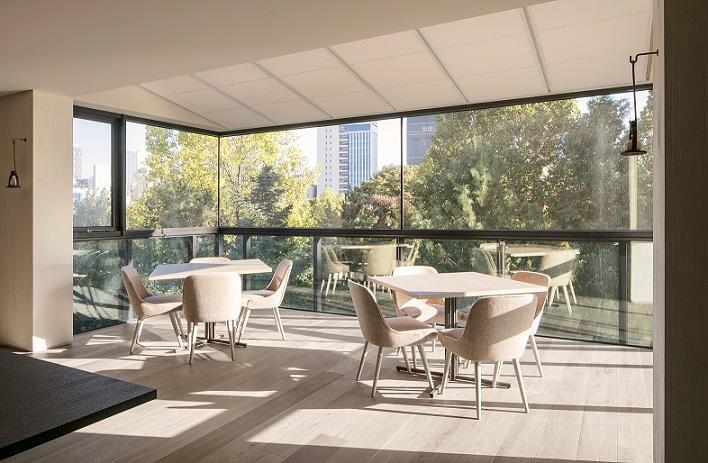 Interior of L'impression ⓒl'impression
How has receiving a star impacted your career so far?
I feel honored to be a chef of a MICHELIN-star restaurant. After L'impression received our MICHELIN stars, we've received various opportunities, such as being invited to culinary events overseas or getting approached by other renowned restaurants for collaboration dinners. I am very happy about this! Not everyone can do this even if they want to.

Also, this restaurant has become financially more stable after receiving the MICHELIN stars. This allows me to try a variety of things I've dreamed of, from cooking to service, but with less stress.. I had originally planned for this place to be an interesting restaurant that welcomes foreigners who travel to Korea, and now our restaurant has indeed seen an uptick of tourists, as well as returning diners who are making frequent reservations.

Do you have any advice for young chefs aiming for MICHELIN stars?
Getting a MICHELIN star shouldn't be the goal of a chef. Hollywood movie stars are just doing their best for their career; instead of aiming to win an Academy Award. I believe that if you work passionately in your job, you can achieve various accomplishments – including awards, MICHELIN stars, and so on.

It is important to be a persistent learner, especially when you are a young cook. I receive a variety of resumes these days, and the work experiences listed are often diverse yet the durations are too short to be meaningful. It would have been better if a young cook had learned something deeply in one place for a longer time. Also, when talking to juniors, they often say that they want to open their restaurant after spending approximately five years as a young cook. The established chefs they see today are people who have persistently built up their name and fame in the field gradually, for over 30 or 40 years. I'd like to tell younger peers in the industry to have a more long-term outlook to get the most joy out of a time-honed career.
FURTHER READING: What The Restaurant Industry Will Be Talking About in 2020