If you are a fan of K-drama, you will remember many scenes with the characters enjoying chicken.

In Korea, "chicken" typically refers to "fried chicken" as a collective, which is the most popular item in casual dining joints. Although not a traditional Korean food, KFC (Korean Fried Chicken) found favour in the 1970s as it developed closely in tandem with an industrialising society, as both cooking oil and chicken became more affordable.

Korean Fried Chicken, famous for its double-fried light crisp skin, attracts fans around the world with its continual creativity using various spices, techniques, and brilliant ideas — for instance, the pairing of beer and chicken even has a special name, chimaek. We wanted to expand our knowledge about Korean Fried Chicken, so we asked the following chefs from MICHELIN-starred restaurants in Seoul what they think about the popular dish.
Two MICHELIN Stars
MICHELIN Guide Seoul 2022

Korean Fried Chicken has various charms that you can't help loving. Due to the Korean Wave spreading around the globe, fans of K-culture are exposed to the scenes of Koreans enjoying chicken through dramas and entertainment shows. The interest in Korean Fried Chicken has increased a lot, of course. Fried chicken brands that have made inroads into overseas markets offer different styles of the dish. The basic seasoning techniques are slightly different for each brand, and the know-how to bring out the savoury taste from chicken is diverse.

I think the chicken's most delicious parts are the whole legs and wings. Rather than a fancy style, I stick to the basics of fried chicken. The skin is crispy like a snack, and the inside is tender with fresh chicken flavour. I enjoy eating late-night snacks after cycling; among many options, I like chicken because I can eat it comfortably anytime, and the name is interesting, right? You may think it's nonsense to eat fried chicken as a late-night snack, while exercising to be healthy!

Two MICHELIN Stars
MICHELIN Guide Seoul 2022

I enjoy eating chicken after work or with my team members. I really like Korean Fried Chicken, so I put chicken on the menu at
Mingles
and at
Hansik Goo
in Hong Kong. Korean Fried Chicken borrowed its form from Western-style fried chicken or roast chicken, but it gained a unique charm because it was loved by the public in Korea. When seasoning chicken, we use Korean spices such as green onions, garlic, and ginger to enhance the flavour, and add a variety of tastes such as sweet soy sauce and spicy sauce to it, making it a very unique chicken dish that you have never experienced in the West.
My favuorite chicken is Green-pepper Anchovy Chicken. It's a dish that Chef Shin Chang-ho of two-MICHELIN-starred
Joo-ok
and I developed together, which was inspired by Korean side dishes. Stir-fried anchovies and green peppers are mixed with Korean soy sauce and served with crispy fried chicken. You can enjoy the charm of Korean food and the characteristics of chicken together.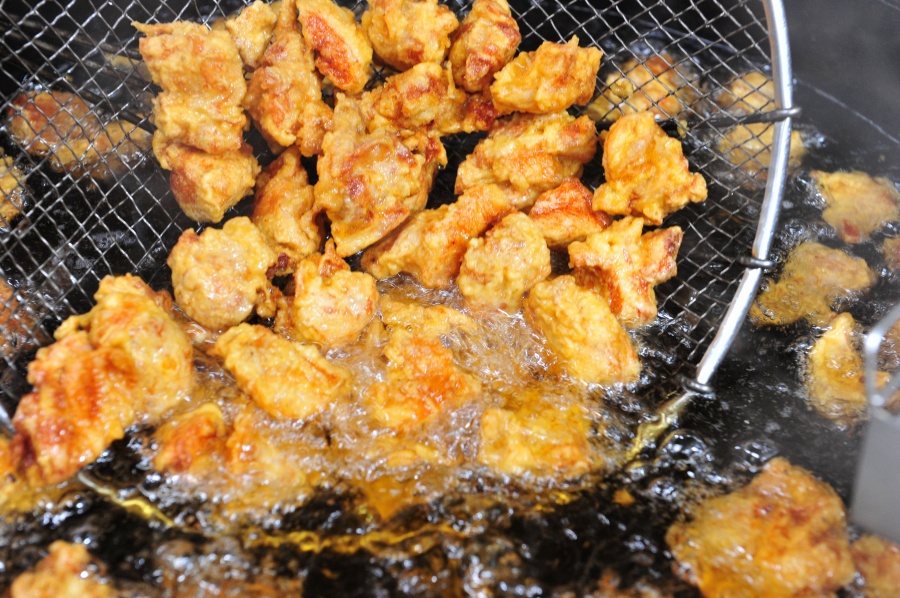 Chef Kim Daechun (7th Door)
One MICHELIN StarMICHELIN Guide Seoul 2022
When I was young and studying abroad in Japan, I didn't have enough money to eat out wherever I wanted. Back then, I used to buy three kilograms of chicken leg meat for only US$10, and made fried chicken in my kitchen. It was cheap yet very delicious, and I can even share it with my colleagues even though I was not that affluent. I reinterpreted this dish with its special memory at my first restaurant in Seoul, Toc Toc.

The market size of Korean Fried Chicken is huge. Special chicken varieties that are taken only for frying recipes are well-developed. A large chicken franchise is also thriving, and the delivery service is beyond your imagination. At home, hotels, and even outdoors — in public parks and sometimes in the middle of nowhere —, you can get delivery service! Among many options, I like boneless tenderloin chicken. I don't like the skin part, as I prefer the soft and light taste of chicken. It's very crispy and the taste expresses the most basic yet well-made taste when I think of fried chicken.
Cho Eun-hee (Onjium)
One MICHELIN StarMICHELIN Guide Seoul 2022
I wonder if there's any food as popular as Korean Fried Chicken, yet I'm not a huge fan of it. Still, I enjoy its crispy texture and fresh taste, especially with a glass of beer. The fried chicken itself is delicious, and there are so many styles and sauces that make it so convenient when you dine out with friends because it somehow fits everyone's palate.

I like a chicken restaurant near our restaurant. The basic fried chicken is a true delicacy. You can fully enjoy the taste of classic Korean Fried Chicken. The outer layer is very thin and crispy; thanks to it, the savoury and light taste goes together well with the mild chicken flesh. It's close to our restaurant, Onjium, so we (colleagues) can visit it together after working hard. I recall how delicious the chicken was with cool beer, relaxing after closing hours with my team.

Translated in English by June Lee