With the durian season being just around the corner in June, durian lovers can rejoice knowing that there will be a spike in harvest this year. Here are seven ways you can eat durian:
What better way to eat durians than right out of its shell? (PHOTO: MICHELIN GUIDE SINGAPORE)
1. As A Fruit

The first and foremost way to indulge in a durian is, of course, in its original form.

Durian vendors have estimated an increase of 50% in durian supply this year due to good weather in Johor Bahru and Pahang. It's best to get your hands on some while this supply lasts, lest the weather changes in the coming months and affects the harvest, which will lead to raised prices. The three most popular varieties among durian lovers are the Jin Feng (Golden Phoenix), Mao Shan Wang and Hong Xia (Red Prawn).
Durians are grilled with charcoal at the Double Durian café. (PHOTO: DOUBLE DURIAN/ FACEBOOK)
2. Chargrilled
Double Durian
, a new café in Hamilton road, serves whole durians which have been roasted carefully on a charcoal grill. Inside the crispy roasted shell is the precious flesh, lukewarm and smoky on the outside and chilled as you nibble your way to the seed. This innovative cooking method takes the durian to a whole new level.
Charcoal Thai serves up the King Durian Steamboat for your next get together with friends and family. (PHOTO: CHARCOAL THAI/ FACEBOOK)
3. Steamboat
Be prepared to sweat profusely at your next durian feast.
Charcoal Thai
at 321 Clementi is offering a King Durian Steamboat, with voluptuous pods of the fruit floating in the pot.
The durian aroma mixes well with the flavourful chicken soup, peppered with carrots, mushrooms and sweet dates. This is also one durian dish that will not leave you with an overwhelming aftertaste or, worse, durian breath. Diners with a big appetite should order other ingredients to go with the steamboat as it's a relatively small portion.
4. Cheese Tart

A creamy sensory overload awaits those who bite into the durian cheese tarts that have just been launched at all Bun Times outlets.

Served freshly baked from the oven, these unusual cheese tarts contain the actual fruit at the bottom of the buttery crust.. The smooth and creamy texture of cream cheese is accompanied by the deliciously pungent scent of durian flesh.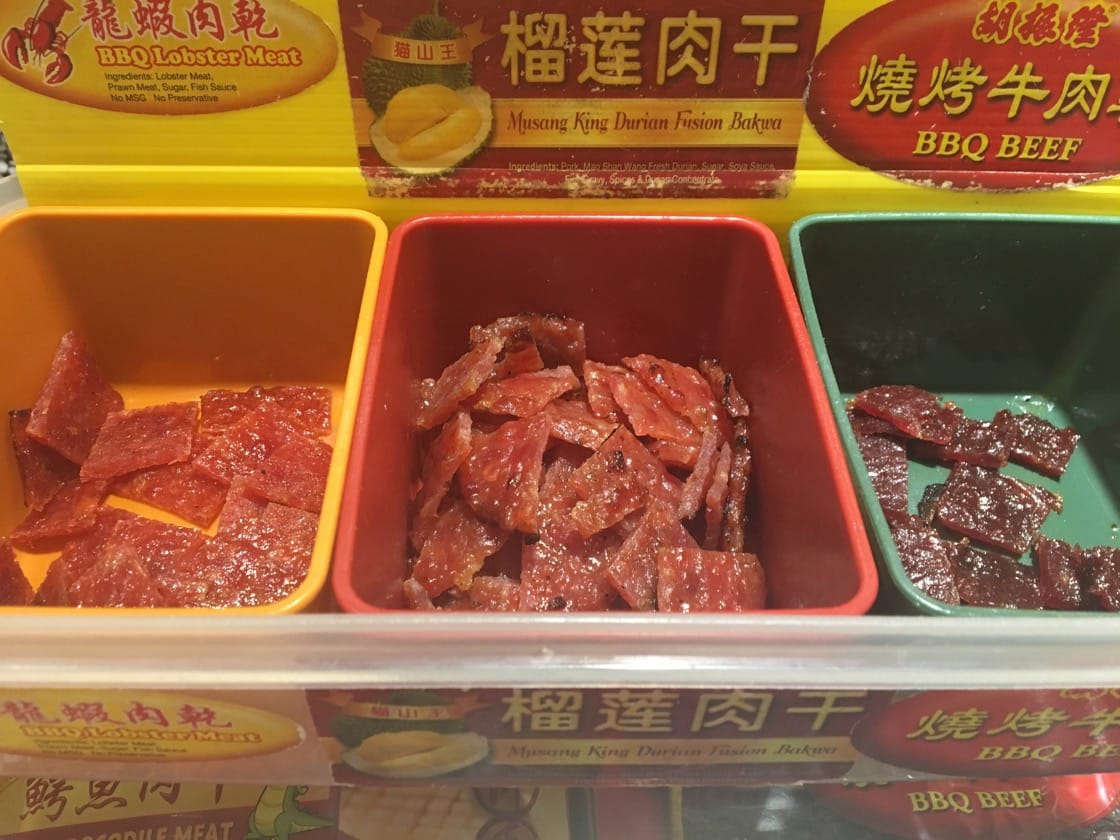 Durian Bak Kwa from Hu Zhen Long combines barbecued pork with the aromatic fruit. (PHOTO: MICHELIN GUIDE SINGAPORE)
5. Bak Kwa

Chinese New Year may be long over, but bak kwa is always in style, especially if the King of Fruit is involved. It may sound like a clash a flavours, but the combination of barbecued pork Mao Shan Wang gives you the best of both worlds. Remember to drink lots of water after eating this bak kwa, as it is doubly "heaty".
The Mao Shan Wang pizza combines the savoury and sweet taste of durians with the rich flavour of cheese. (PHOTO: TINO'S PIZZA CAFE/ FACEBOOK)
6. Pizza

Cheese and durian make surprisingly good bedfellows as toppings for pizza. Tino's Pizza Café uses Mao Shan Wang and D24 durians in place of your boring old pepperoni and pineapple. The pizza, piping hot and complete with thick durian underneath the requisite cheese layer, melts in your mouth and satisfies your cravings for both sweet and savoury foods all at once.
Hi Tea's D24 Premium Durian Jasmine Tea. (PHOTO: ROSALIND ANG)
7. Durian Tea
For those who find the taste of durian overpowering, how about trying it as a fun tea instead?
Hi Tea
's newly launched D24 Premium Durian Jasmine Tea, which it claims is the first of its kind in the world, has a mild top layer of cream and pure durian fruit. Sip this directly from the cup before proceeding to drink the jasmine tea below with a straw. The durian taste is not too robust and complements the floral jasmine tea in a surprisingly elegant way.