Whether you're walking into your neighbourhood bakery or visiting a popular cafe, the one pastry that you will always encounter is the croissant, a favourite temptation with its flaky, buttery, fragrant charms.

This crescent-shaped delight is considered integral to the cultural heritage of the French. But guess what? Its origins actually begin in Vienna, Austria.

(© iStock)
Authentically not French
"Croissant" comes from the word for "crescent", as in a "crescent moon". This describes the pastry created from rolling and folding buttery dough over and over into a thin sheet that is then cut and rolled into its iconic shape, which fully forms as it bakes into a tempting golden brown.

Alan Davidson, editor of The Oxford Companion to Food, says that, to this day, no mention of croissants has been found in French recipes from before the 20th century. But the croissant's origins have been documented since 1838 or 1839 as being inspired by "Kifli" or "Kipfel". These are traditional breads made from plain flour that may contain nuts or similar ingredients, which bakers form into crescent shapes before baking. Breads like this were very common and were called different names across Central Europe. They also pre-date the Viennese-style baked goods (Viennoiserie) from Austria.

But how are the French involved in all this?

There is evidence that it all began when August Zang, an Austrian artillery officer, opened the Boulangerie Viennoise on Richelieu Street in Paris. It is said that his Viennese breads and baked goods were so famous that he inspired the French bakers to imitate his crescent-shaped breads, which turned into the world-famous croissant we know today.

Even now, the crescent moon croissant has evolved further as creative expressions of bakers and foodies alike. Examples include the cro-nut (croissant crossed with doughnut) and the croissan-go (croissant crossed with patongko, Thais' favourite traditionally Chinese fried dumpling dough).

So, what is a perfect croissant? We asked two experts to reveal their secrets to making and enjoying this pastry. French baking master, Guillaume Tournemolle, has over 20 years' experience in patisserie and desserts and is head French pastry chef for Two MICHELIN Starred Chef's Table, a French restaurant in the heart of Bangkok. And Arisara "Paper" Chongphanitkul, is the talented Thai pastry chef who creates innovative desserts for One MICHELIN Starred Saawaan featuring French techniques, to reveal their secrets to making and enjoying this pastry.

What is the perfect croissant?
"What makes a good croissant is the contrast between the crunchiness of its crust and the soft, airy feel of its insides, with a good buttery taste," explains Tournemolle, who reaped his rewards from hours of inventive baking and dessert making at such famous French restaurants as Le Laurent (One MICHELIN Star, MICHELIN Guide Paris), Le Bristol Paris, Baumanière and Le Prieuré.

"In my opinion, a great croissant should be flaky outside and soft inside," shares Chef Paper, revealing the secrets and knowledge she learned from culinary school in the South of France. "The delicate layers inside should not stick together, and it should be baked until golden brown and a buttery fragrance fills the air."

The not-so secret trick to making croissants
The two pastry chefs share the same secret to fabulous baked goods: quality. High-quality ingredients are half the battle won. "Good ingredients that are properly mixed, shaped, proofed, and baked. Every step affects the taste and texture of the croissant," adds Chef Paper.

"The choice of butter is the most important. Butter on the drier side and richer in fat content allows the puff pastry to be layered and crunchy," explains Chef Tournemolle. In addition to ingredients and butter, this French baking guru emphasises having the correct temperature. "For a delicious croissant, temperature control of the ingredients and the environment plays an equally important role. It needs to be precisely on point for the dough to be perfectly executed."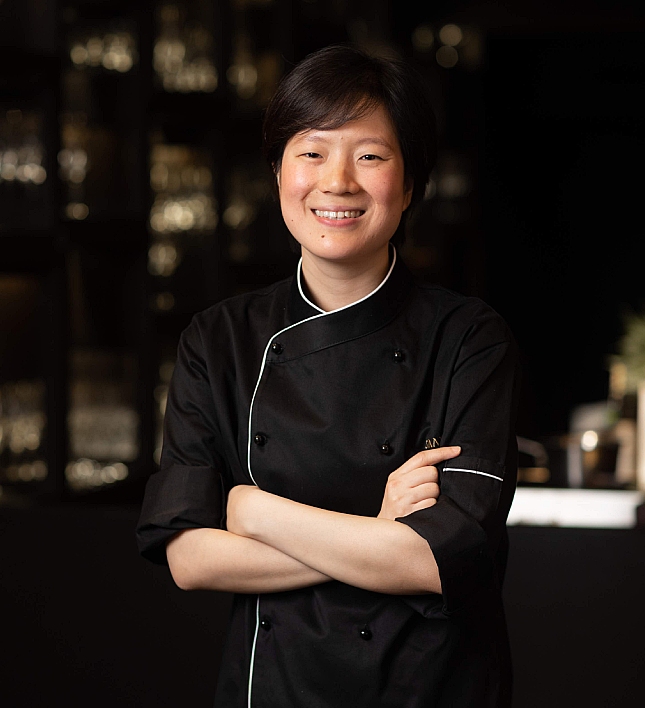 So what goes best with a croissant?
Chef Paper prefers dipping croissants in hot chocolate, a habit she picked up in France, and she is a happy camper with just a good plain croissant. As for Tournemolle, he enjoys having a croissant for breakfast with coffee and freshly squeezed orange juice. And he agrees with Paper that, even with all the flavours and fillings available, a simple, classic plain croissant is the best.