Rang Mahal
is one of the stalwart Indian fine-dining restaurants that has a storied past. Started in 1971, the establishment is one of the oldest North Indian restaurants in Singapore that started at the now-defunct Oberoi Imperial Hotel in Jalan Rumbia.
Now 47 years old, and having settled in its elegant 110-seat space in Pan Pacific Singapore over the past 16 years, Rang Mahal is showing no signs of slowing down.
The restaurant could have stuck to what has kept the restaurant going for decades: traditional North and South Indian dishes. However, the restaurant ventures out of its comfort zone with its latest menu overhaul last month with new dishes making up 80 per cent of the food line-up. The revamp is the brainchild of Rang Mahal's new corporate chef, Milind Sovani, who returns to the restaurant group after more than a decade.
Rang Mahal's new menu is a culmination of chef Milind's travel experiences around India to collect ideas and inspiration over the past five years. The chef also runs two April's Rain restaurants in Pune, India.

It is no surprise that elements of street food and regional dishes from more Indian cities including Kerala, Mumbai and Tamil Nadu make their way onto the new menu. Ayurvedic herbs, which is an integral part of India's food culture, are also used in dishes. Chef Milind says that he has also designed dishes that are more communal and require some hands-on action as a growing number of diners are inspired by the slew of reality cooking shows and are itching for some kitchen action.

We preview some of Rang Mahal's new dishes.
Tomato Saar ($20)

This light-tasting clear tomato broth has the right amount of spices and tang to pique one's appetite. The spiciness from the cardamom and fennel coats the tongue with spices judiciously. Each spoonful concludes with a sweet note with a foam topping made of mulethi (or, liquorice root), which is an Ayurvedic ingredient that aids digestion and boosts immunity.
Roomal Masala Papad ($15)

One of the highlights of the new menu is also the most colourful. The Roomai Masala Papad is a larger-than-life tortilla-like cracker that is embellished with a tapestry of lentil crispies, chopped onions, tomatoes, green chilli and garam masala.

The wafer-thin cracker, made from wheat and refined flour, is baked in a wok, which gives it a concave shape. Snap the airy light papad, which resembles a thin-crust pizza that is loaded with mesmerising mosaic of ingredients. Unlike most pappadums, the papad is not salty and tastes like water crackers. The chopped onions, tomatoes and lentil crispies bring out the crispiness of the papad, while the freshly-chopped coriander adds a dash of herbaceousness. A good dish to nibble on while waiting for the mains to arrive.
Tandoori Fondue ($58, serves two to three people)

You may have seen people huddling around a fondue pot, dipping skewers of fruits in velvety cheese sauce. Now, imagine a tandoor chicken version. Taking centrestage on the platter is a candle-lit pot of warm cheese tomato makhni that is finger-lickingly moreish.

The luscious concoction, which is slathered in butter chicken, is thickened by a creamy mixture of cottage and mozzarella cheese and honey tomato puree that is superbly piquant and mildly spicy. Diners can fork four types of chicken kebab and garlic naan cubes, and dip them into the "fondue."

The viscous makhni, which coats the meat chunks so well that it overshadows the subtle differences in flavours of the smoky tandoor-grilled meat, is seasoned with basil, tikka spices and cashew curry. Perhaps the sauce could be a little thinner. Mop the bowl of "fondue" dry if you see extra pieces of naan lying around.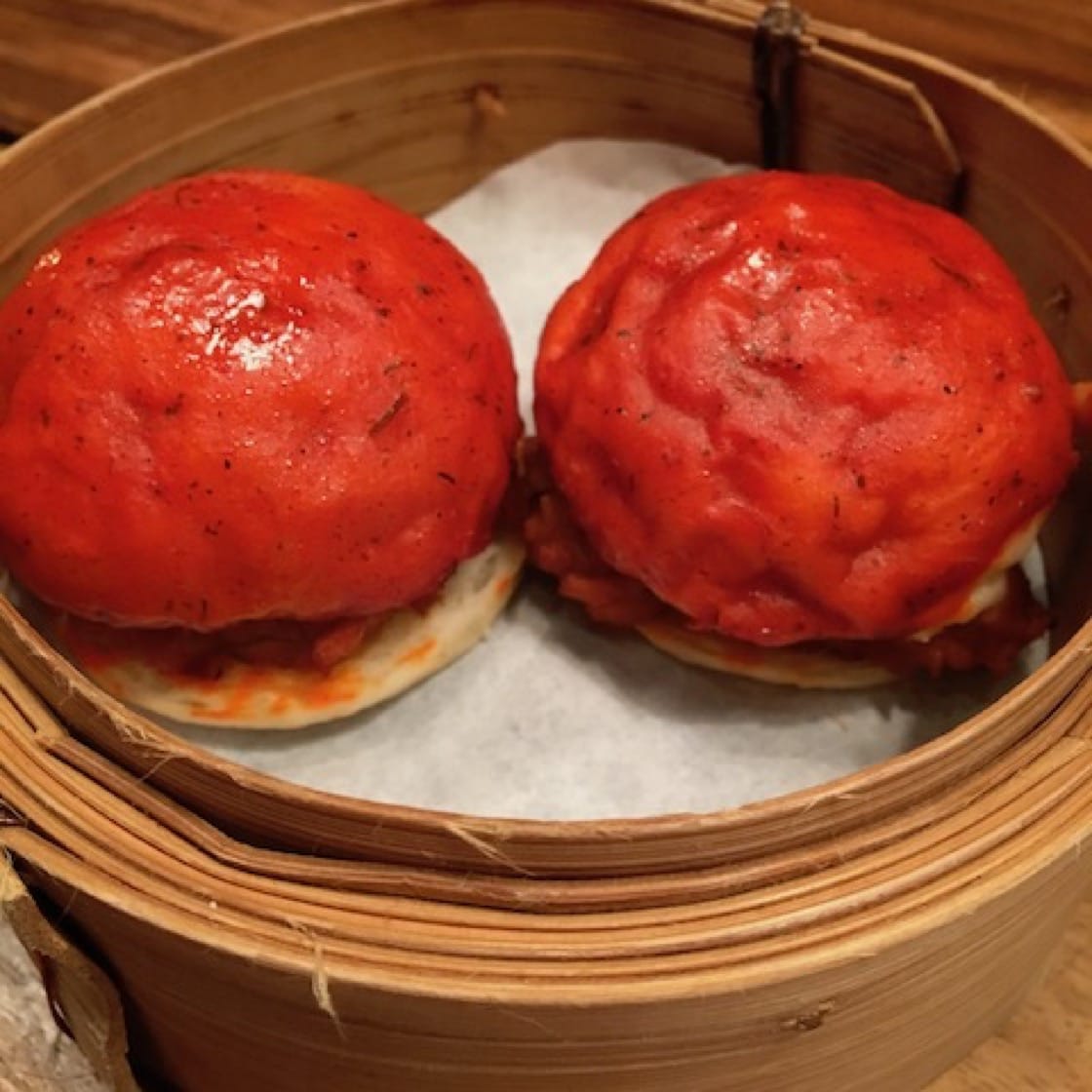 Butter Chicken Bao ($42)

Steamed fire engine-red buns served in bamboo baskets seem to belong more in a dim sum joint than in an Indian eatery. However, these buns take inspiration from a popular Mumbai street food, vada pav (a deep-fried potato cutlet sandwiched in a bread bun) and butter chicken, a perennial favourite Indian dish.

Here, the pillowy naan buns are coated with makhi (from butter chicken) that perks the dough up a subtle sweetness and spiciness, and the buns are cushioned with red-tinged shredded butter chicken. Order this if you love butter chicken but want it with a fresh spin.
Dhuwandaar Lamb Chops ($42)

Lending a touch of kitchen theatrics are these char-grilled lamb chops that are smoked in applewood and garam masala. The multi-sensorial dish comprises lamb chops are served in a glass chamber filled with aromatic and woody smoke that wafts out from the chamber. The plush pink meat is heavily seasoned and smoke is not gamey at all.
Rang Mahal is at Level 3 Pan Pacific Singapore, 7 Raffles Boulevard.