One of the more anticipated restaurant openings in Singapore this year has arrived—Chinese fine-dining restaurant
Madame Fan
is set to open at the newly-refurbished
NCO Club
in Beach Road on April 23.
The restaurant is one of the four concepts that will anchor the now-defunct Beach Road Army Camp's Non-Commissioned Officers Club that has morphed into a lifestyle and entertainment enclave that is now run by the
JW Marriott Singapore South Beach
.
The main reason behind the buzz behind Madame Fan is that it is the brainchild of famed London-based restauranteur Alan Yau, who is known for starting groundbreaking eateries such as fast-casual Asian restaurant chain
Wagamama
and Chinese fine-dining restaurant
Hakkasan
. While Yau sold Hakkasan to an Abu Dhabi conglomerate in 2008, he also started a swanky Chinese dinner club,
Park Chinois
, in London in 2015 and is a highly sought-after restaurant consultant around the world from Moscow to Monaco.
We get a sneak peek of the sprawling 222-seat Madame Fan, which is Yau's debut restaurant venture in Southeast Asia.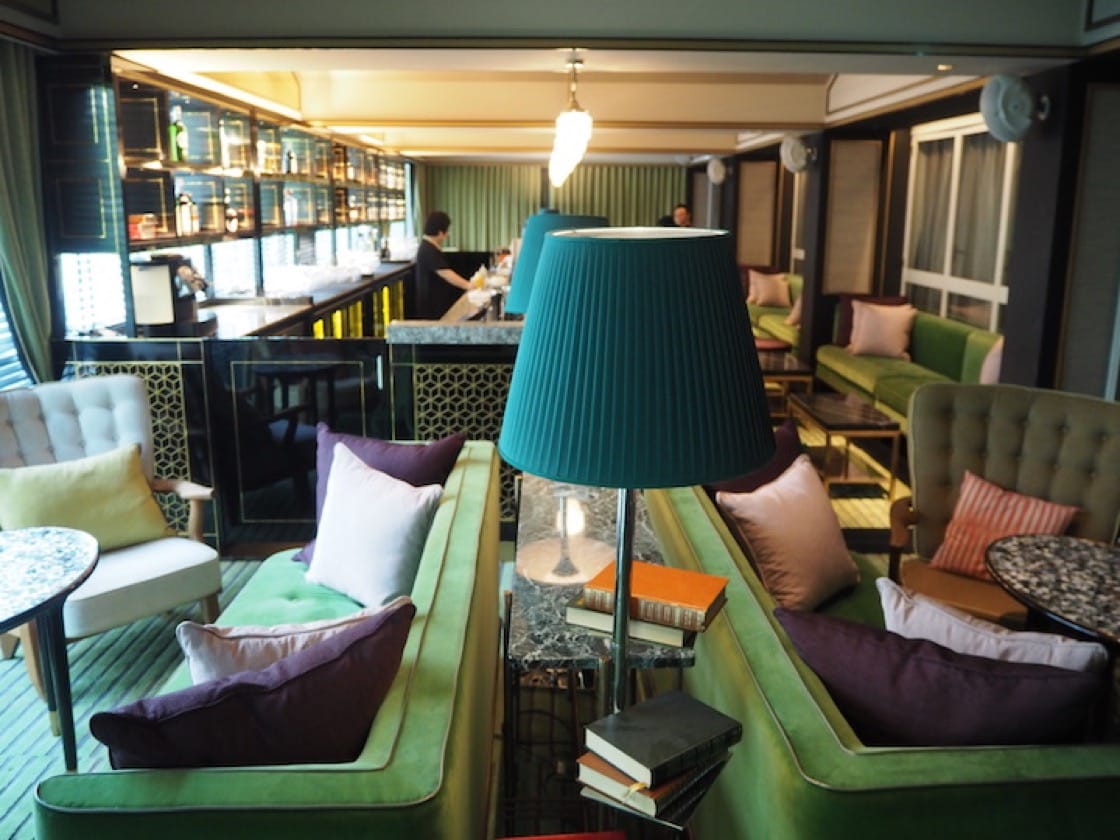 The Library lounge area at Madame Fan.
The Look: The sprawling 467-square-metre space feels like stepping into an ornately-adorned mansion that is a snazzy throwback to the swinging post-war era. You half expect to see cheongsam-clad ladies strut down the hallway but the white-tuxedoed wait staff are not a hallucination.

Start dinner with an aperitif stop at The Lounge and the adjoining The Library—the black marbled and hexagonal-laced bar is lined with a row of neoclassical lamps that permeates a warm orange glow. In line with its old-school theme, the tipples focus on Old World wines and Grower Champagne as well as cocktail stalwarts like Peach Bellini. The Library is decked out in lush green velour couches and carpet, and true to its namesake, there are 'library books' placed beneath the teal lampshades.
The classy main dining room at Madame Fan is a throwback to dinner clubs in the post-war era.
The main attraction is the dining area that is swathed in seductive shades of black and red. A break from the traditionally large and communal tables in Chinese restaurants are tight and cosier tables encircled by plush red velvet chairs. Accentuating the classiness of the space are the black mirrored walls that distract one from the vine-like lighting features that sprawl across the ceiling. Entertainment-wise, there will be live DJ sets spinning an eclectic mix of jazz and ambient tunes to amp up the dining mood.
Mooli puff.
The Food: The menu, which is conceptualised by Alan Yau, is decidedly Chinese, incorporating a mix of "what goes on in a dinner party at Alan Yau's home", according to the man himself. Helming the kitchen is chef de cuisine Mike Tan, who worked at Hakkasan Miami.

Dim Sum items include the usual char siew bao and siew mai crowned with wolfberries. Also served in Yau's Duck and Rice Restaurant in London, the Mooli Puff, which is made of multi-layered flaky-thin layers of pastry that is loaded with an umami-laden julienned turnips.
A hulking piece of crab dominates the plate of drunken crab rice noodles that is drenched in a broth spiked with a 20-year-old Gu Yue Long Shan rice wine. The robust tipple kick lifts up the natural sweetness of the blushing pink crab meat that hangs out from the shell.

Other dishes include the hand-cut Taiwan noodles studded with wind-dried pork and la la clams, and wonton noodles served with lobster, ginger and spring onions. One of the desserts is a tart raspberry sabayon with Château Suduiraut 2009-kissed raspberries on a hazelnut crumble. Expect to pay about $80 to $120 per person (inclusive of drinks).

Madame Fan opens on April 23 together with two other venues in The NCO Club: Fish Pool, a decadent Champagne, caviar and oyster bar (a collaboration with French Champagne house Louis Roederer) and Stag's Room, a wine room filled with a reserve of vintage and exclusive wines from the United States and Australia. The last concept of the quartet at the NCO Club, Cool Cats, a live music speakeasy bar will charm visitors with cocktails opens in early June.
Madame Fan is at The NCO Club, 32 Beach Road.
The opulent VIP Room, one of the private dining rooms at Madame Fan.
Dim Sum delights at Madame Fan.
---
---