Every year, Hindus around the world celebrate Diwali, the Festival Of Lights, with colour and cheer. Intricate henna scrolls adorn the skin while floors are covered in a riot of colourful rangoli designs. In Hindu homes, traditional oil lamps cast a warm glow as families tuck into saccharine mithai fragrant with cardamom, saffron and rosewater. In Singapore, the festival falls on 6 November this year.

During Diwali, these sweet treats are typically first offered to the deities during prayer time and then shared by the family and friends. They are also often gifted to family, friends and neighbours.

From nutty blocks of kaju katli and cakes of milky kalakand burfi to peda cookies and golden deep-fried laddoos, Indian restaurants in Singapore are pulling out all the stops to create beautiful boxes of mithai for gifting.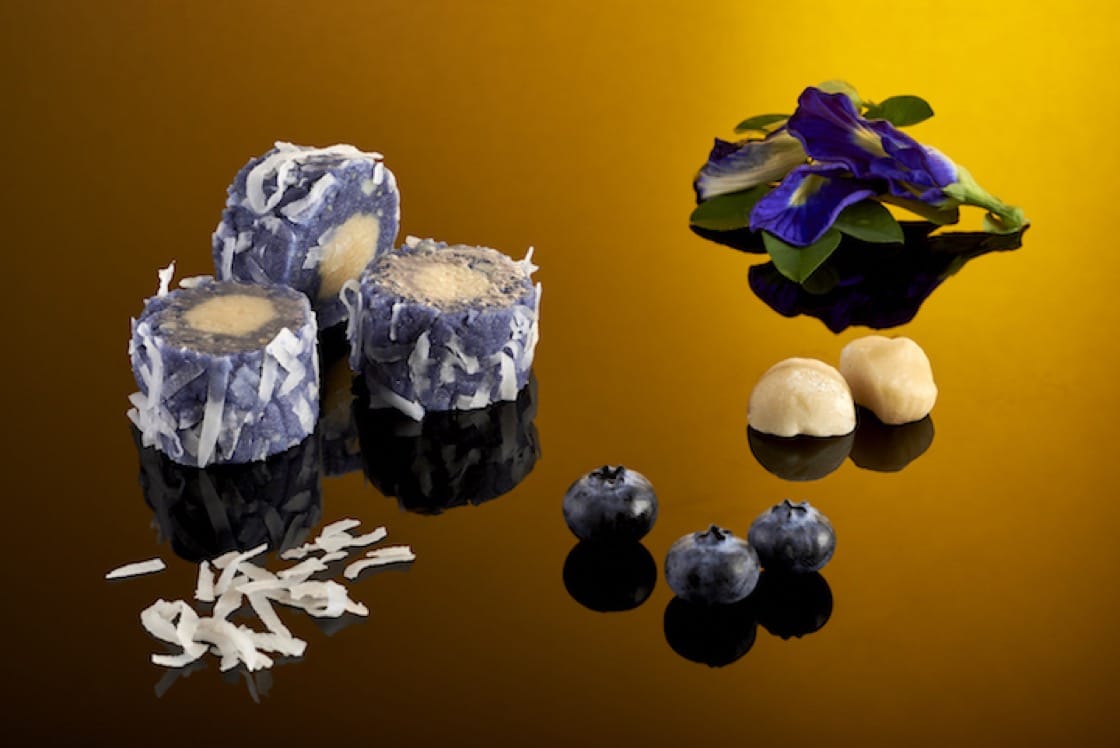 The Butterfly Peaflower & Organic Coconut Blueberry Sensation by Song of India (Pic: Song of India)
At one-Michelin-starred
Song of India
, chef Manjunath Mural's new creations include the floral and fruity Pink Hibiscus, Wild Raspberry And Pistachio Extravagance, a macadamia nut treat coloured indigo with butterfly peaflower and blueberries, as well as a fragrant sweet blended with yuzu, Mandarin orange peel, ginger and saffron.
The Delectable Darjeeling Green Tea & Refreshing Pista Barfi from Punjab Grill (Pic: Punjab Grill)
Indian fine-dining restaurant
Punjab Grill
at Marina Bay Sands is also offering colourful gift boxes with hand-crafted mithai like pistachio barfi flavoured with Darjeeling green tea, macadamia and saffron swirl rolls, and naturally sweet morsels of dates and fig.
The Jubilee Box at Rang Mahal (Pic: Rang Mahal)
Chef Milind Sovani of
Rang Mahal
celebrates the festival with a superfood-themed mithai collection featuring ingredients like oats, goji berries, sunflower seeds, blueberries and pistachios. To cut through all the saccharine sweetness, Rang Mahal's Royal Box also includes savoury snacks like Madras Curry Almonds, Kerala Pepper Cashew Nuts and Flaked Rice And Brown Onion Chivda.
If you're up for making your own mithai this Diwali, Sovani has also shared a basic recipe for
kaju barfi
, a popular cardamom-scented sweet made with sugar, cashew nuts and milk.
Watch this video to see how it's done:
Homemade Diwali Mithai

100ml milk
100g cashew nuts, ground finely
30g sugar
1/2 tsp cardamom powder

For garnishing:
Edible silver foil
Edible flowers
Colourful sprinkles

1. Pour the milk into a heated pan and add the sugar and cardamom powder.
2. Add a few heaped tablespoons of the ground cashew nuts and begin stirring. The consistency should thicken into a paste.
3. Continue adding the ground cashew nuts and stirring till the mixture turns into a sticky dough.
4. Shape into balls and let them cool to room temperature. The dough will harden a little bit more as it cools.
5. Flatten the dough balls and cut out into desired shapes with cookie cutters.
6. Decorate with garnishes and edible silver.
7. The mithai will set at room temperature and are ready to be eaten right away. Refrigerate to store.