Signature dishes encapsulate the passions and cooking style of their creators, the culinary equivalent of artists finding their own style. In this series, we tell the stories of sublime signature dishes that define the world's top chefs and their careers. At Singapore's one-Michelin-starred Labyrinth, Han Li Guang's signature Chilli Crab Ice Cream has evolved together with the mod-Sin restaurant over the years.
---
To commemorate the fifth anniversary of Labyrinth in 2019, chef-owner Han Li Guang created a one-night-only menu for dinner on 3 February that was full of nostalgia, looking back on some of the restaurant's most popular dishes over the past five years. On it was 2015's Chilli Crab On The Beach: a whole soft-shell crab, deep-fried and set on a beach of mantou sand with crab bisque foam and a quenelle of chilli crab ice cream.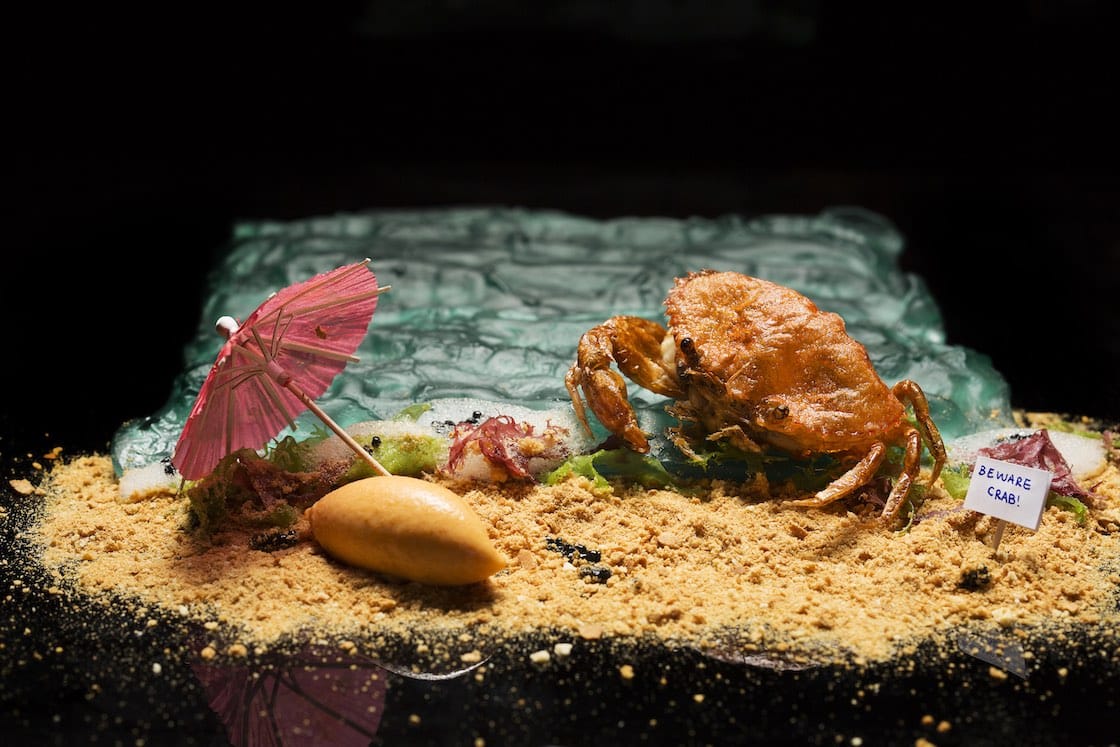 Labyrinth's Chilli Crab On The Beach (Pic: John Heng)
When the dish debuted in 2014, it rode high on the mod-Sin wave and Han was lauded by critics and media alike for his bold and innovative take on a local zichar dish. It set the tone for other dishes on his menu like "bak chor mee" made with noodles of thinly shaved squid and a subversive dessert of chendol xiaolongbao. In 2017, Labyrinth was awarded a Michelin star for its avant-garde interpretations of Singapore cuisine.
Fast forward to present day and Han's signature chilli crab ice cream dish is still on the menu, but it looks completely different. These days, deep-fried chilli crab and mantou sand have made way for delicate chunks of locally sourced flower crab, steamed with a seasoning of salted fish powder, then dressed with ribbons of egg white and an emulsion of Shaoxing wine and chicken fat. Accompanying all of that is the familiar orange dollop of chilli crab ice cream.

The dish, simply named Local Wild Caught Crab, reflects the chef's new expression of Singapore cuisine that puts a spotlight on Singapore's produce. Rather than riffing off hawker dishes and elevating them for fine dining, he now builds on local ingredients and weaves in old traditional recipes and inspiration from the flavours of his growing up years in Singapore.
"Back then, it was about a visual style that was playful, playing on the senses with textures and temperatures," he says. "Now I think my new expression of Singapore cuisine is one that respects tradition and local producers and reflects how my thinking has matured."

The Dish's Dark Roots

The idea for a savoury ice cream first took root after he decided to leave his career in the finance industry in 2012 to pursue his culinary ambitions. While working as a private chef, he toyed with the notion of opening a dine-in-the-dark concept restaurant that would have an element of surprise in every dish. The dishes needed to have flavours that were familiar to the local palate, yet surprise diners with unexpected textures and temperatures when their sense of sight was taken away. "I thought, what could be more familiar than chilli crab? It's something I have fond memories of eating at seafood restaurants along East Coast Park, outdoors with a seaside view."
One of the first versions of the chilli crab ice cream dish (Pic: Labyrinth)
And if turning Singaporeans' favourite hot and spicy dish into a dessert sounds crazy, he didn't think so at all. "If you think about it, what are the flavours in chilli crab sauce? It's sweet and eggy and some versions call for coconut cream. For me, it was just a temperature change." He invited friends over to his house for a taste test of his dish of crab cakes with mantou croutons, chilli crab sauce puree and the ice cream that would become his signature. "I had everybody put on blindfolds and taste it, and they all loved it."

Though his plans for the dine-in-the-dark restaurant eventually fell through, Han kept the chilli crab ice cream when he opened mod-Sin restaurant Labyrinth in Neil Road in 2014. The debut version was served on a round dark plate: deep-fried soft-shell crab and mantou crumbs alongside three quenelles — crab mousse, chilli crab ice cream and a dollop of caviar.

"Don't ask me why I put caviar," Han says laughing. "It was the idea that since it was a fine-dining restaurant, I had to put caviar."
A deconstructed version of the chilli crab ice cream dish (Pic: Labyrinth)
The chef's culinary philosophy has certainly evolved since the restaurant's early days and many of these changes are mirrored in the various iterations of his signature dish over the years. He recalls when the transition of his mod-Sin philosophy to its current produce-driven one first began — the changes are reflected in his chilli crab dish.

"I deconstructed the crab so the shell became chips and I sautéed the meat but kept the legs deep-fried. I used the crab fat to make a sauce that enhanced the umami of the dish. I think this was the point where I was really tearing apart the ingredients and started looking into produce."

A Sea Change

In 2018, he unveiled his new expression of Singapore cuisine at Labyrinth with a stunning dining room makeover and an all-new menu that featured 80% locally sourced ingredients. Plump little clams from a local kelong are arranged like scales in a crisp wonton tart shell with homemade XO sauce; the main star of a satay-inspired dish is locally farmed quail, while goat's milk from Hay Dairies is fermented into a yoghurt to go with a made-from-scratch soya bean curd.
The Local Wild Caught Crab is the current incarnation of Labyrinth's signature dish (Pic: Daphotographer)
There have been more than a dozen iterations of Labyrinth's signature dish since it was first created in 2014. Its latest incarnation reflects Han's new locavore ethos with its restrained techniques and refined presentation.
"Back then, it was the chilli crab ice cream that put us on the map, but now it's not meant to be a signature dish. It has sentimental value tied to it for sure, but now it's just a dish among nine other dishes on the menu," he says. "Signature dishes have to evolve so they reflect a certain time and space."