The word "trend" tends to be synonymous with gimmicky and short-lived, but when used in conjunction with authentic flavour or sustainably-sourced ingredients, well, one can only hope longevity is in the cards. In fact, all of the food, flavours and dining concepts chefs predicted to be trendy in Thailand for 2019 may add a welcomed change to your dinner plans this year (think passed down family recipes and home-style cooking).

Step aside spherification and gimmicky avocado restaurants, if our foodie insiders' predictions are right, there are some seriously good things coming to restaurants in Thailand over the next 12 months. Spoiler alert: one trend makes each person's list, and we aren't mad about it.

Jimmy Ophorst – Chef de Cuisine of PRU (1 Michelin star)
"I hope to see more restaurants moving forward by using locally sourced produce and cooking foods that support communities.

For the coming year, I would like to see chefs promoting amazing ingredients from local areas, like the Surat Thani river prawn or the amazing cheeses from north Thailand. With all of these great ingredients around us, it doesn't make sense to import foreign products that will leave a huge carbon footprint. Perhaps we could develop an appellation system where, like in Europe, chefs will be recognised for their distinctive quality and for promoting of Thai region "terroir" or a product from a particular farmer could be recognised as distinguished."

Chef Jimmy Ophorst of PRU (1 Michelin star).
Prin Polsuk – formerly Chef of Nahm (1 Michelin star)
"The food trend I hope and expect to see more of is the use of sustainable and local produce. Home cooking style that brings eaters back to the real root of any food culture regardless of whether in a traditional or modern way."

Prin Polsuk, formerly Head Chef of Nahm (1 Michelin star). Photo credit: Prin Polsuk's Facebook page.
Rydo Anton – Head Chef of Gaggan (2 Michelin stars)
"Thailand has always been known for its street food culture, but as more international tourists continue to flood into Bangkok, we've seen the food scene grow at a rapid pace with many fine dining restaurants opening up.

My forecast for 2019 is that many celebrity or celebrated Michelin-starred restaurants will open at new locations. The majority of them will do their own style of cooking using local Thai ingredients, fermentation, and will focus, of course, on sustainability but, likely with an overpriced menu. That's my prediction."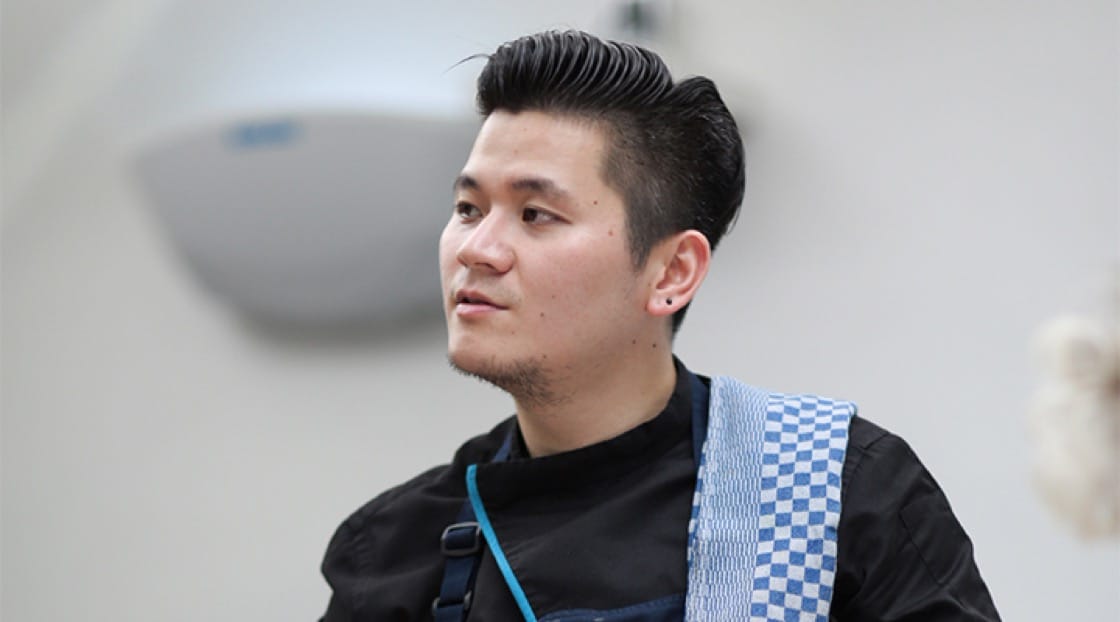 Rydo Anton, Head Chef of Gaggan (2 Michelin stars).
Garima Arora – Chef of Gaa (1 Michelin star)
"2019 is going to be an exciting year for Thai produce. It will be all about local chefs championing indigenous produce and techniques. And natural wine bars!"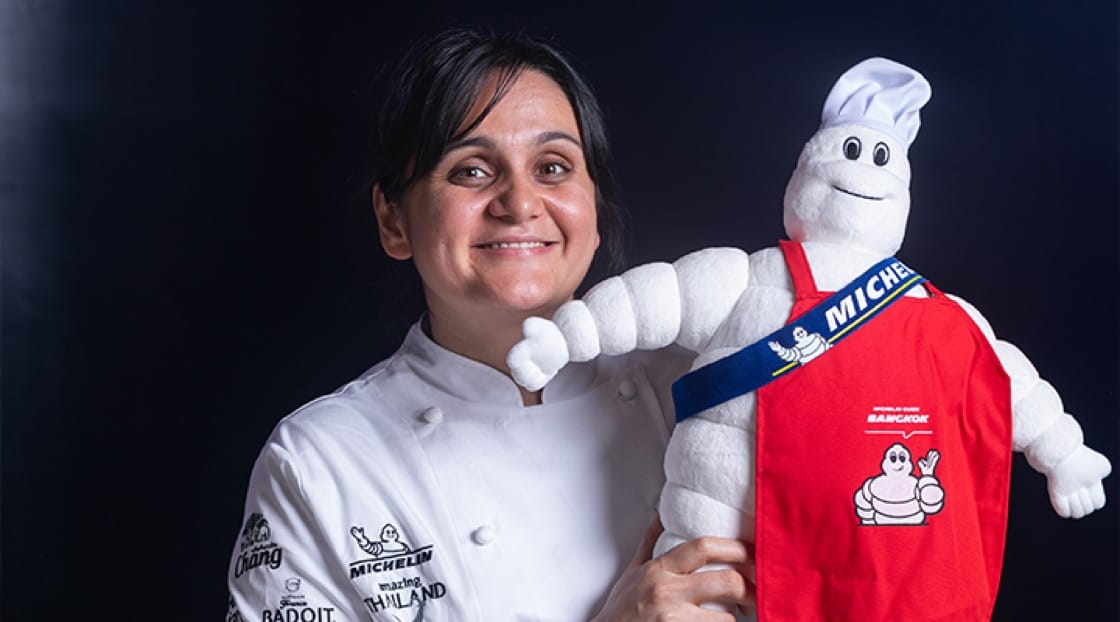 Chef Garima Arora of Gaa (1 Michelin star).
Nianne-Lynn Hendricks – Chief Sub-Editor of Guru magazine / Life and Columnist of the Bangkok Post
"On the fine dining front, I think tea, kombucha and juice pairings will finally make it to this part of the world. One Michelin-starred Saawaan started the tea pairing trend in Bangkok and I am eager to see who follows next – perhaps Canvas? Kombucha is being paired with the menu at one Michelin-starred Gaa and 80/20 has a few kombucha being served. I am excited to see with the tropical fruits in this part of the world, what the juice pairings will be like."

For casual dining, charcoal cooking or woodfire cooking is on the rise, with Le Cochon Blanc and Thaan31 taking the lead and the re-launching of Quince (Michelin Plate) in February. Though not new, we shall probably see more of it this year."

"When my mouth wasn't busy, my fingers were," Nianne-Lynn says of 2018.
Thitid "Ton" Tassanakajohn – Chef-owner of Le Du (1 Michelin star)
"Thai foods will come back very big—and I mean on every level. Aside from more Thai restaurants, expect the use of more Thai produce. Even non-Thai restaurants will be using more local ingredients."

Thitid "Ton" Tassanakajohn, Chef of Le Du (1 Michelin star).
Tim Butler of Eat Me (Michelin Plate) having fun in the kitchen. Photo source: Eat Me Restaurant's Facebook page.
ML Parson Svasti – Food Critic
"I predict we will see more "reservations only" concepts where restaurants have limited seating per round per day. Like six-table Baan Nual, where the wait to book one of their six tables is over a couple months long! Along that line, more restaurants will be offering only tasting menus only or seasonal menus using local ingredients that change every four months.

We'll also see chefs promoting traditional foods from each region that are truly local, such as Sorn Southern Thai, or the use of traditional flavours in more modern Thai menus like chef Nhoom of Samuay and Sons is doing in Udonthani."

Famed Thai food critic ML Parson Svasti.
Saki Hoshino and Joe Napol Jantraget – Chef-owners of 80/20
"I think people will pay more attention to Thai cuisine. Yes, traditional Thai, but especially new and creative approaches to Thai food that haven't been done yet," says Hoshino.
Jantraget added, "I think people are interested to know where the ingredients in their foods are coming from. Thailand has a lot of good products to offer, but up until now, not many people knew very much about them—especially the harder to access ingredients from the mountains to jungles to the ocean."

Saki Hoshino (left) and Joe Napol Jantraget (right), Chef-owners of 80/20. Photo source: 80/20bkk Facebook page.
Chawadee Nualkhair – Founder and Food blogger at Bangkok Glutton
"People will start experimenting more, trying out new things, new techniques, and you will see Thai food being cooked by a whole bunch of different people, not just old aunties and not just some dudes who work for a bunch of different hotels. Everybody will be trying out new things and you will see more of personality through those dishes.

In the future, you will see more licenses for fusion things to happen— particularly Japanese and Korean. There is so much more knowledge about these cuisines now in Bangkok with the communities growing so much. Both cuisines will end up moving forward and turning out things that we have never seen before, that's exciting."

Chawadee Nualkhair, Bangkok's favourite food blogger.
Sujira "Aom" Pongmorn – Head Chef of Saawaan (1 Michelin star)
"I think there will be an emphasis on local produce with chefs going to great lengths to secure produce that is not commonly found and that they can present in their own way. We will see chefs hunting for good, reliable local suppliers. This is also driven by diners who are more interested in where the food comes from and how they are sourced. For example, whether the ingredients are organic or sustainable. Diners also care more about healthy food nowadays and we see an increase in requests for vegetarian or vegan meals."

Sujira "Aom" Pongmorn, Head Chef of Saawaan (1 Michelin star).
Chalee Kader – Chef-owner of 100 Mahaseth (Bib Gourmand) and Surface
"I predict that there will be more use of Thai recipes that Bangkokians are not accustomed to."

Chef Chalee Kader of 100 Mahaseth (Bib Gourmand).
Arnaud Dunand Sauthier – Chef de cuisine at Le Normandie (2 Michelin stars)
"After 7 years in Thailand what I can tell you is the food scene here is totally unpredictable. Every year new concepts emerge. Some good, some not so good. But I have a feeling this year's trend will be more about Thai food. We will see many restaurants focusing on specific types of regional Thai food—like Sorn— so that people can rediscover authentic Thai food and slowly step away from Thai food for tourists. This is something to look forward to because in Thailand there are so many different ways of cooking depending on whether you come from the south, north, east or west (just like in France!). Thai chefs cannot do global Thai food. They should focus on the areas where they were born. Food is always better when we cook from our roots."

Chef Arnaud Dunand Sauthier of Le Normandie (2 Michelin stars).
Michelin Inspector
"I think there are two trends that Michelin Guide is paying attention to, but these are nothing new. The first one is local cuisine, which is important as it is the culture of each country that the guide is in. In the case of Thailand, we now start to cherish local ingredients that were neglected in the past and search for substitutes instead of imports to reduce the carbon footprint. The second trend that's very important is sustainability. It is the care for the environment that the food industry can play a role in too."