In only its second year, the MICHELIN Guide Thailand has added exponentially to its roster of celebrated Thai eateries, shining the spotlight on locally grown talent and cementing Thailand's place as a culinary mecca in Asia.

The number of restaurants in the Thailand "Red Book" grew from 126 to 217 this year, with 27 winning stars. Out of those 27 restaurants, 13 are helmed by Thai nationals. While it's hardly surprising to see Michelin's Thailand-focused guide championing local talent, the effect of so many chefs getting recognition does bring much-needed international focus to the continued vitality of the Thai food scene.

Thitid Tassanakajohn, better known as "Chef Ton", heads Le Du, the only Thai restaurant to have risen this year from a Michelin Plate to one star. Inspired by home-cooked meals from his grandmother, the Culinary Institute of America graduate cut his teeth on Michelin-starred dining in restaurants like Eleven Madison Park and Jean Georges.

"I was disappointed last year," he admitted. "But I was not surprised this year. We always want to do better every year. Food, details, service, wine list — we try to work on every aspect and improve where we can. But food is our main focus. We worked on it by being more precise and consistent."

From Plate to Star: Thitid Tassanakajohn, better known as "Chef Ton", heads Le Du, the only Thai restaurant to have risen this year from a Michelin Plate to one star.
By winning a Michelin star for R-Haan, Chumpol Jangprai has reached the pinnacle of a career started at the age of six while helping his mother cook at Bib Gourmand restaurant Sanguansri. "In previous generations, no one wanted to cook Thai food — it was a low-paying job," he said. "Today, I think Thai food is now one of the top cuisines of the world, which also includes French, Italian, Chinese, and Japanese."

Chef Chumpol Jangprai from R-Haan.
Southern Thai specialist Sorn, like R-Haan, joined Michelin star recipients from last year such as Bo.lan, Paste, Saneh Jaan and Nahm after just five months of opening. Booked up until March 2019, Sorn is headed by Supaksorn Jongsiri, formerly of the self-named "Baan Ice", which is known for its home-style southern food.

Sorn, vaunted for dishes like fermented rice noodles with crab curry, came from Chef Ice's desire to make a more elegant type of local food. "Deep down, I knew I had bigger dreams to fulfill and bigger goals to reach," he said. "What I really wanted to do was refine southern cuisine. I had dreams of a small kitchen, using traditional southern Thai cooking methods — we'd make fresh chili paste, we'd cook over a charcoal flame, we'd cook rice in a claypot."

Although Sorn is recognised for its novel way of presenting southern cuisine, Chef Ice emphasises the old ways of cooking. "We are serving traditional food," he says. "None of the people who founded Sorn grew up abroad — the south is our home. The local fishermen, the farmers, the villagers are all our pillars of support and are the root of who we really are."

Chef Ice from Sorn emphasises the old ways of cooking at his Southern Thai restaurant.
Even though Nahm won a Michelin star last year, this year's accolade came under the stewardship of Pim Techamuanvivit, who took over after the departure of founding chef David Thompson. Chef Pim has made her own mark in the kitchen, turning out delicately spiced salads and smoky curries to diners who continue to flock to the dining room despite Thompson's absence.

For Chef Pim, also awarded a Michelin star at her San Francisco restaurant Kin Khao, the main challenge of her work has been about fending off the jetlag incurred from splitting her time equally between her two restaurants. "It's an honour," she says of both of her stars. "I have really great people working both here and in San Francisco. It's 100 percent Thai staff in Bangkok."

Another chef taking over the kitchen of a Michelin-starred restaurant is Piyachart "Boy" Puttawong of Saneh Jaan, the youngest Thai chef with a star. Chef Boy, who started out in patisseries, is committed to maintaining the spirit of the original restaurant. "Everything should be kept to the same standards," he said. "Our theme is 'Authentic Thai', so it's like every single chef at the restaurant is a mother serving their children the best food."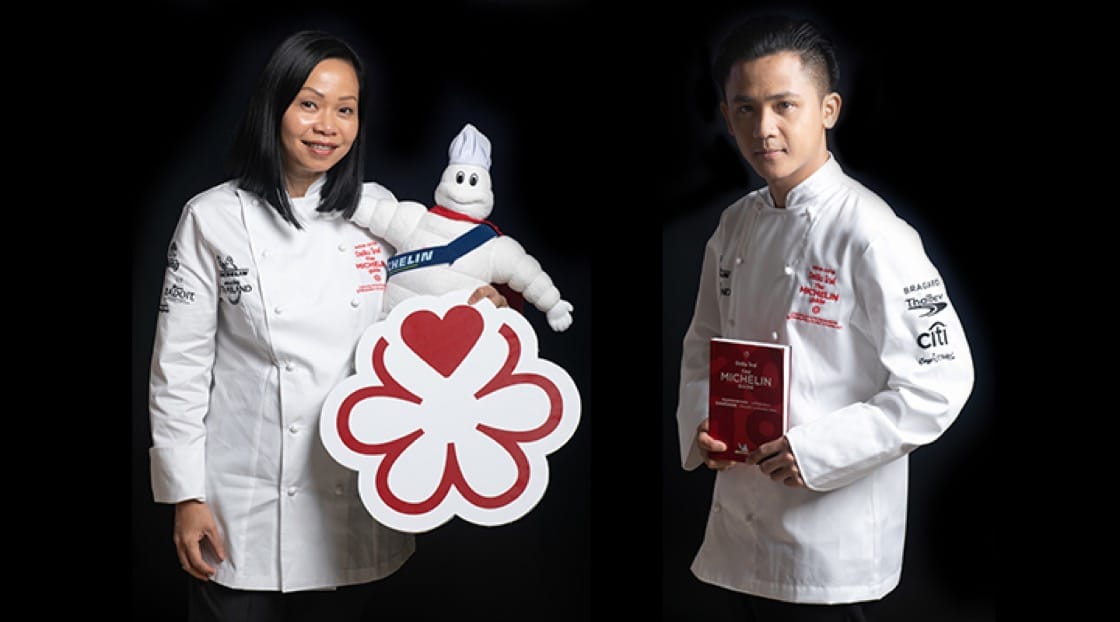 Chef Pim Techamuanvivit (left) from Nahm and Chef Piyachart "Boy" Puttawong (right) from Saneh Jaan.
Young chefs are well represented on the list with the inclusion of talents like Sujira "Aom" Pongmorn, who opened her restaurant Saawaan in April and has already turned it into one of Bangkok's most in-demand tables. "I cook Thai cuisine in another way, but I still keep the traditional taste of each dish," she said. "I present in a modern style so that younger people can come to the restaurant and feel like it's not boring. It's modern Thai, but it still tastes traditional."

The young and always smiling Chef Sujira "Aom" Pongmorn from Saawaan.
Modern styles may turn heads, but traditionally presented Thai cuisine still made its mark on the list. "It's such an honour to be awarded with one star," Jirawut Sapkiree, chef of newbie entrant Methavalai Sorndaeng, said. "Michelin is a standard for food recognised the world over. When my kids travel abroad, they always have to search for Michelin star restaurants to try out. Now they will find their dad's restaurant on the list!"

A proud Chef Jirawut Sapkiree, from Methavalai Sorndaeng.
The old school stylings of Thai seafood have also drawn a fervent following at Ruean Panya, where Chef Pannee Ganisthanaka turns out favorites like fried deep sea pomfret and fresh giant prawns. "Although the foreign guests who come always like the penang nuea (beef Penang curry)," she said.

Chef Pannee Ganisthanaka from Ruen Panya manages the kitchen while her husband, Mr. Suthep Ganisthanaka (picture), takes care of the restaurant.
Meanwhile, well-loved "resort restaurant" Suan Thip won its first star this year under the leadership of Chef Banyen Ruangsantheia.

"That is my favourite restaurant," Chef Bee Satongun of Michelin-starred Paste said, pointing to Chef Banyen, better known as "Pa Mee". "I took [my husband] Jason there when we first met and he loved it. I am very happy for them."

For her part, Pa Mee hopes she can handle the extra attention. "When I get back, I will have to apply myself and work very hard," she vowed.

Chef Pa Mee and Ms. Kitima Kittikachorn from Suan Thip receiving the accolade on stage.
Thai Restaurants with Michelin Stars in the MICHELIN Guide Thailand 2019 Edition