Chef Nicholas Stefanelli's Italian "workshop" has been a work in progress for 5 years. "I was actually working on this project before I opened Masseria, but then Masseria presented itself, so we just kind of put it on the back burner," he says.

As of October 15, the three-story Officina is finally a reality at The Wharf. "It feels really good to be open because we have a lot of people that have been really chomping at the bit to get into the space," he says. "We can start cooking."

The building houses four distinct concepts, each with its own identity: a market, a café, a restaurant with an amaro library and a rooftop terrace with a private dining room.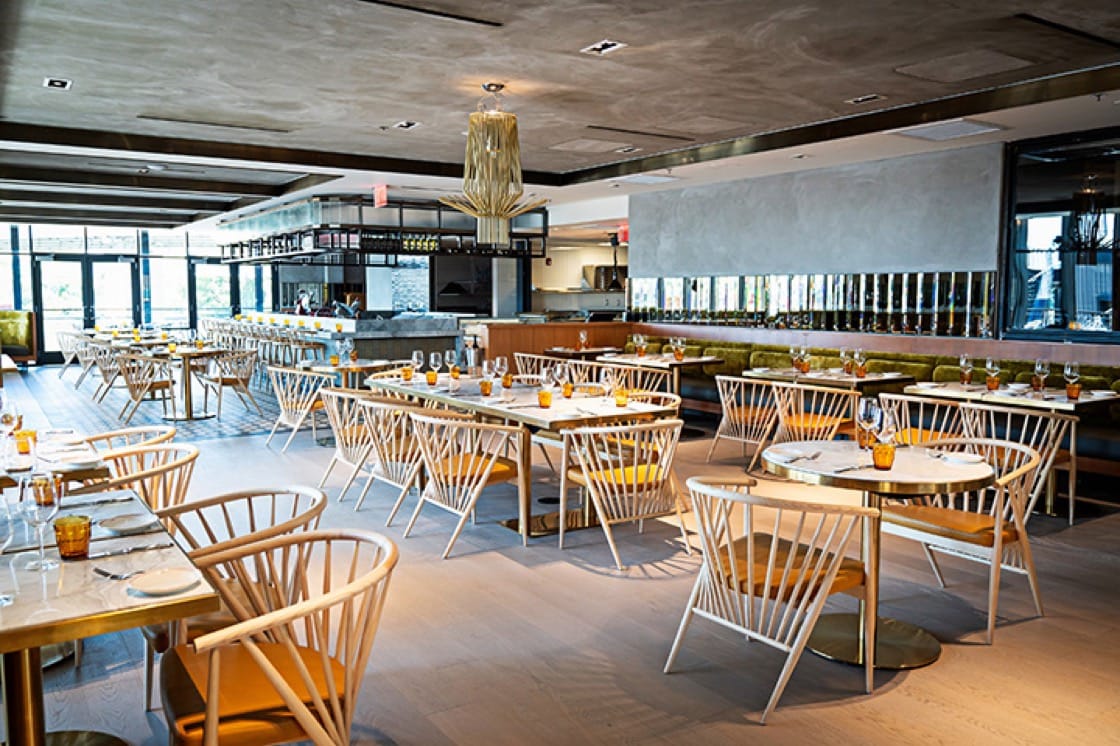 The dining room of the restaurant space.
"The design of the building forced us in a good way to kind of be able to separate things," Stefanelli explains. "At the same time, each of the pieces kind of have their own personality but they all also work completely together."

On the first floor, the café is a laid back all-day space that opens at 8:00 a.m. for breakfast (think pastries, frittatas and crostini), and then transitions to a menu of meatballs, Italian sandwiches, salads and grab-and-go street food like arancini, pasta carbonara fritters, Roman pizza, cookies and cannoli, all available until the space closes at 10:00 p.m. Food can be paired with La Colombe coffee or a cocktail depending on the time of day.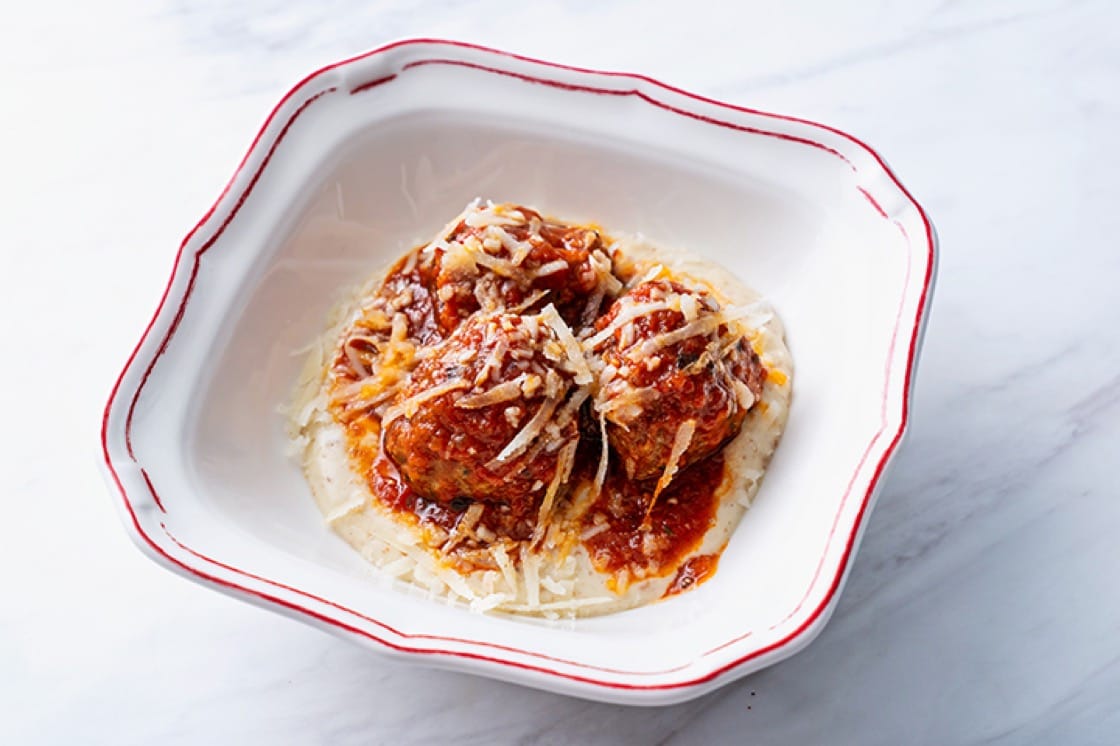 The 'polpette' are veal and pork meatballs served with 'mazza frissa' (semolina porridge) and tomato.
Down a few steps, there's the mercato (market), which is why the project bears the name Officina—Italian for workshop. Open from 11:00 a.m. to 7:00 p.m., the market houses a butcher shop, a bakery and a pasta production facility, which supply fresh goods for the retail space, along with imported Italian cheeses, wine and specialty items. The butcher cases feature cured meats and specialty cuts, with a mix of imported Italian and locally sourced products.

"The market is a place that gives everybody the ability to buy the quality ingredients that we buy in restaurants that are harder to find," Stefanelli explains. You'll see items from all over the country, like hazelnut spread from Piedmont, pistachios from Sicily, plus olive oils, vinegars, tomatoes, capers and more.

"You can come in and grab some fresh tagliatelle and some ragú and get a bottle of wine and you can have dinner on your table by the time you get home. So you have a sourcing space plus a prepared foods space," he says. "There will be a piece of gastronomy to it, too," he adds. "Truffles, foie gras, caviar, so you'll have the ability to buy some of the higher end things as well."

Spaghetti carbonara is one of the pastas offered at the trattoria.
Upstairs, the open kitchen in the trattoria (restaurant) adds to the workshop feel. Stefanelli calls it the little brother to Masseria, with a menu that focuses on rustic Italian cuisine. "It's a great place to get a bowl of pasta every day of the week," he says. Standbys include bucatini all'Amatriciana, tagliatelle Bolognese and spaghetti carbonara. There's also salumi, mozzarella, classic antipasti, seafood and hearty cuts of meat like dry-aged rib eye and veal cheek Parmigiano. Dinner will be available seven days a week, as well as lunch Friday through Sunday.

The restaurant is also home to an amaro library with more than 100 selections, including amari dating back to the '30s, Campari from the '50s and five decades of Cynar. "We needed to do something that was very unique and special," Stefanelli says. Guests can try a comparative tasting of old and new spirits, or enjoy a cocktail made with their favorite amaro.

The amaro library features more than 100 selections.
On the third floor, there's the private dining room and the terrazza (terrace), which can also be booked for events. The rooftop offers sweeping views of the Potomac and the monuments. "The terrace design comes off of inspiration from the movie La Grande Belleza, where they have all these beautiful Roman rooftop scenes that are just this effortless elegance," Stefanelli says. As of now, service is limited to drinks, with an extensive Champagne program. Next spring, Stefanelli expects to add cheeses, salumi and desserts on the terrace.

The building is a new construction, so Stefanelli's design choice straddles modern and traditional. "We didn't want to go classical and make it feel like something it's not," he says. "A lot of art deco pieces and tangents are really built into it. It gives it a good feel but also allows us to push the modern envelope of what is current."

Officina's bucatini all'Amatriciana.
Stefanelli feels that each of the concepts are ideally suited for a different occasion or time of day, but they also work in concert as one complete experience. A perfect day in his workshop? "I would start with a negroni downstairs. I would drink wine and order a big bistecca Fiorentina and a bucatini all'Amatriciana and then I would finish on the roof with either a bottle of Champagne or some Scotch."

Photos by Scott Suchman.