Generally, Thais have a love-hate relationship with our new year festivities, Songkran. Love, because a lot of us use this time to travel the globe, or enjoy time off with loved ones. Hate, because to put it simply, the scorching heat makes it difficult to explore the streets without shades. On this occasion, we've hunted down the best 'cool down' options ranging from ice cream to Michelin meals to help you beat the hot flash.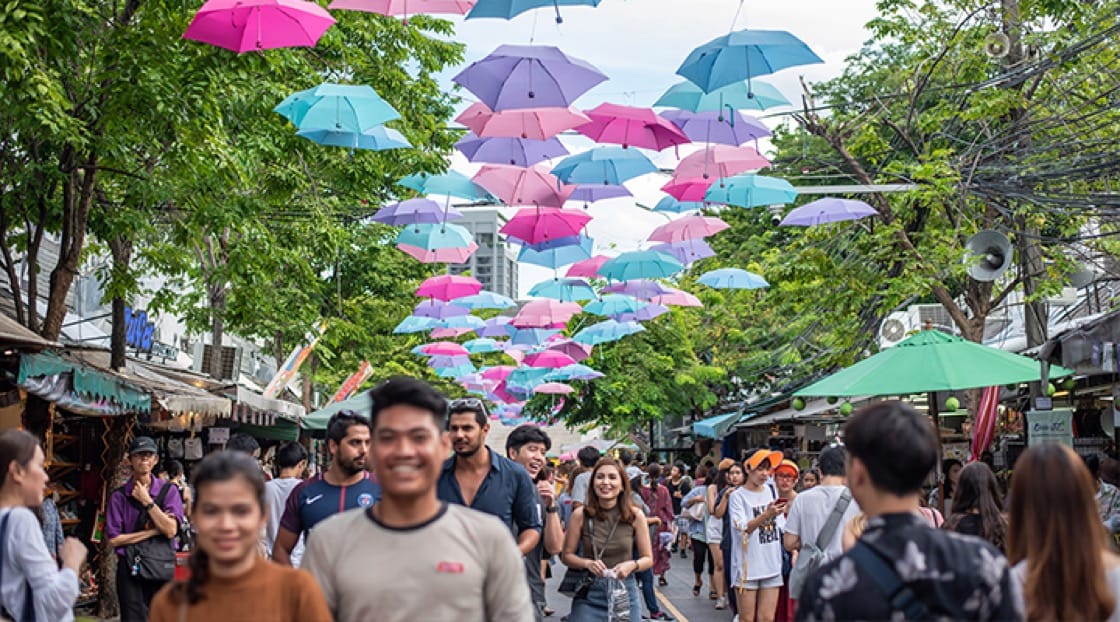 Bangkok
A true, elegant classic. Suan Thip is the weekend getaway you want to escape to when you're stuck in city traffic. Surrounded by greenery and small ponds, diners can relax while eating their royal recipe-inspired dishes. The tables inside the restaurant overlook the riverside, and just one hour here feels like you've been transported back in time. Enjoy classic Thai desserts such as traditional coconut ice cream and preserved banana. Come here to enjoy the serenity, bring a book if you wish, before returning back to the bustling city centre.
Address: 17/9 Moo7 9 Sukhaprachasan 2 Soi 76, Tambon Bang Phut, Amphoe Pak Kret, Nonthaburi 11120
Tel: 02 583 3748

A patch of greenery near the city at Suan Thip. Photo courtesy of Suan Thip.
A beautiful colonial setting right in the middle of bustling Bangkok. Transport yourself into the Victorian interior, soak in the fresh grounds and gated community feel, while you escape both the sun and the business of Silom. The bar itself is something worth mentioning, The 'Content bar' is located on the second floor, and patrons can sink themselves into leather chairs whilst sipping on a cocktail. Perhaps try their rum-based drink infused with lime and lemongrass-that's enough of a cool down for us.
For those who wish to try Baan Suriyasai's classic cooking with a historical twist, recipes are inspired by Siam in bygone days. Enjoy their creamy coconut ice cream, served with refreshing and flavourful mango and you won't be disappointed.
Address: 174 Surawong Road, Kwang Suriya Wong, Bang Rak, Bangkok 10500
Tel: 02 237 8889

Colonial comfort at Baan Suriyasai (Michelin Plate).
We all have mango sticky rice cravings. You may be skeptical, as it's literally something that can be found on every street corner, but this shop has been selling a family recipe for over 80 years. Now that's something! The unassuming, no-frills location sells the perfectly sweet sticky rice topped with a splash of coconut cream and fresh mango slices. Some classics remain a classic because it works, and every visit to K.Panich is a testament to that.
Address: 431 Thanon Tanao, Khwaeng Sao Chingcha, Khet Phra Nakhon, Bangkok 10200
Tel: 02 221 3554

A favourite for Isaan-inspired nose-to-tail eats, this rustic space that typically houses loud, fun groups of Bangkok foodies, is known for the rich, perfectly cooked charcoal roasted bone marrow, locally sourced beef and Sai Ua hot dog wrapped in a brioche bun, great to enjoy with fresh jugs of Thai beer. Granted, some of the signature dishes are spicy, but our top tip is to cool down with the restaurant's signature coconut ice cream sandwich. Skip your cheat day and order the rich, creamy coconut ice cream served with sticky rice, buns and roasted peanuts, along with the Thai classic Lod Chong Wat Jed mixed in coconut cream syrup with lots of ice.
Address: 100 Maha Set Rd, Khwaeng Si Phraya, Khet Bang Rak, Krung Thep Maha Nakhon 10500
Tel: 02 235 0023

Coconut ice cream sandwich (left) and Lod Chong Wat Jed (right) at 100 Mahaseth. Photo courtesy of 100 Mahaseth.
Khao is a truly special Thai restaurant, one that manages to give you a fresh twist to every traditional dish you think you already knew. The restaurant has two options: the more exclusive chef's table option, where guests can choose to sample the 6, 8 or 10-course menu, or the À la Carte option, where we would recommend you drop in to beat the heat with various traditional Thai favourites such as tubtim krob, chao guay and ruam mitr. Refreshing desserts with their own unique twists aside, the menu at Khao aims to satisfy all parties, with a diverse menu ranging from a fresh pomelo and chicken with prawns salad to lamb shank in yellow curry. Currently, Khao is also offering a seasonal menu of khao chae, rice soaked in cool jasmine water with side dishes such as deep-fried kapi and shredded sweetened pork - just in time for the Thai summer.
Just make sure you leave room for the assorted sweets!
Address: 15 Soi Ekkamai 10, Bangkok 10110
Tel: 02 381 2575

Khao Chae (left) and assorted sweets (right) at Khao.
ICI
The new dessert house owned by Issaya Group (Saawaan (One Michelin Star), Issaya Siamese Club (Michelin Plate)) pastry chef, Arisara Chongphanitkul is sweetening up Sukhumvit's residential streets. The place is reservations only, which is unique for a dessert place. The leafy compound is filled with eccentric artwork such Jeff Koons and boldly coloured chairs, you can only wish your living room was this cool.
The ice cream selection is creative, and you can't escape the heat in style without ordering the 'Hakuna Matata' sundae, big enough to feed a small village and a mix of sorbet, banana and cream. Sometimes, the dessert is served alongside meringue-shaped animals. Everything is almost too pretty to eat but definitely try the blueberry balloon and the salted egg macaron to go with the ice cream.
Address: 24 Soi Sukhumvit 27, Khwaeng Khlong Toei Nuea, Khet Wattana, Bangkok 10110
Tel: 02 007 3113

Baan Kanompung Khing
The coffee here is also worth the trip, ranging from iced mint macchiato to their signature iced coffee, rich and aromatic with coffee syrup mixed in. Have we convinced you yet?
A rising gem amongst Bangkok café hoppers and Instagram enthusiasts. Translated to English as Ginger Bread House, the dessert house is part coffee shop, part museum. The house is about 106 years old with beautiful wooden furnitures and the signature stencilled designs. It's a far cry from the countless cafés we see in the city centre and serves both Thai desserts and cakes, with signature drinks and teas. Our favourite way to cool down here is probably with the sweet coconut milk ice cream with lod chong mixed with coconut sugar. Hungry? We know the feeling.
Address: Soi Lang Bot Phram, Khwaeng Sao Chingcha, Khet Phra Nakhon, Krung Thep Maha Nakhon 10200
Tel: 09 7229 7021

Traditional Thai desserts at Baan Kanompung Khing. Photo credit: Mimi Grachangnetara.
Phuket
Phuket's critically-acclaimed fine dining restaurant Acqua is a must if you tire of local seafood. Cool down takes a whole different meaning here with their 'freshly on ice' seafood selection, an extensive list of French oysters, poached Maine lobster and a large seafood platter with poached lobster, mussels and red prawn for an early evening refresher, most likely with a bottle of their Toscana whites.
For an after dinner bite, why not try a gelato? We hear the yoghurt and cassis will surely keep the heat flushes at bay.
Address: 324/15 Prabaramee Road Kalim Bay - Patong - Kathu 83150 Phuket
Tel: 076 618127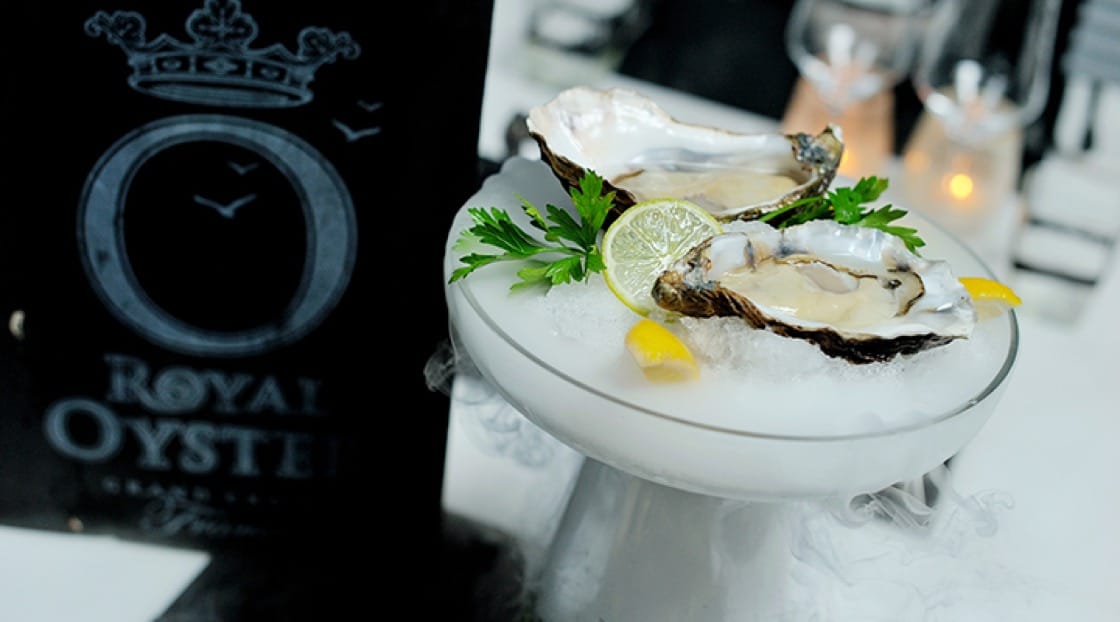 French royal oysters on flavoured ice at Acqua. Photo courtesy of Acqua.
Suay brand's latest opening is located in Cherngtalay, offering diners a relaxing experience in a brightly-lit restaurant, with a large garden and a homestyle atmosphere with wooden tables and patio furniture. It feels like an upscale dinner party at a friend's place except this friend has impeccable taste in interior décor.
Enjoy the restaurant's signature set menus, where the chef has compiled the highlights such as crispy fried larb chicken spring rolls and Shanghai noodles with pesto avocado, to their refreshing coconut tiramisu, served with coconut mascapone cream, or the Thai banana flambé with homemade Ko-Pi ice cream.
Address: Baan Wana Park 177/99 Moo 4, Srisuntorn, Thalang, Phuket 83110
Tel: 093-339 1890

Seafood with style at Suay Cherngtalay.
Ta Tuay is a local Phuket eatery located near Sarasin Bridge, which links Phuket to the mainland of Phang-Nga Province. The restaurant is simple, set in a tropical garden with seafood as the main highlights to the menu. Expect to cool down with the tropical air whilst enjoying prawns, squid and crab, all perfectly cooked. Freshen up with a fresh coconut drink or with Phuket's signature dessert, Au-Aew, a refreshing ice dessert resembling nam kang sai (Thai version of snow cone). A plant-based bean dessert mixed with ice with red bean or chao guay toppings lathered in sweet syrup, this signature dessert is served with clear syrup over ice here, a sure way to escape the heat.
Address: 57/10 Soi Ruam Chai 1, Moo 5, Phuket
Tel: 086 470 4807

The local way to beat the heat.
Torry's Ice Cream
Torry's has evolved into a landmark for tourists and locals alike. Easily spotted by a swarm of people queuing, taking selfies or perusing the extensive dessert menu outside. Torry's has both an eat-in and a takeaway option, and if you are one of the lucky ones who get to enjoy the curated Thai desserts with unique flavours, such as black sesame ice cream or corn milk indoors, be sure to enjoy the Peranakan & Portuguese-inspired interior. Torry's is a must-stop boutique ice cream parlour for those in Phuket town and we think it's even worth taking a detour before hiding out in your beach villa for the weekend.
Address:16 Soi Rommani, Tumbon Talad Yai, Amphoe Mueang Phuket, Chang Wat Phuket 83000
Tel: 076 510 888

Torry's Ice Cream selection.