Flower stands are bursting at the seams with roses, tulips, mimosas, and daisies. Trees, lilacs, and redbuds in full bloom have painted the city and its parks a thousand shades of white, pink, mauve, and purple, before they turn into full green. All the eyes can see are armies of proud tulips and clouds of dangling mimosas. The city's woken up from the winter slumber: there's a gentle breeze in the air now, people whisking to and from on the Prince Island ferries, outdoor concerts galore, garden parties, and the scent of jasmine wafting through windows. The sky couldn't be bluer. Tablecloths flapping in the wind couldn't be more vibrant. Vases couldn't be more brimming with bouquets.

The warm weather has sprung on Istanbul's dining tables, too! Forty hues of green, red, and violet radiate from local restaurants: plate upon plate of artichoke, asparagus, pea, bean, and herb dishes, plus pot upon pot of poppies, tulips, chamomiles, and wildflowers. Likewise, travelling artichoke and broad bean sellers have set up camp on practically every corner of every street, ready with knife in hand to peel their product in a split second, bag it, and send you off on your merrily way. Their very presence signifies a season onto itself!

As viridescent farmers' markets ooze with fresh veggies, fruits, and flora, so do the menus of local eateries – Araka and Giritli being no exception, both embracing the vivid produce with open arms.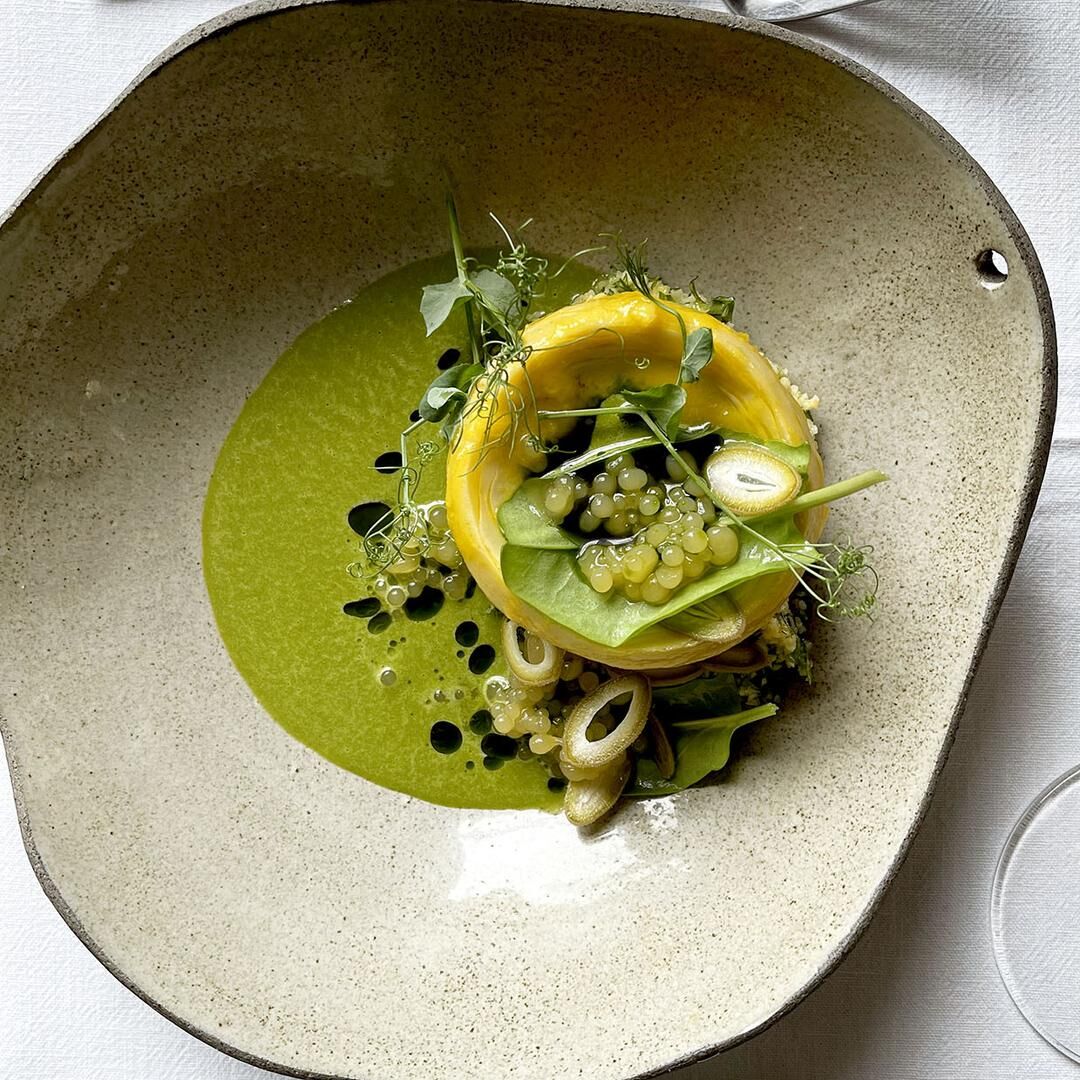 Image // Tuba Şatana / Michelin
---
Araka just loves spring and beginning of summer, as does Chef Pınar Taşdemir! She isn't shy about adorning her plates – and restaurant – with every kind of green known to man, and her tables with daisies, poppies, and wildflowers. One can't help but want to savour the scene and every bite once their food arrives.

Chef Taşdemir designs each of her plates around colour. She wants the result to look flamboyant, bright, and yet light, and tries to reflect the electricity of the energy outside – from her environs, the bazaar, nature – inside. At Araka, ingredients speak volumes both on the plate as well in the jar come other seasons as condiments and preserves. Taşdemir pickles green almonds, plums, peas, and broccoli flowers. She habitually gathers lilacs every morning when they're in season and transform them into everything under the sun – from jams to gin, vinegar, and more. She also dresses her tables with poppies alongside turn them into scrumptious liquor.
Araka's menu is all about veggies, fruits, mushrooms, mutton, fish, and duck. Taşdemir spruces up the cocktails with blackberries, watercress, plums, lilacs, sorrel, and green almonds. The artichoke hearts braised in olive oil, served alongside with the fresh sorrel sauce, sorrel salad and herbs, tabbouleh infused with artichoke's cooking water, and pickled green almonds.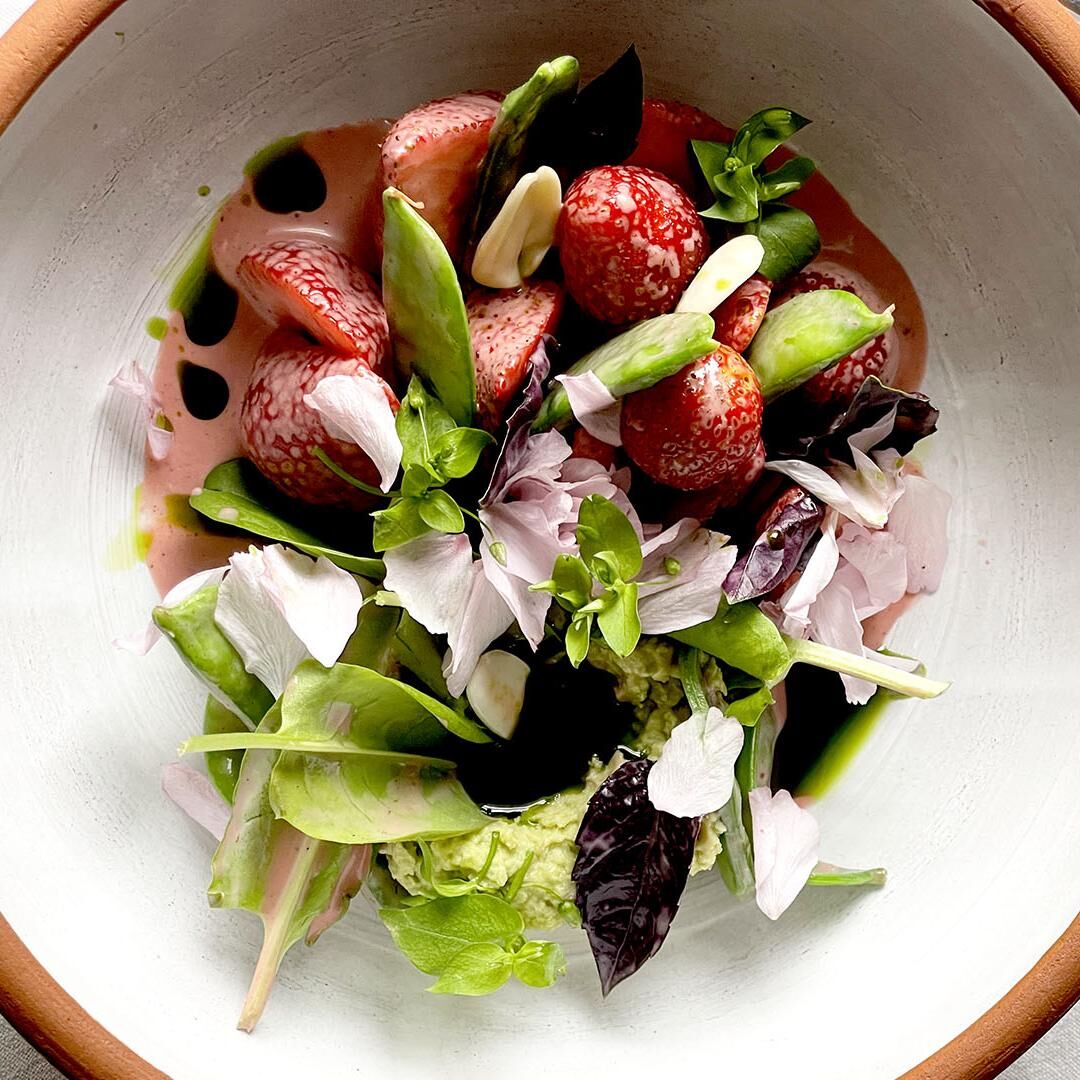 Image // Tuba Şatana / Michelin
---
Those who love strawberries, sorrel, araka pea paste, sultani peas, and rose vinegar as distinct elements are in for a treat and shock to the senses in the same bite. Araka weaves them into a pink symphony on a fork of sour, sweet, fragrant, and crunchy with cherry blossoms on top.

Taşdemir uses purslane for salads, she fine tunes the other ingredients according to what's in season, adding beans, tulum cheese, and almonds, and dresses it with her beloved bitter sweet signatures – bitter orange preserve. She offers the taster a cacophony of juxtaposing sweet and sour flavour profiles, complimented by surprises at every turn: fragrant lemon peel, flower comfiture, cherry and orange blossoms, robinia, lilacs…

At Araka, borage and pumpkin weds two seasons together. Asparagus, pastrami, and cauliflower march them down the isle. Stinging nettle and blue cheese bear the rings. Eggs summon the congregation together to witness the holy matrimony – long beans stewed in citron juice, watercress bud humus, shrimp, and all... For them, there's no such thing as a forgettable dish, or forgettable spring and summer!

---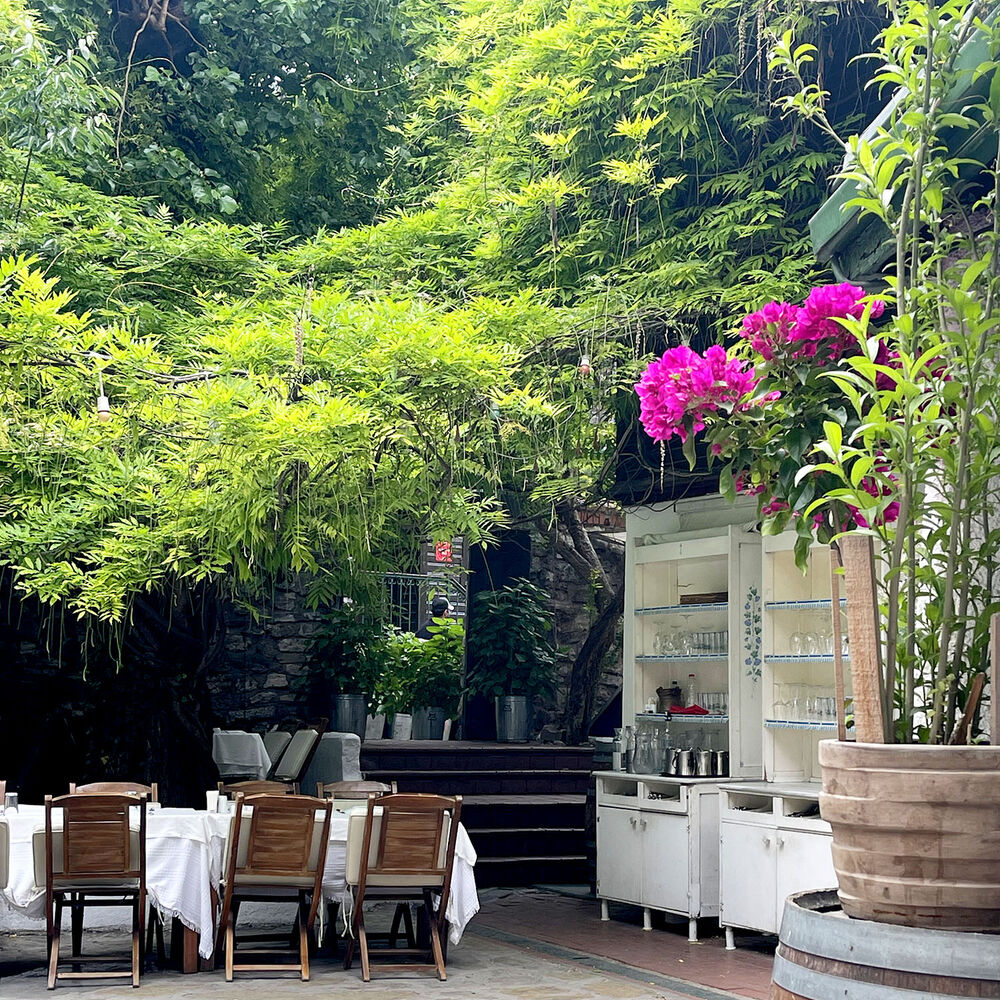 Image // Tuba Şatana / Michelin
Shifting from Araka in Yeniköy to Giritli in Ahırkapı, on another corner of the Bosphorus, a whole other cuisine, the season awaits. Ahırkapı happens to be one of Istanbul's hottest tourism districts. Giritli is tucked away in the courtyard garden of the area's iconic stone fortress and pair of wooden gates (after which Ahırkapı gets its name), under a canopy of big old trees. It's truly a hidden secret… a surprise.
Giritli guests get to dine in the garden when the weather is warm. Come wintertime, they huddle inside the newly restored Sultanahmet House. You sit among robinia, blackberry, and judas trees at wooden tables and chairs lined with blue/white or red chequered tablecloths and wait for row upon row of mouth-watering mezes to arrive.Giritli is owned and run by chef Ayşe Şensılay. She herself happens to be of Cretan roots (hence the restaurant's name) and is keen on preserving the culinary tradition of her forefathers in Istanbul, using only the finest ingredients of the season and earth has to offer, in their purest forms.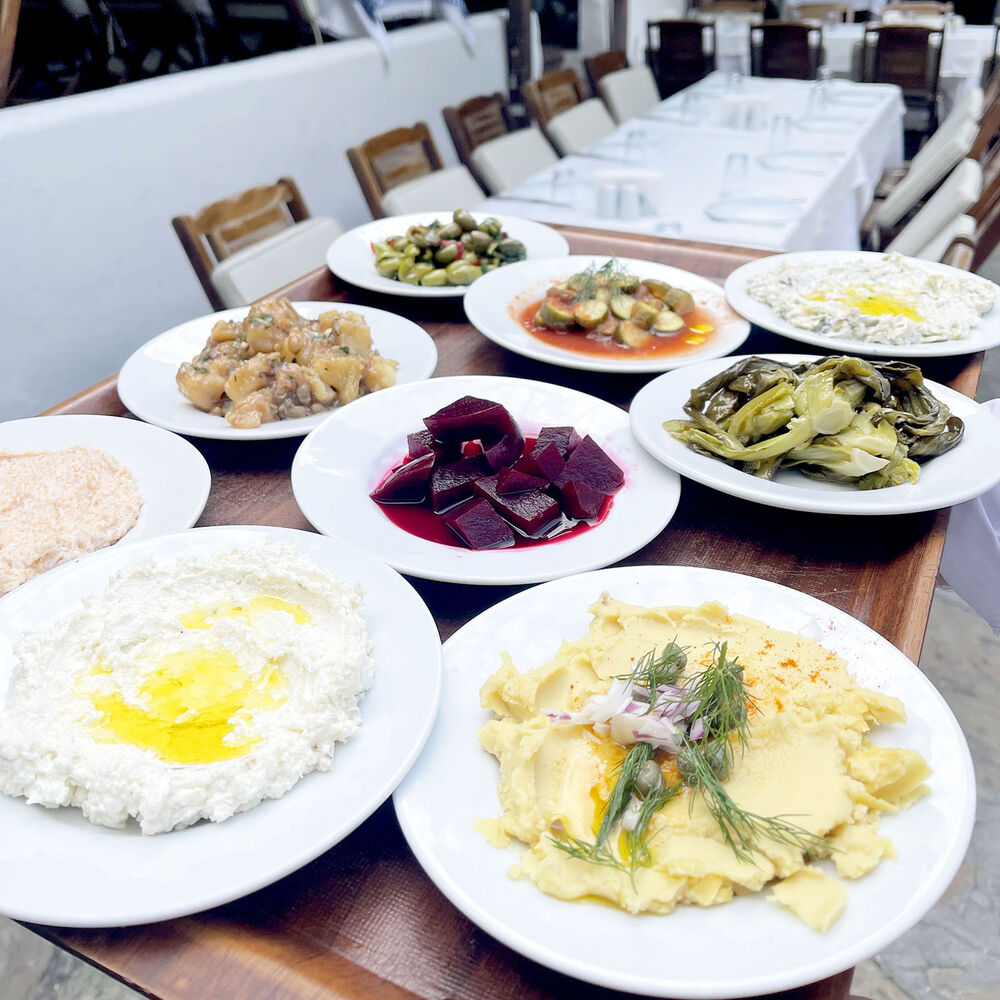 Image // Tuba Şatana / Michelin
Şensılay handpicks each and every ingredient from various markets, the outdoors, and her own travels, and brings that to the dinner table with her. She steams mustard greens, turnip greens, and fennel leaves, stinging nettle, mallow, ivy, wild asparagus, and various other edible greens, and then drenches them in extra virgin olive oil and lemon juice, transforming them into salads. She also sautés the same greens, again in olive oil, and makes lovely stuffed pastries from them. The leaves may be roughly chopped, but the olive oil makes their flavours simply sing. Another of Şensılay's seasonal delight is mutton stewed in wild fennel greens – a dish she only makes on special occasions. The taste is out of this world: a divine duet of licorice and slight bitterness compliments mutton.
One of Giritli's signature meze is Girit mezesi: a tapestry of bitter olives, dried herbs, walnuts, garlic, and goat's cheese. All of Giritli's colourful array of mezes features olive oil in them – and only the best at that! Other to-die-for dishes include: fava beans, marinated raw sea bass, köpoğlu mancası (deep fried aubergines and peppers with yoghurt and tomato sauce), Ege turşusu (vinegar-pickled tomatoes and Çengelköy cucumbers), çağla semizotu cacığı (a tzaziki-like yoghurt dip with green almonds and purslane), and tarama just to list a few... Setting the ambiance is taverna music lingering in the background, and the sounds of laughter and clinking glasses toasting to old and new friendships, the arrival of summer, the good food. You feel as though you're at your in your own mother's/grandmother's dining room. People don't call Şensılay "Ayşe Anne" (literally: "Mother Ayşe") for nothing. The care with which she sets every table wraps around you like giant a hug.

Image // Giritli bahçe / Giritli
This post is brought to you in partnership with GoTürkiye