"When the guide first was released here, I remember the crackling of energy throughout the city," says Grant Achatz, chef and owner of Alinea, which has held three MICHELIN stars in Chicago since the guide launched a decade ago. "And the excitement of the opportunity—not only to potentially receive that same honor that we looked towards and chased our young culinary life, but just to be in a city that afforded us that opportunity. Afforded us to chase something that we had dreamt about as young culinarians."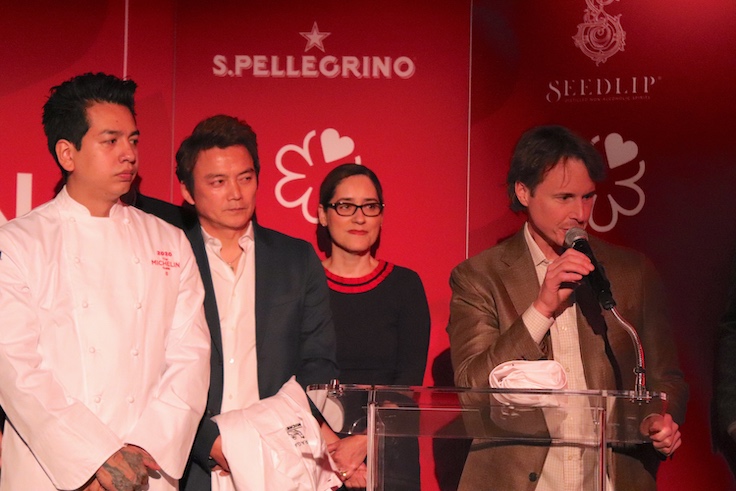 Grant Achatz gave a riveting speech to chef comrades and guests.
Last night, Achatz gave a riveting speech to chef comrades and guests at Exchange 312 in the Windy City's Wicker Park neighborhood after five restaurants were recently given MICHELIN star status. "We sat at Oriole drinking Bloody Mary's with the phone in the middle of the table waiting for the call," says Julia Momose, bar director of Kumiko and newly-minted Kikkō, which she runs with chefs Mariya Russell and Noah Sandoval.

Julia Momose is the bar director of Kumiko and newly-minted Kikkō.
B.K. Park's Mako, Sangtae Park's Omakase Yume, Mari Katsumur's Yūgen—which had quite possibly the strongest contingency in the room with the support of both colleagues and family—and Achatz's Next, helmed by Edgar Tinoco, were also bestowed with a MICHELIN star in the 2020 guide.


The Alinea Group team.
There was much love in the room, as the Chicago fine-dining scene is known as one of goodwill and rapport. Jimmy Bannos, Jr., chef/owner of The Purple Pig, which has held Bib Gourmand status since 2011, served up dishes he's known for, including housemade grissini with cultured butter and Prosciutto di Parma and koji-rubbed rib eye with potato foam, black garlic A1 sauce and pomegranate.

Bib Gourmand-designated The Purple Pig provided food for the evening.
"I remember as a young cook at the CIA reading book after book after book about all of the great MICHELIN-starred chefs in France, and telling myself at the time that I was going to make a pilgrimage and go through Alain Ducasse, I was going to go through all of the greats like Georges Blanc," Achatz says. "Never say never—ever," he concludes, giving nod to Curtis Duffy and Michael Muser's much anticipated restaurant scheduled to open next spring. "But, at the end of the day, tomorrow we're all going to go back into our restaurants, and we're all going to work exactly as hard as we did before we got here, and we did last week and we did last year. And that's what's really important for this group and for everybody in our restaurants. I thank MICHELIN for coming to Chicago. We're very proud as a city to represent—[both] in the entire country and in the world—some of the best restaurants that you'll ever be able to eat in."

Yes, chef.