Congratulations to Harrison Cheney, chef at One Star Sons & Daughters and the 2023 MICHELIN Guide California Young Chef Award Winner presented by Rémy Martin! Below, we chat with Cheney about his culinary roots, what drives him, and how he continues to push for excellence. But we also had some fun with Cheney asking him about his favorite dish, why his menu takes Nordic inspiration, and how he stays motivated. Cheers!
---
What inspired you to become a chef?
From a young age. I knew that I wanted to be a chef. A lot of kids want to be a football or a soccer player or something like that. I went through that stage, but when I was around 8-years-old, I really started talking to my mom about becoming a chef. We had a lot of cookbooks around the house and she did a lot of cooking at home and we used to watch a lot of cooking shows. Now, I've never done anything else. Straight from school, I got a job as a dishwasher. And then, I went to college and worked at the same time. It's been my number one choice.
Where did the Nordic inspiration in your menu come from?
When I was around 17-years-old, I worked in an Icelandic restaurant in London, and I really liked the focus on acidity, brightness, and lightness. Later on, I saw the whole new Nordic movement. That was something I was fascinated by. I worked in a hotel with a small kitchen garden, and we'd take produce out of the ground just before service. We'd be picking our own potatoes and foraging for wild herbs in our garden. That really aligned with me.
When I went to Stockholm, I felt like I was cooking the food that I should be cooking. In general, the way that the new Nordic movement approaches food by taking its purity and letting that shine, and taking techniques and methods of preservation that were used hundreds of years ago, I think that's so cool. And it's a very sustainable way of working that overlaps with my other philosophies on food.
What is your favorite dish?
One for me will always be my mom's lamb roast dinner, a classic English roast. It reminds me of my mom and my brother [and of] being younger and being at home. We would always cook way too much food, and it's always super delicious.
At the restaurant now, we have a scallop course. A lot of guests say that it's their favorite. It's a grilled Maine scallop with brown butter and broth of roasted potatoes with dill vinegar. On the side, we serve a small flatbread of house-milled rye, homemade crème fraîche, and roasted yeast. It's very "me" on a plate. It really describes my career as far as one plate of food can.

How do you focus on sustainability in your restaurant?
The first step of sustainability is education. That's something that I really wanted our team to teach each other. We're constantly educating each other and ourselves, asking each other what we can do to become more sustainable.
With the menu, thinking about, not just what ends up on the plate, but what doesn't end up on the plate. It's very easy to think, how does that perfect piece of fish end up on the plate, if I cut this away and cut that away? But for me, it's thinking, how can we use everything? And how can everything end up on the plate?
We had a course that was two ingredients, duck and fava greens. We used the whole bird in a few different preparations, including the smoked and roasted breast and cured and confit leg. We made an emulsion out of the fat and a sauce out of the necks and crowns. We used the whole of the fava greens, from the stems to the outer tougher leaves to the center heart.
We go to the farmer's market twice a week and go forging every week. A lot of our produce, especially garnish-wise, comes from what we pick. We work to avoid single-use plastics and partner with some incredible people like local apron makers and ceramicists.
Jim Sullivan/Sons & Daughters
How do you utilize seasonal ingredients?
Seasonality is everything for our menu, and it really dictates what we serve. The first part of that is knowing what's in season and going to the farmer's market. By building relationships with the farms, they can let us know when produce will be at its best. Last week, we had white asparagus that's biodynamically farmed, something that really interested me. When ingredients are at their best, it's very easy to make them delicious. We won't use something if it's not ready.
Sometimes, we'll have a menu idea, and it'll be great, but within a week or two, that ingredient has been affected by rain or drought. The classic days were if you don't have that one garnish, the dish is ruined. For us, if mulberries are going out, and they're sweet and acidic, we look at something else, maybe cherries can be that replacement.
What motivates you in the kitchen?
My team. Seeing everyone around me really push. Knowing that they're here for me, and I'm here for them. That's something my sous chef said to me as well, "Chef, we're all here because we believe in you." Having a team of people that you believe in, and that believes in you is something very, very powerful. We're not afraid of each other, we respect each other, and we care for each other. We have the opportunity to be better and better. If we have a bad day, we remember that we can learn from it and improve the next day. That's really what motivates me.
What do you eat for breakfast?
I try to be pretty healthy in the morning. I always eat a smoked salmon bagel, yogurt, and fruit. I try to go to the gym occasionally before work. In my younger days in the kitchen, I didn't eat anything and would just have an energy drink. You can see the kinds of effects it has on your body, and it's not good for anything.
How do you wind down at the end of a shift?
I try to leave work at work. That's something very important for me. I always walk home, which is about the right amount of time to listen to a podcast and a couple of songs. Then, I eat some food and naturally relax when I get home.
What advice would you give to a young person who wants to become a chef?
A few different things. Number one is to work for a chef that you want to and work for food that you believe in. Pick someone you want to work for. If you're going to make the sacrifice and you're going to spend the hours, really do something you believe in.
And then also, take something from everywhere you work. I've taken something good and bad from every single job I've worked in. We have such an opportunity to be this creative person. When you become a chef, your canvas is your career to date, and that's what makes you different and unique.
It's very easy nowadays for the younger generation to rush and want everything at one time. I'm still young, but I've been doing this for 14 years. When it comes into fruition for you, it will all be worth it. When that opportunity comes, the sacrifices and your hard work will definitely be worth it.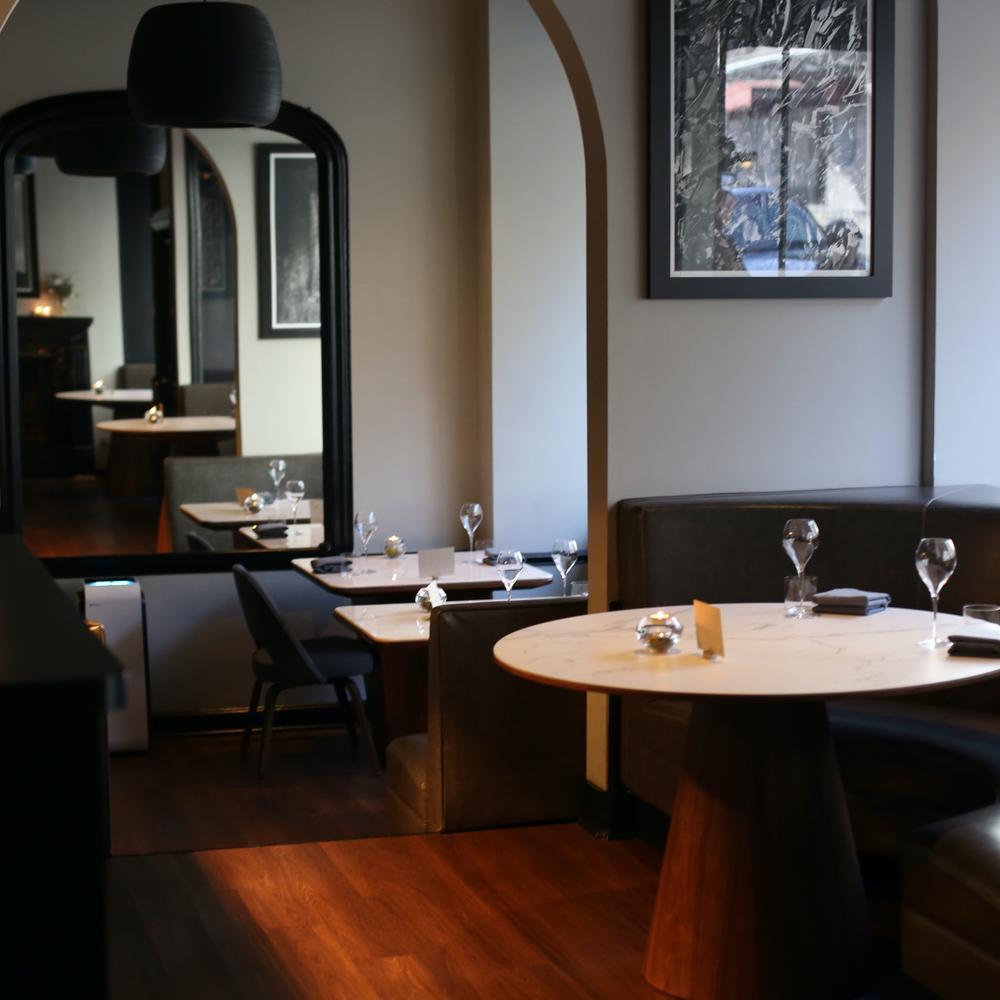 Sons & Daughters
---
Hero image: Courtesy of Sons & Daughters
---