As America struggles to address core issues facing small businesses during the Covid-19 pandemic, from lost revenue to a looming unpaid rent crisis, independent restaurants have no choice but to move forward. For an increasing number of establishments the only way forward, sadly, is out. For others, pivoting to new business models and thinking outside the box—or in this case, the four walls of a restaurant—is essential to survival.

First came the pivot to takeout. As dine-in service was suspended and takeout was deemed an "essential" necessity, restaurants that didn't already offer the service had to quickly adjust. Then, as the weather warmed, outdoor dining became a lifeline (albeit a pricey one as restaurants rushed to comply with social distancing rules and transform meager outdoor settings). With the promise of cold weather just a few months away, who knows what other challenges await.

But restaurant people are resilient people. Already faced with a demanding physical and mental load, restaurant workers have forged ahead with creative solutions to a seemingly unfixable situation. And all of it, lest we forget, is in service to us—the guest. Here's how restaurants have been finding creative ways to keep us fed:
New Concepts, Collaborations and Pop-Ups
Introducing a new concept might be counterintuitive in these times, but that's exactly what New York-based co-chefs and co-owners Fabián von Hauske and Jeremiah Stone did when they merged the kitchens of One MICHELIN-Starred
Contra
with their natural wine bar, Wildair, back in April. "We just couldn't see bringing the Contra experience to people's homes," wrote von Hauske in an email. "It was a tough decision but we wanted to do something different, to create food with Contra's sensitivity but make people feel comfortable, make it more fun and casual."
The hybrid concept, Contrair, served original dishes designed specifically to survive a 30-minute delivery ride. Menu items like slow braised lamb birria and golden crab congee showed a different side of von Hauske and Stone's culinary talents.
The current meal kit menu iteration at Contra features a seasonal sashimi. Photo by Fabián von Hauske.
In San Francisco, Two MICHELIN Star Saison and sister restaurant One MICHELIN Star Angler morphed into a luxe barbecue joint aptly named Saison Smokehouse in mid-April. Chef Joshua Skenes made a name for himself when he was cooking at Saison by harnessing the beguiling flavor of smoke, and the Smokehouse promises more of the same. The menu, available at Angler on the Embarcadero, includes smoked pasture-raised chicken, grilled pork ribs and a feast of sides like BBQ Rancho Gordo beans and mac and Wine Country cheeses.

Also in San Francisco, a partnership emerged between two One MICHELIN-Starred restaurants to form an entirely new restaurant—Lord Jiu's. In March, as dining rooms were forced to close across the city, Brandon Jew of Mister Jiu's and Rupert and Carrie Blease of Lord Stanley and their respective teams were at an impasse. "We were all trying to figure out which direction to go and what to do next," Carrie Blease said. Making the most of a difficult situation, the owners (and friends) joined up for an experiment that likely wouldn't have been imaginable, or feasible, pre-pandemic.

"Closing our restaurant was very emotional for us," added Jew. "Our collaboration with Carrie and Rupert was something new, exciting and gave us the ability to create meals together that celebrated creativity, friendship and community." The result? A five-course meal kit of seasonal produce in dishes like marinated baby corn with smoked tofu or Poulet Rouge galantine with Jimmy Nardello jam. The concept has been a success and even though the restaurants have resumed serving some form of their individual menus, the joint venture is still available, and will be for the foreseeable future.

Other restaurants are turning into venues for pop-up restaurants run by friends or budding businesses without access to expensive real estate—effectively doubling up on serving their community. In DC, MICHELIN Plate ellē hosts the occasional pop-up in its bakery/café space and has featured Japanese-style sandwiches by Otabe or, most recently, a Texas Takeover imagined by sous chef Geoff Radebaugh in collaboration with La Tejana. In New York, Chef Greg Baxtrom introduced The Black Entrepreneur Series at his MICHELIN Plate restaurant Maison Yaki. Across two months this summer, four different Black chefs have an opportunity to cook for new audiences and grow their platforms.

The collaboration between Lord Stanley and Mister Jiu's resulted in dishes like mango over coconut pudding. Photo courtesy of Lord Stanley.
Diversify with Retail
We've probably all cooked for ourselves at one point or another during this pandemic and now we're equipped to do so with better quality ingredients. Across the country, restaurants have made space in their business plans for some element of retail sales whether it's selling house made condiments for the first time like One MICHELIN Star
Hirohisa
in New York City or turning dormant indoor space into a neighborhood farm stand like MICHELIN Bib Gourmand
Daisies
in Chicago.
In Los Angeles, Chef Curtis Stone and his teams at One MICHELIN Star
Maude
and MICHELIN Plate
Gwen
made the transition to selling pantry staples fairly quickly. When the news arrived on March 15th that restaurants in LA had to shut down indoor dining, Stone's team at Gwen instantly shifted to retail, building off the restaurant's existing butcher counter. Today,
Gwen to Go
is a robust online marketplace selling items like Prime cuts of beef, European-style butter and fresh herbs—all the trappings of a steak dinner at home.
Maude was similarly transformed into a
marketplace
with pantry items alongside cooked food like lasagna, spatchcock chicken and focaccia, prepared by Executive Chef Chris Flint and Pastry Chef Yesenia Cruz. The outdoor, open-air display with flower bouquets and overflowing brass bins had the feel of a countryside market in the heart of Beverly Hills.
Stone recently added a new customer to his retail efforts—LA's robust community of
private chefs
. "Many private chefs don't have the vendor connections the restaurant kitchen staff do, and we can help this under-serviced branch of the industry," he wrote in an email.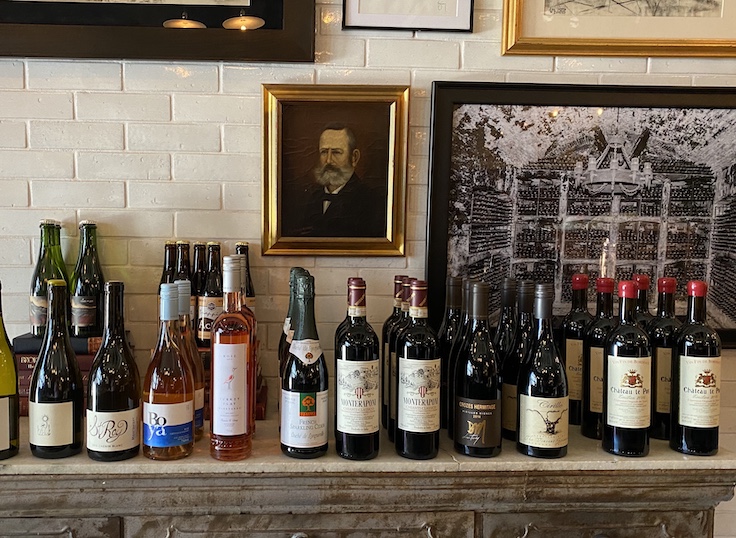 In addition to prepared foods and pantry items, Maude restaurant opened its wine cellar to guests to peruse in a retail setting. Photo courtesy of Maude Restaurant.
The MICHELIN Bib Gourmand Runner & Stone in Brooklyn, New York always had an array of revenue streams baked into its business model so shifting the emphasis to grab-and-go foods and other "general store" items was a relatively seamless task. In addition to the signature fresh-baked baguettes, a wide array of house made items like mozzarella, tomato jam and fresh pastas are available to order online for pickup.

But if some restaurants were in a good position to offer retail, others had to start from scratch. Monteverde in the West Loop neighborhood of Chicago invested in take-out and retail early on. "It was tough to pivot, sourcing packaging and labels that truly reflect our brand," said Assistant General Manager Justin Kaderabek. But months into the pandemic, and as dine-in is now permitted in Chicago, the effort is paying off. "Guests often dine at the restaurant and go home with a bottle of our salad dressing or some fresh pasta and pomodoro sauce for another meal later in the week."

Though the circumstances are wretched, tapping into the sourcing knowledge and purchasing power of restaurants for the very best ingredients is a win for the home cook in all of us.



Cook-at-Home Meal Kits and Picnics
Similarly, restaurants are assembling par-cooked ingredients in meal kits with step by step finishing instructions ranging from a full-on stir-fry as seen in MICHELIN Plate
Hanjan's
pork belly bokkeum to the simple act of boiling water for pasta as required for MICHELIN Plate
Sfoglina's
pasta dinners. The kits aim to bring restaurant-quality a la minute cooking to the home kitchen.
Farmhouse Kitchen
, a MICHELIN Bib Gourmand in San Francisco, has had success with a number of cook-at-home kits. "It's a way of connecting with customers," said Managing Director Boom Wanvisa. "Even though they may not be able to join us, [the kits] are available for them to DIY at their convenience."
The restaurant's chef/owner Kasem Saengsawang started selling pad Thai kits a few weeks after the lockdown in San Francisco began. Each bundle comes with fresh rice noodles, the essential sweet-and-sour tamarind sauce, ground peanuts and a slice of lime. Saengsawang also created a helpful
Facebook video
with instructions "so our customers can be their own chef, cooking Thai food at home," as he put it.
The pad Thai kit from Farmhouse Kitchen in San Francisco comes with rice noodles, sauce and garnishes and is accompanied by step-by-step instructions. Photo courtesy of Farmhouse Kitchen restaurant.
At MICHELIN Bib Gourmand Holbox in Los Angeles, a Yucatan seafood specialist with cook-at-home meals, the menu currently features Maine diver scallop and Baja Kanpachi taco kits. The seafood is par-cooked, requiring a light finishing touch in the kitchen and comes with house made tortillas and a variety of salsas and sauces.

Picnics have been another extension of restaurant service this summer. Two MICHELIN-Starred Blue Hill at Stone Barns in New York has perfected the art of the picnic with curated baskets full of seasonal veggie salads, pickles and fresh-baked bread, which can be reserved in advance via Tock and enjoyed on the 80-acre working farm. In Chicago, One MICHELIN Star North Pond, nestled within Lincoln Park, packs a cheese plate, salad or roasted chicken lunch and bottled cocktails for consumption in the lush, green park.

Of course, there is overlap as restaurants try out several different models at once or move back and forth between them. In some cases, and where both indoor and outdoor dining is permitted, kitchens are juggling dine-in service with take-out orders, multiple menus, retail prep and all the necessary logistics. In others, restaurants have paused their at-home offers to focus again on dine-in service. At Contra, von Hauske and Stone recently supplanted Contrair with Contra at Home meal kits and have created a new outdoor dining menu for Wildair.

But ingenuity, shape-shifting and multi-tasking can only take you so far and a restaurant's ability to emerge from this moment will depend on something bigger. As von Hauske put it, "we aren't making enough money for the concept we had in mind when we took the space and its rent. We need help from the government." Indeed, the industry is in dire need of a financial life raft. Creativity, as exciting and rewarding as it has been for us, the consumer, may not be enough for our restaurants.

Hero Image: The marketplace at Daisies restaurant in Chicago. Photo courtesy of Ryan Gorey.