Anyone who's had a meal enhanced by a fabulous wine pairing knows how vital sommeliers are, but like fine dining kitchens, the role has traditionally male dominated. Fortunately, a long-awaited demographic shift is underway. Though fewer than ⅓ of American sommeliers are women, there is movement in the industry to the point that the Americas Court of Master Sommeliers held their first Women's Symposium in early 2023.

---
"Our motivation for the first Women's Sommelier Symposium was to create a mentoring experience for established women in wine to educate, inspire, and build impactful connections with female sommeliers," explains Julie Cohen Theobald, executive director for the Court of Master Sommeliers, Americas. "We saw this as an essential step toward addressing safety and support for female leaders who are studying to become Master Sommeliers."
Fostering a sense of community and support was paramount to Theobald: "If we continue our work in the spirit of this event, the future will be filled with strong, confident, and compassionate women working to raise others in the industry."
Women sommeliers bring talent and artistry to MICHELIN Guide restaurants around the country, complementing chef creations with thoughtfully selected wines, all while dealing with the obstacles presented by working in a male-dominated industry.
With that in mind, below, we highlight a female sommeliers to keep an eye on.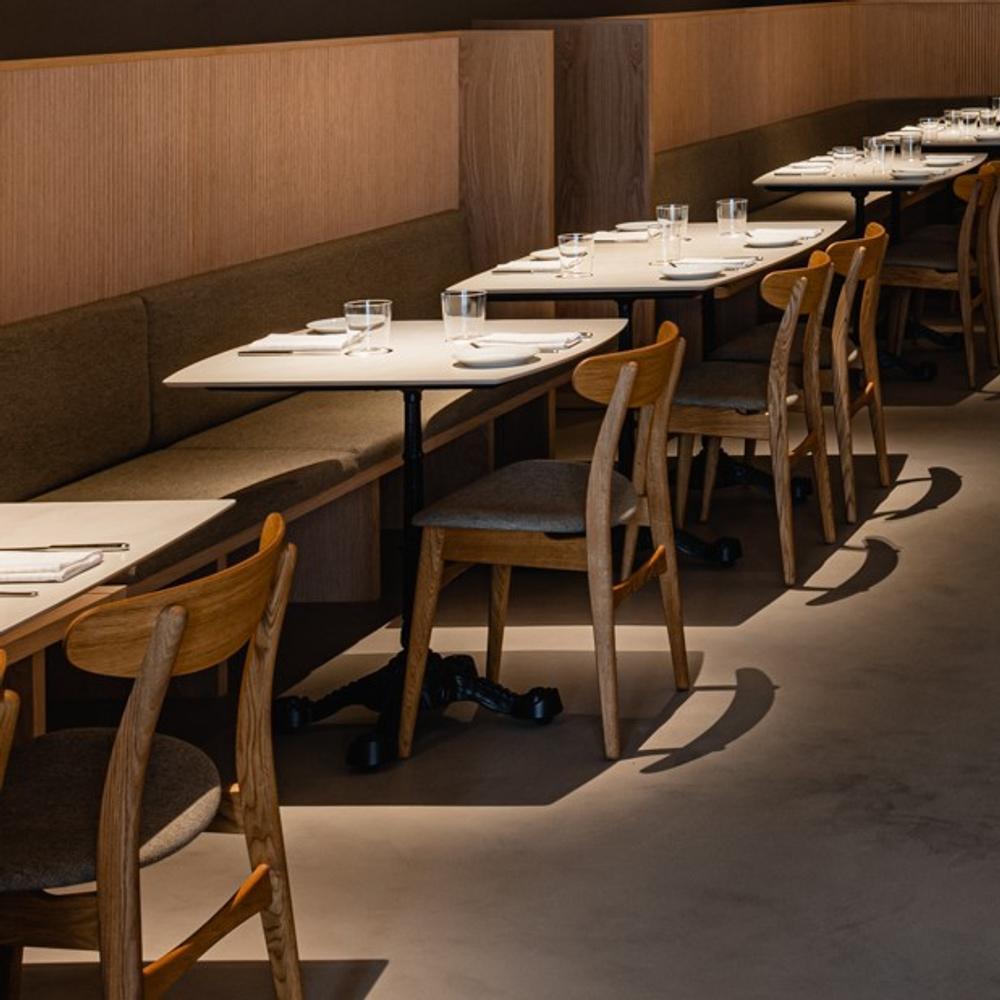 Kate Previte/Chambers
Sara Cremese
Sommelier of Knife & Spoon at The Ritz-Carlton Orlando, Grande Lakes, Sara Cremese was born and raised in Milan, forming her love of wine from a young age. "This love grew during my time working in restaurants and turned into my life's passion," she says. That drive led her to complete the WSET (Wine + Spirit Education Trust) level III, and every day she brings that expertise to her job.
"I am a people person, and nothing brings me more joy than delighting guests with our incredible food and wine pairings," Cremese says. Her wine pairings are sustainable and unique, and being cognizant of the lack of women's representation in the wine industry, she makes sure to even the balance however she can. "Here at Knife & Spoon, I am working on curating a thoughtful wine list with a large selection from women wine owners and wine makers," she explains. "More representation on menus will allow for a new perception that this isn't just a male-dominated industry."
---
---
Stephanie Perkins
A Houston, Texas native, Stephanie Perkins made her way out to Napa before landing at The Lark in Santa Barbara. She holds a Level 2 Sommelier certification and CSW, and attended the Culinary Institute of America at Greystone for the Accelerated Wine and Beverage Program. In between stints at The Lark, this unique collection of skills and experience brought Perkins to Loquita, where led the service team to their Bib Gourmand designation, and to the culinary program at the Stanley Ranch Auberge Resort in Napa Valley.
Now back at The Lark, Perkins is excited to once again be part of the team bringing the bounty of the Central Coast to diners. Their menus are known for being locally-sourced and responsibly grown, and the vibe is highly regarded as upscale yet laid back - classic Santa Barbara. Their wine list highlights small Santa Barbara County producers as well as artisan winemakers from afar.

Collin Dewell
Camille Lindsley
Originally from Atlanta, Camille Lindsley started her career at local boîte Kimball House as maître d', quickly catching the wine bug. Without a mentor to lean on, Lindsley taught herself everything she could about managing the front of house, and in 2019, passed her sommelier certification exam. "As a woman sommelier my biggest struggle was having to be my own mentor for years prior to receiving mentorship from professional sommeliers I admire," Lindsley recalls. "This lonely start to my wine career made me a somm who is more focused on the guests' enjoyment of wines and mentoring my staff; less focused on blind tasting, jockeying for academic superiority, or expensive bottle brags."
With her certification in hand, Lindsley made her way to Aldo Sohm Wine Bar in New York that same year. She had long talked about opening a restaurant together with her partner Justice, one that designed space with queerness in mind. In 2020, HAGS was born, accessible and inviting to all. From establishing a calming, neutral color palette throughout the restaurant, to installing fun house mirrors in the bathroom to combat gender and body dysphoria, HAGS is a community space to its core. Ultimately it's the work environment they always wanted for themselves.

Pascaline Lepeltier
Bucking the rest of this list, Lepeltier hails from France's Loire Valley. Making her way through MICHELIN-starred restaurants while racking up awards and accolades, Lepeltier presently brings her talents to Chambers in New York City. Natural Wine Evangelist, New Wine Prophet, Best Sommelier—these are just a few of the titles she's earned during her illustrious career.
At Chambers, Lepeltier is not only selecting the 800-1,200 wine references alongside Ellis Srubas-Giammanco, but heralding a new era in the world of restaurants. From including wines that are affordable to any guest that should visit, to ensuring staff can achieve work-life balance by only having the restaurant open five days a week, Lepeltier is shaking things up in a much needed way.

Cedric Angeles
---
Hero image: Don Riddle/Knife & Spoon
---