In March, head chef Florence Dalia announced her departure at the helm of two-MICHELIN-starred L'Atelier de Joël Robuchon in Taipei. Now, receiving the baton is Yohei Matsuo from the three-starred Joël Robuchon in Tokyo.

The 36-year-old hails from Shibuya, Tokyo, where his fascination with cooking began at the tender age of 10 when he first had drunken prawns during a family meal at a Chinese restaurant. It was around the same time that Taillevent Robuchon opened near his home. Peering through the large French windows, he remembers being fascinated by the energy of the kitchen brigade as they worked.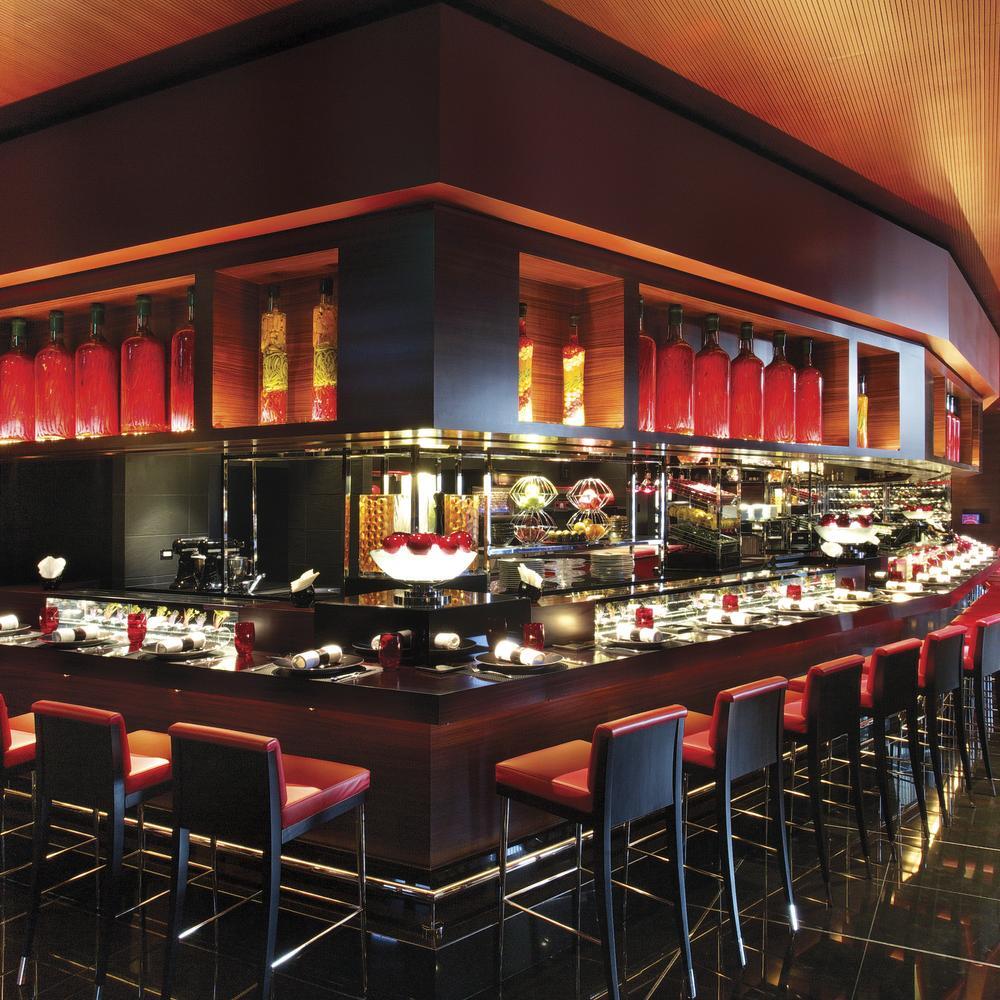 Yohei Matsuo appreciates the connection he gets with diners in an intimate setting such as L'Atelier's. (Photo: Robuchon Group)
After graduating high school, Matsuo attended cooking school for two years and worked part-time in Japanese and Italian restaurants. It was the chef at the Italian restaurant that introduced him to L'Atelier de Joël Robuchon in Roppongi. Thereafter, he also worked at two-MICHELIN-starred Ryuzu in Roppongi before returning to the Robuchon Group and was posted to Paris, where he worked for a year as sous chef at one-star L'Atelier de Joël Robuchon - Étoile. A final stop before his arrival to Taiwan saw him helming three-MICHELIN-starred Joël Robuchon in Tokyo.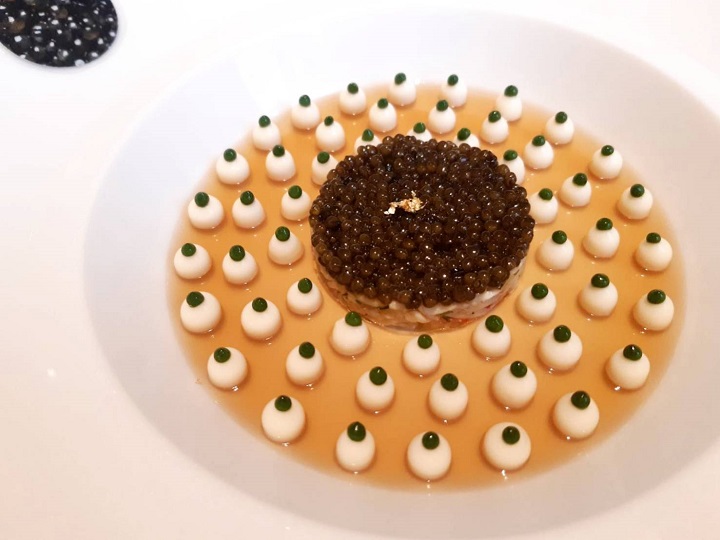 A signature Robuchon dish of Caviar presented by Matsuo. (Photo: Hsieh Ming Ling)
After cutting his teeth for a decade with the Robuchon Group, Matsuo carries the philosophy of the late legend deep in his DNA, prizing high quality ingredients showcased with pure simplicity and an unending pursuit of perfection and continuous improvement. But in a distinctive departure, Matsuo's dishes reflect the delicacy and ingenuity of his Japanese cuisine background.


Snow Crab with Daikon Mousse and Oscietra Caviar (Photo: Robuchon Group)
Take his creation of Snow Crab with Daikon Mousse and Oscietra Caviar, for example. The chef explains that this combination was inspired by chef Joël Robuchon's love for pairing crab meat with caviar and a rich sauce. To it, he added daikon mousse, diced daikon, and daikon pickled with yuzu-infused honey. The citrus balances the richness of the crab, while the honey tempers the spiciness of the daikon. It is in these aspects that you see the influence of Matsuo's Japanese origin and cuisine style.

In another dish of abalone (pictured on the right; photo by Hsieh Ming Ling), the chef uses traditional Japanese cooking techniques such as wrapping the shellfish with kombu and cooking it at a low temperature with sake before adding a French-style persillade sauce made with basil, mustard, garlic, and abalone liver.

When asked about his cooking style, the chef is quick to answer. "Pure, pure," he says, explaining his preference for clear-cut flavors where the quality and unique characteristics of every ingredient can be tasted.


For example, a dish of Chicken with Chateau Chalon Sauce and Mushroom utilizes three parts of chicken: the breast is oven-roasted on its own to prevent the flesh from drying out; the thigh is confited and then seared to concentrate its flavours, while the wings are caramelized in a frying pan.

Each part, cooked to individual perfection, comes together with a rich French sauce made from Chateau Chalon wine, as well as Brazilian mushrooms, rare termite mushrooms, and asparagus. Adding another layer of texture is a side of al dente conchiglie pasta.

Chicken with Chateau Chalon Sauce and Mushroom (Photo: Hsieh Ming Ling)
"Since I'm from Japan, I always think about how the French cook French food before thinking about weaving in my own food culture and culinary skills. But we are still in the restaurant and in the kitchen of Robuchon, so it is very important to maintain his traditions and techniques. The thought in my mind is: 'What would Mr. Robuchon think if he had the opportunity to taste this dish?'"

We chat with Matsuo about his culinary career, his feelings about coming to Taipei, and his ambitions for the future:
When and why did you decide to come to Taiwan?

I didn't have to spend a lot of time thinking before deciding to come to Taiwan. Chef Ryohei Hieda of two-MICHELIN-starred Shoun Ryugin in Taipei is a good friend of mine. When I started working at L'Atelier de Joël Robuchon in Roppongi 15 years ago, the head chef would go to three-MICHELIN-Starred RyuGin in Tokyo every week and take me there, too. The two head chefs would chat, and Hieda and I got to know each other as well. When I started working in France, he went to Taiwan, and we kept in touch. Some of my friends who were chefs in Taiwan and former chefs of Robuchon in Taipei would tell me about Taiwanese ingredients and food, and how fun and rich the culinary culture is.

Also, when I was in France, I had several Taiwanese colleagues in the kitchen whom I got along very well with because I think the Taiwanese and Japanese have a lot in common. Moreover, I enjoy interacting with guests in L'Atelier, and I hope to learn and be challenged in different environments, so I decided to come to Taiwan without any hesitation.

What was the first thing you did in Taiwan?

After I got out of quarantine, I met with the team to learn about Taiwanese ingredients and how to communicate with suppliers. Mr. Robuchon always said that the ingredients come first, and that their flavors should come out pure and unmixed; therefore, every ingredient is very important and must be of the highest quality.

You have been with the Robuchon Group for about 10 years. What is the most special thing to you about the company?

Mr. Robuchon was very strict about everything, and I always felt the demand and pressure from him to bring out the perfect dishes. Because ingredients are different in different places, Mr. Robuchon would check everything one by one and make adjustments to ensure that everything was in place, which was a good learning point for me.

I remember many things about him. For example, once at a dinner party in Japan, he only tasted a small piece of a tart and asked us to remake the whole tart. It turned out that the oil used in the tart was from the previous day, and he tasted it immediately; so delicate were his senses. He attached great importance to ingredients, and every time he came to Japan, even if it was the same kind of meat, I would buy meat from six different suppliers for him to choose from.

Mr. Robuchon was a perfectionist, and he was always in pursuit of betterment and progress, which is the most important philosophy and spirit he left behind.

Chef Joël Robuchon (Photo: Evan Sung)
How would you describe your cooking philosophy and style?

Pure. As inherited from Mr. Robuchon, my cooking style is based on carefully selected ingredients, with a touch of Japanese techniques and produce. It is a pure and delicate but uncomplicated French cuisine.

How would you describe your leadership style in the kitchen?

I value communication. I can't make every dish for every guest, so every member of my team needs to understand the concept of what we do and why. They can only do well if they understand it.

When you came to Taipei, what goals did you set for yourself and the restaurant?

For myself, I wanted to be challenged and to discover and to learn different things. For the restaurant, it would be nice to get three MICHELIN Stars, which is a goal, but I also hope that the spirit and standards of Mr. Robuchon can be upheld and passed on in Taiwan.


Header image is from the Robuchon Group.
This article was written by Hsieh Ming Ling and translated by Rachel Tan. The original article can be viewed here.