J'aime by Jean-Michel Lorain
105, 105/1 Soi Ngam Du Phli, Sathon, Bangkok, 10120, Thailand
1,200 - 4,199 THB • French Contemporary
J'aime by Jean-Michel Lorain
105, 105/1 Soi Ngam Du Phli, Sathon, Bangkok, 10120, Thailand
1,200 - 4,199 THB • French Contemporary
MICHELIN Guide's Point Of View
Enter this hotel restaurant and your world gets a little topsy-turvy, with a grand piano hanging from the ceiling and upside down chandeliers. But one bite of the creative French cuisine and all will be right again. Choose from one of the five, seven, or nine-course tasting menus to get the full experience. The restaurant and menu were conceived by renowned chef Jean-Michel Lorain – his daughter adds charm and one of his protégés runs the kitchen.
Show More
Show Less
m One Star • High quality cooking, worth a stop
ô Very comfortable
Related Reads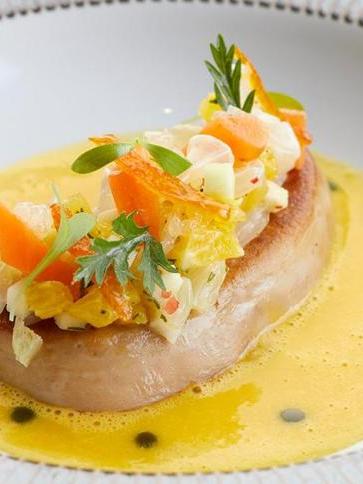 'Tis the season to celebrate the end of the year with special Christmas/NYE menus at MICHELIN Starred-Restaurants 2020!
Bring on the butter...and the cheese, the hearty coq au vin, delicate mille-feuille, copious bottles of Chablis and—you get the picture. Here are the best restaurants in Bangkok to get your French cuisine fix.
The MICHELIN Guide Dining Series continues with a gastronomic French connection, featuring Savelberg (One MICHELIN Star) and J'AIME by Jean-Michel Lorain (One MICHELIN Star).
Subscribe to our newsletter and be the first to get news and updates about the MICHELIN Guide
Subscribe
Follow the MICHELIN Guide on social media for updates and behind-the-scenes information