There's no denying that Bangkok is a culinary mecca attracting foodies from around the world, tempting visitors with fantastic flavours and creativity on a plate. And beyond the familiar som tam, green curry, massaman, tom yam, and phad thai, regional Thai cuisine has caught the attention of many chefs, with more and more menus featuring specialities from the provinces.

Not so long ago, Southern Thai cuisine was by far more popular than other regional menus on the global stage. But when Sorn, one of the most sought-after reservations in Thailand, received Two MICHELIN Stars for its menu featuring bold flavours from the South of Thailand, it proves that the charms of Southern Thai cuisine should not be miss. The restaurant on Sukhumvit 26 in Bangkok is one of two Thai restaurants among European eateries to have received this rare accolade in Thailand, confirming regional Thai cuisine's pride of place in the international culinary world.

Chef Jongsiri and Surat Thani crabs. (© Anuwat Senivansa Na Ayudhya / MICHELIN Guide Thailand)
Science behind Southern Thai chilli paste
"What's crucial about Southern Thai chilli paste is that the South of Thailand is surrounded by the sea. That's why seafood is the main component. If we look at what comes from the fishing boat catches -- little fishes caught in the nets are fermented into fish sauce. Shrimp and krill? Definitely made into shrimp paste. This is even before considering the influence of Islamic, or halal, food. This is why chilli paste from the South has more seafood than other types of meat," explains Supaksorn 'Ice' Jongsiri about Southern Thai chilli paste.

He continues that the spiciness comes from various combinations of chilli peppers as well as from preparing the same type in different ways. Pounding or crushing the chillies in different ways for shorter or longer durations can substantial change levels of spiciness, flavours, and textures. "Pound this way for aroma, pound that way for spiciness, or another way to extract the chilli's oil."

When thinking of Southern Thai chilli paste, we think of its intense flavours. "That intensity began a long time ago, back when people had to forage in the forest and travelling took days. So, food provisions needed to be lightweight, easy to make, easy to eat. When they got tired, they rested. When hungry, they started a fire and put a pot on, poured in rice, poured in water, and cooked. Then break out the chilli paste and serve with the rice. The stronger the flavour of the chilli paste, the better. They could eat a lot of rice and fill their bellies."



Before opening Sorn, Chef Jongsiri was eating crab roe and chilli paste at a local restaurant. He felt the roe was often overcooked and the texture wasn't tender enough. So he ordered steamed crab separately, mixing it with the rubbery roe and chilli paste to make it even tastier. As a chef, he found this messy and very annoying. When it came to opening his Southern Thai restaurant, he thought about the chilli paste and crab roe conundrum to make it easier to eat.

How could he make this dish in a way that he would like? Several trials and errors later, the now-popular appetiser, "Gems on Crab Stick", was born.

Secrets to his signature dish
Sorn's famous Gems on Crab Stick consists of two types of crabs: Jumbo crabs and she-crabs (female crabs with roe), delivered fresh from Surat Thani in the South of Thailand early every morning. Only the back lump meat is used from the jumbo crabs, steamed until almost cooked. Then, it is roasted with the shell on until it is fragrant, and then it's shelled to reveal firm, mouthwatering meat. The she-crabs are also steamed, paying particular attention to the roe so that the eggs are cooked to a suitable consistency.

Of course, we cannot forget about the chilli paste which combines crab meat and crab roe to be enjoyed in one bite. But how do the chefs get the chilli paste to stick to the crab? The paste can't be too liquid, and there shouldn't be any gelatin or stabilisers used here. Chef Jongsiri and his crews use three different techniques when pounding the chillies so that the paste maintains its perfect shape. And the result is that the crab meat and crab roe, mixed with the chilli paste, can be savoured in a single bite.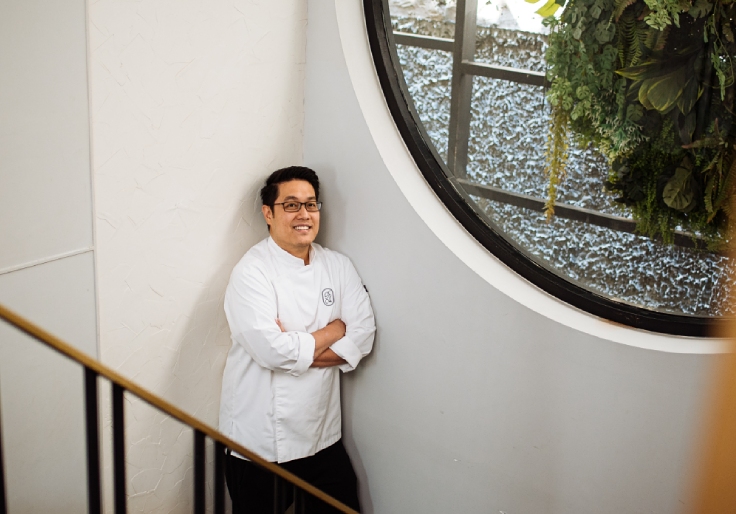 Chef Jongsiri at Sorn. (© Anuwat Senivansa Na Ayudhya / MICHELIN Guide Thailand)
The taste sensations abound with Gems on Crab Stick. Savour the lump crab meat coated with chilli paste and textured with crab roe that has firm skins literally bursting with flavour. The naturally sweet crab meat combined with the intense chilli paste is mouthwatering, and this is before we get to the heady fragrance from the crab shell, like an ocean breeze, and the tender, creamy texture.

It is no wonder that this precious Gems on Crab Stick has won the hearts of foodies and is, hands down, one of the most delicious representatives of the Southern Thai food that is taking over the world right now.